GODSWILL AKPABIO'S SEAMLESS FEATHERS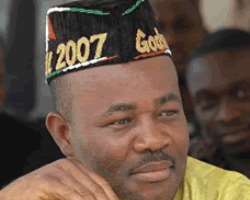 Each year reputable organizations the world over reward and promote outstanding leaders for their innovative and inspiring contributions.
Awards and trophies have been used to mark outstanding victories since the ancient times. The English word trophy itself was derived from the Latin word trophaeum meaning 'monument to victory'.
Although an award is no equal means of reward, but it is usually a concerted effort by such organizations to extol the virtues of individuals who demonstrate their commitment to effective leadership, economic growth and educational initiatives for their people.
The same was the case on Friday January 21, 2011, when the ancient city of Ibadan played host to one of the most significant, colourful and yet symbolic events in recent times. Students of history know that apart from Iwe Irohin, the first newspaper in Nigeria published by the colonial missionaries, the most remarkable record in the print media industry is held by the Nigerian Tribune Newspapers, as the oldest print run in the country.
Millions of Africans that share in the vision of Chief Obafemi Awolowo who founded The Tribune Newspaper in 1959, would undoubtedly agree with the organizers of the 2011 Tribune Newspaper Award ceremony that in the year 2010, one Governor clearly stood out tall as worthy in character and in practice from among the 36 state governors in the country.
Agreeing with the Greek philosopher Aristotle who postulated that 'In the arena of human life the honors and rewards fall to those who show their good qualities in action', the organizers of the event said that the honour was a means of encouraging public officers to promote probity and good governance.
•Ndueso writes from Uyo.