EMERGING HEIRS APPARENT OF STATESMEN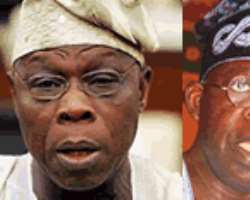 Kwara State
It is no news that Dr. Olusola Saraki is the strong man of Kwara politics. His son, Governor Bukola Saraki is the present governor of the state and his daughter Gbemisola Saraki is presently in the National Assembly. 'Baba Oloye' as he is fondly called by his admirers dictates who holds one post or another in the state.
Saraki along with his followers in 2003 decamped from the then All People's Party (APP) to the Peoples Democratic Party (PDP) in his bid to enthrone his son Bukola Saraki as the next governor of the state. A goal, which he achieved. As his son Governor Saraki's second term tenure is due to elapse in May this year, 'Baba Oloye' has named his daughter, Senator Gbemisola Saraki, the successor to her brother. A development that did not go down well with Kwarans who have screamed as loud as their voices can take them.
Speaking on the matter, National Chairman, Action Alliance (AA), Senator Sulaiman Salawu, declared that it was abnormal for a group of politicians to be hammering on Dr. Olusola Saraki's dominance of Kwara politics.
He said available records indicate that Senator Gbemi Saraki was far ahead in the current gubernatorial race.
Another stakeholder in the state, Mallam Abdulfatai Olasupo Abimbola, who did not agree with the endorsement of Gbemisola called on the governor to take a look at the zone that is due to produce the next governor of the state.
He lamented that selecting Bukola's successor from Kwara Central Senatorial District will be inconsistent with the principle of fairness and equity and also create conflict in the state's zoning system.
'At this juncture, it is pertinent to use this medium to call on the governor of Kwara State, Dr. Bukola Saraki and Dr. Olusola Saraki, the Waziri of Ilorin, to seriously look into the vexed issue of succession with a view to allowing Kwara South Senatorial District to produce the next governor of the state', he pleaded.
Viewing the feud his sister's succession might bring to the state, Governor Bukola objected to his father's wish. His decision not to field his sister brought division in the family, with father and daughter against son. Having seen that his dream of fixing the next governor might be unrealistic in the PDP, the elder Saraki, just like in 2003 took his daughter and his followers and decamped to a new party,Allied Congress Party of Nigeria(ACPN) under which Senator Gbemi has picked the governorship ticket.
The question in the minds of every Nigerian, especially Kwarans is that, just like in 2003, would Baba Oloye succeed this time in enthroning his daughter as the next governor?
Ogun State
Here, children of elder statesmen are in battle of wits as to who picks the PDP ticket for Ogun Central Senatorial district. First in the tussle are, Senator Iyabo Obasanjo-Bello, daughter of former President Olusegun Obasanjo and Hon. Lola Abiola-Edewor, daughter of the presumed winner of the annulled June 12, 1993 presidential elections, the late Bashorun Moshood Kashimawo Olawale Abiola. While Obasanjo-Bello, currently represents Ogun Central Senatorial District at the National Assembly, Abiola-Edewor, was a member of the House of Representatives between 1999 and 2003 on the platform of Alliance for Democracy (AD). And while the former seeks re-election, the later has declared interest to take her seat on the same PDP platform. Presently, the zone is faced with feud, especially as Abiola-Edewor is alleged to have been given the ticket in place of Obasanjo-Bello.
Recently, Abiola-Edewor claimed that there were moves by some people in some quarters whom she described as enemies of democracy to annul her mandate by substituting her name with that of the daughter of former President Olusegun Obasanjo, Senator Iyabo Obasanjo-Bello. She however vowed to resist any such move. And that came to be, courtesy of a court order.
According to her, 'we won't allow injustice. We will go to any extent to challenge it. My father stood his ground and died. It is my mandate. I have my certificate signed by the chairman of the election panel and the observers. The certificate is with me. We will take this to a logical conclusion. They should stop picking unpopular candidates for this party; that is why they are losing states all over the country because they picked unpopular candidates.
'Nobody will ask me to step down. My father did not step down.' Omo akin ni mi (I'm a fearless and brave child). And he died instead. I, Omolola Abiola-Edewor, by the grace of God will not accept injustice. We will take it to any length. What did the Abiola family do to offend them? What did Abiola do to them? They cancelled my father's election, now they want to cancel my own. This will be their last attempt. It will never happen. Those who killed my father cannot kill me and if they want to kill me, I'm waiting for them.'
Another battle for mandate is between Olumide Osoba, son of former Ogun State Governor, Segun Osoba, and MKO Abiola's son, Mr. Lekan Abiola. It all started when the young Osoba won the ACN House of Representatives primaries for the Odeda/Abeokuta North/Obafemi Owode Federal Constituency of Ogun State, a seat the young Abiola was also interested in. This made Abiola to cry foul of how Osoba had already been mapped out for the seat even before the election. A statement, Osoba has since denied.
Lagos
In Lagos, three members of the family of former Governor Bola Ahmed Tinubu are running for seats in the coming polls. First on the list is Mrs. Oluremi Tinubu, his wife, running for a seat in the Senate, Sade his daughter is running for the House of Representatives seat in Agege, while his son in-law is also contending for a House of Assembly seat.
Adedeji Jakande, son of first civilian governor of the state, Alhaji Lateef Kayode Jakande has been given the Action Congress of Nigeria (ACN) ticket to vie for a seat in the state House of Assembly. His emergence according to reports may not be unconnected with the statute of his father. The story is that the young Jakande initially was eyeing the lower chambers of the National Assembly (NASS). But his dream was allegedly shattered following a protest. He was later compensated with a ticket to run for the state House of Assembly.
Also, in Lagos State, son of the April 2007 Lagos State PDP governorship candidate and currently Nigeria's High Commissioner to Ghana, Ambassador Musiliu Obanikoro, Mr. Babajide Obanikoro has also emerged as one of the 40 candidates to vie for seats in the state Assembly.
Commenting on this issue, a stakeholder in Lagos, Dotun Coker in a comment posted on the internet said, 'Sometimes I really wonder if there are true democrats in Nigeria. ACN is gradually becoming a party built around one man, Bola Ahmed Tinubu. If they (ACN) do not begin to re-embrace the tenets of true democracy both internally and externally, then they are gradually digging their own graves. 'Let this be a warning, ACN will be shocked with the outcome of the April 2011 general elections. Fashola will only have his achievements in Lagos to count on then. For other candidates in ACN…WATCH OUT!'
To worsen the matter, Mrs. Tinubu has been accused of not having any manifestoe of the party as she was quoted to have only said that her reason for wanting to contest for a seat in the Senate was because, she was tired of staying at home as a housewife.
Ondo State
In the same manner, Mr Gboyega Adefarati, the son of the former governor of the state, Chief Adebayo Adefarati, was picked as the consensus candidate for the ACN in Akoko South-West and South-East Federal constituency.
Adebayo Adefarati was a former governor of Ondo State Nigeria. Prior to becoming Governor of Ondo State, Adebayo Adefarati was appointed a two- time commissioner under the late Yoruba and Afenifere leader Pa. Michael Adekunle Ajasin. He was at some point the state Commissioner for Works and Transport (between 1979-1983) and was also a prominent member of the National Democratic Coalition (NADECO), a leading organization in the fight against the military during the late General Sani Abacha days.
Adefarati, lost his second term bid to Dr. Olusegun Agagu at the polls in April 2003. He was however not cowed as he later was a presidential candidate for the Alliance for Democracy party in the April 2007 presidential election, but could not witness the election as he died of an undisclosed ailment a few weeks before the election.
Other prominent politicians whose children are stepping into their shoes include the late Prime Minister, Tafawa Balewa, whose son is going to the House of Representatives on the ticket of the CPC. The late Abacha's son also recently lost a governorship tussle in Kano on the platform of CPC.
Second Republic Attorney-General and Minister of Justice, Chief Richard Akinjide also has his daughter Jumoke running for a seat in the senate.