OSHIOMHOLE HAS FAILED IN EDO STATE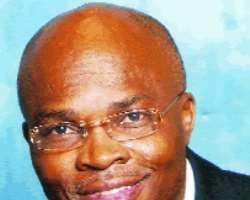 Imasuangbon
Kenneth Imansuangbon, a chieftain of Peoples' Democratic Party (PDP), is a lawyer and educationist. He is aspiring to lead Edo State in 2012 when the gubernatorial election will take place. He has been on the project long ago, having been in the Action Congress but quit after the alliance of the party with the Labour Party which later produced Adams Oshiomhole as the governor.
In this interview, he noted that a lot has changed in the PDP for the better and that the recent presidential primary which produced President Goodluck Jonathan as the PDP candidate is a testimony to the fact that PDP has encountered transformation and well placed to re-claim the presidential seat in April.
What does the outcome of the PDP primaries and national convention hold for the party in the April elections?
Let me say that it was a big success. Big for Nigeria, big for Africa. What we saw at the Eagle Square showed that we have a new nation. The past 50 years was when we  had tutelage but  now we are laying foundation for another 50 years. I want to say congratulations to Nigerians because we are getting a younger person for president in the person of Jonathan who PDP unanimously voted for across the country.
That is what democracy should be. Now, if PDP starts getting it right like we have seen, then we have a bright future for Nigeria, for Africa and for democracy.
Why congratulating Nigerians when the victory is PDP affair?
Congratulations to Nigerians, because PDP is the largest party in Africa. I am not only congratulating Nigeria, I am saying congratulations to Africa because if PDP or Nigerian people get it right, then the other African nations cannot but follow the queue. The problem in Africa is that Nigerians has not been able to assert in the
positive what God has given them authority to do. For us to assert ourselves we must first get it right from the beginning in terms of election like this.
If Jonathan now wins, he now knows that he has no choice but to move the country forward because he is not getting his mandate from the back  door, he is getting it from the people. So, he would be responsible to the people. His conscience will make him responsible to the people because he promised that at the convention.
The Convention was very orderly and fair and even it was so at the states PDP primaries. The primaries that happened in the states were free and fair, but in the Edo State Action Congress of Nigeria (ACN), it was a different ball game. People who are not sincere don't go far.
What are the chances of Jonathan in the main election?
Let me tell you, one thing you must not take away from Jonathan is that he is loved by everybody. He has a very calm appearance or I will say his built is great. He also has a wife who knows the Nigerian politics. So, these humility has endeared him to the Nigerian people.
So, I can tell you that he is liked and that will work for him and I am also beginning to see the finger of God in this calculation and Jonathan will emerge as the winner of the April poll.
In Edo State , this might be the first time your party, PDP will face another party seriously to contest seats in the National Assembly. What are the chances of your party to win seats in the Parliament?
We don't want a party where there will be killing. ACN and Governor Adams Oshiomhole have shot themselves on the foot. They should forget Edo because a true and genuine party cannot be very violent like we saw ACN did in Edo in the past since Oshiomhole came in. Every time ACN gathers, there is violent and there is killing in Edo. Do you kill because you want to conduct party primaries, do you inflict damage and wanton destruction on people because of party primaries.
The voters have seen for themselves and now that we have new PDP in Edo, we will defeat ACN easily. The ACN as preached by Oshiomhole always speaks about one man one vote, but we see what they do. They speak one thing but do another. I think it is a shame and ACN should forget Edo come 2012 and even the result of this April poll will tell everybody. PDP will sweep the polls in Edo State.
We will sweep the House of Assembly, the National Assembly, and the President will have a landslide winning in Edo and we will go ahead to repeat the same in 2012. Oshiomhole should know that time is over for him now. There was strong demonstration at the Ring road in Benin recently. Thugs have taken over and they continue to say to you that he is the people's governor, it is a shame. I have said to Oshiomhole that there is a big gap between governance and we no go gree o, we no gree.
What we are seeing now in Edo is we no go gree government. My government will be government of articulacy; government of how do we tar the roads; how do we do free and fair primaries in Edo now, just like we saw and that is the change. The change has come and the change that has come cannot be stopped by anybody by the grace of Almighty God.
How do you think we can ensure a credible election in Edo State that will reflect the slogan 'one man one vote?
Not Only in Edo State. Let me help you reconstruct the question. It is how can we ensure one man one vote in Nigeria. It is possible for us to have a free and fair election if the Nigerian people want it done.
For example, in my ward now in 2011 poll, them no born anybody well to come and say that he wants to rig elections. Or two of Oshiomhole cannot come and say they want to write result or 100 of Oshiomhole cannot come in my primaries in 2012 to tell me to step down again. It will not happen. One thing I can guarantee is that in my ward, whatever election that might happen is going to be free and fair. If all the wards in Nigeria rise up and stand to defend their votes, their votes will count and there will be free and fair election.
The job is not for Jega or Jonathan alone. It is the duty of every Nigerian to make sure that from the ward to Local Government level and from Local government to State level and from State level to Federal level that we guarantee free and fair elections.  First, you must register and after registration you must make sure you come out and vote. In Edo now I am taking advertisement  in the print and electronic media to tell people that they should come out and register and not only registration; after registration you come out and vote.
I am the one sponsoring this with my money. Doing INEC's job because it is not the duty of INEC alone to advertise and enlighten people. It is the duty of every Nigerian, for there must be an enlightenment programme. The people must be aware of their right and we must call them to come and register and after registration they must exercise their voting right without duress. After the voting, the people must also be the watchdog, because I have seen that change has come with the successes recorded in the past convention and primaries and also that the change will be seen to play a role in the general polls.
What we are going to see from now on in governance is professionals, young and vibrant people, men and women coming into governance to redistribute and rebalance the equation call Nigeria so, that we can leave behind good society for our children by tackling the security problems that we are facing now. The kidnapping that we are facing now has never been a Nigeria culture. Each time a Nigeria child is kidnapped, we are making the next century difficult for our children yet unborn. So, if we fail to arrest the situation collectively through our voting power, history will not forgive us. So, I call on everybody to get into the train of change, because the train is moving, moving towards the change direction. The international community can now see that Nigeria has made u turn, that is why I am calling on Jonathan, if he wins the election he must quietly reposition Nigeria for the great things to come because we are about laying foundation for the next 50 years.
In the past three years now since the election of Professor Osunbor as governor was over turned by the Court of Appeal, you seem to be the only governorship aspirant on the platform of PDP driving change in Edo State. Will it be right to say, you are the anointed candidate?
Your are not right to say I am the only candidate I am not the only candidate there are other candidates who are still moving up and down.
You are also wrong to say that I have been endorsed it cannot be said that I have seen endorsed.
I don't want to be endorsed. I want to go to the field with as many good and credible people so that at the end, the best will emerge. The battle I am fighting is for the best. I want the best life for the ordinary Edo person; I want security for the Edo people; I want jobs to be created. Who is the man that can give jobs; who is the man that can tar the roads; who is the man that can generate  revenue for the Edo people; who is the man that will make our schools work and pay teachers as at when due; who is the man that will negotiate for ordinary Edo people so that we can move from where we are now?
In those days when I was small, when you mention Lagos, Kaduna, Ibadan, you will mention Benin, but today, it is no longer so. The new states that were just created are far more developed than Edo State.
That is my concern and the challenge that I am having. So, the challenge is not about my candidature, it is about who is the best man that will do what other leaders did for a Edo people.
Who will repeat what Chief Samuel Ogbemudia did for the Edo people as a governor and will repeat what John Oyegun did for the short time he was governor?
Those are the challenges I am having. I don't want to see myself endorsed. As a matter of fact, if that happens I will throw in the towel. But I want credible candidates, committed candidates and God fearing candidates. Candidate(s) that will not send assassins after me because I am running for governorship position or candidate(s) who will want to burn down Edo state and tear it into pieces. I want credible candidate(s) who will take on issues and at the end of the day the best will emerge. If the best emerges, the people reap the benefits.
You have been accused of being desperate to be governor because of the way you have been running your campaign
You see, ACN should know that their days in Edo State is over. ACN should know  that by God's grace, they will not come back to rule Edo State because they have been given a chance and they failed. My constructive criticism on Governor Oshiomhole is based on genuine desire for change. I want good change, I want the Edo man to be happy, I want the issues of the Edo People to be on the table before the comity of nations positively; I want our girls in Edo State to be engaged with jobs.
That is the challenge I am facing. It is not about Oshiomhole. He should always kneel down secretly and thank God for Kenneth Imansuangbon who has kept him in check. Good politics and democracy is about checks and balances. Until I started shouting, Oshiomhole was not doing anything. The first one year he said he kept some billion naira apart, until I went to AIT to say where is the money for the roads and he said he kept it somewhere, while the designs were being made. After that, he has rolled out, according to him, the caterpillars that are sleeping on the roads, I want them to be fully working, that is the fight.
People are scared to die, but I am ready to die if that is the price I have to pay for Edo to develop and the people to enjoy.
Whether they kill me now or they kill me later or they dodn't kill me, it doesn't mean anything. What is important is that – whether I live for 90 years or less than that - I want to leave behind a good Edo State for my children. Edo where when you turn-on the tap, the water will flow; where people can be happy again. I visited Lagos State and the residents are happy.