WHY FG CAN'T BAIL OUT AIRLINES - AKIN ONI, MD BRISTOW HELICOPTERS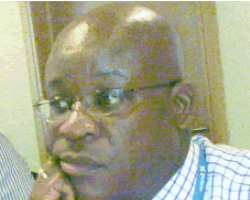 Akin Oni
If Captain Akin Oni, Managing Director of Bristow Helicopters (Nigeria) Limited, could turn back the hands of time, the first thing he would probably do is to perform all necessary business 'rituals' that would have prevented the termination of the juicy Shell Petroleum contract, which the company enjoyed for about half a century.
This great loss, which he aptly described as a painful divorce, literally made him an insomnia victim. His continuous reflection on the plight of several Nigerians who had to be 'sacrificed' as a result of the termination of the robust contract, regularly robbed him of sleep.
The mass sack, according to him, was misunderstood in various quarters as some saw it as a confirmation of the speculation that Nigerians in Bristow, apart from being slaves in their fatherland, are also endangered species that can become extinct at any time. However, as it is in every period of downturn, the company, he said, was badly hit, but has waded the storm; the strangulating challenges notwithstanding.
He boldly says the company is on success course and also exploring new vistas of opportunities to remain the market leader. Capt Oni said part of the new strategies is its Target Zero initiative aimed at upping operational and behavioural standards of the company's employees such that incidents are nipped in the bud before they become accidents. He also revealed that the company has embarked on massive training programme aimed at replacing the aging hands in the aviation sector.
In this interview, Capt Oni talks about his experience in the dynamic industry, the challenges and other issues.
Excerpts:
In the beginning
I've been in the industry for the past 27 years. I started as an aircraft engineer and then went into the flight line. I've over 9,000 flying hours. I've stopped flying for a couple of years. Aside the flying stuff, I also have my Msc and that has helped in the managerial line that I am now.
Cost of overseas checks
I can't give you the quantum value, but what I can give you is an idea of what we save by doing the checks locally. While the aircraft is undergoing D-Check, if they have to fly the aircraft out of Nigeria, we will spend nothing less than $1.5 million. That is even low. It is because we have partnership with our global companies we have in the UK. It will save us a lot. You can look at the hangar beside you there and we have another one that we have invested $2million on.
That is part of the investment we are putting into Nigeria. That hangar would allow us to have all our aircraft in there. It is a substantial amount of money, even the smaller type of aircraft is serviced in the range of $800, 000 to a million dollars to take it out and that does not include the cost of importing it back to Nigeria, including the duty. We don't have capability at the moment to service for other airlines. We do not have the manpower to be able to take on those additional works.
We have the engineering capability as a management but staff is inadequate in that regard. So, we can only handle our own work. If you go outside and see the complexity of the machines that we fly, one typical helicopter is worth the Boeing. Proudly, again that's a major check that in other places you will have to fly the aircraft out of Nigeria. It has to be done but we are doing it locally. That sort of check is a D-check that you would normally fly the aircraft out of Nigeria. That is the third one that we are doing in Nigeria now.
Operating in the restive Niger/Delta region
I think the amnesty programme of the Federal Government has worked. The oil companies have been very cooperative and we work with good information. We're not a military service company. Once we get information that there is possible trouble in the area, we don't go there. So, we work on the intelligence. The amnesty has worked. Before the amnesty, we were concerned and we had to fly at a very high level to avoid arms fire. As long as they tell us it is a hot area, we don't go.
Assessment of the aviation sector
It is difficult for me to rate it because the service level is different. We use facilities of Shell, Exxon Mobil, Total etc. They tend to have their own facilities, so we don't have to use the airports which other people will use to measure grounds. Also, we have our own terminal here where we process passengers.
But suffice it to say that there is infrastructure problem in Nigeria. As we grow, the system has not grown. We need to tell our government to improve infrastructure. The infrastructure is appalling. I can't see how we can continue in this way. There is improvement in the Nigerian Airspace Management Agency (NAMA); there is no doubt about that. There's also tremendous improvement at the Nigerian Civil Aviation Authority (NCAA). The improvement led to the award of US-FAA Category 1.
Bail out
I am not so sure that the government has enough resources to bail the airlines out. I really don't think so. N200 billion earmarked for that will not even be enough for one airline. The industry is capital intensive. Honestly, I don't see anything substantial happening from that figure unless it's increased.
Sacking expatriate pilots
We are intensifying efforts on reducing the number of expatriates. As we speak, we've got some graduates. I don't remember the exact number of those that graduated from the Nigerian College of Aviation (NCAT) Zaria, recently. I came back from Abuja two days ago and we discussed the issue of expatriate quota. There is a lot of pressure on us to reduce our quota position and also to absorb Nigerians. But the number of ready hands (Nigerians) are inadequate. But we're planning from now till 2015, to substantially replace expatriates. I must also say here that there is retention issue for us.
The human resource market is mobile; most of our staffers are flying for Emirates, flying the B777 for Qatar and so on. On our side, we have targets, and every now and then, I go back to the ministry to defend the expatriates quota position. The issue of manpower shortage applies also to the engineering side and I challenge the rest of the industry to do the same. Let them join in the training of Nigerians, don't poach. We are training, but we can never address the aging issue that you mentioned. Our massive training cannot be felt immediately. It'll be felt in the next seven years or thereabout. It's a long term project because those trained will still be under the watchful eyes of seniors.
However, if only one or two companies are doing the training, you will end up with situation where you have poaching. How do you poach? You raise the salary, and in a situation like that, nobody wins and the industry suffers. What I don't see at the moment is that sense of responsibility for all these organizations to train Nigerians and I don't think it is right. A few organizations are doing it, so we need to be more aggressive in the training. If you look at aviation today, the people who are in charge are very senior and they are getting to their retirement age. The problem we will face going forward is when these people leave and there will be that gap. Somebody needs to fill that gap, else we go backward.
Recruitment
In recruiting fresh hands, especially young pilots and engineers, we consider intelligence, academic brilliance and most importantly, managerial capability. Not all that excel in the tests and exams can command an aircraft and on the other hand, not all who command have deep intellectual skill. So, we try to balance the two. We usually employ those with excellent hand-eye coordination.
The safety seminar
What we are hoping to achieve with the forthcoming seminar is to make sure that we maintain the safety policy culture in the aviation sector. Safety is our number one core value. In the Target Zero initiative, there are so many factors that ensure zero accident, zero harm to the environment, zero harm to people. There are insinuations that it is not possible not to have accidents, we believe it is possible. Accidents don't just happen, several things happen before you get to that terrible situation where you have to go and clean up blood; it is messy.
We cannot go into this saying that we can have many accidents, what we are interested in is zero accident and that is what we are doing. People see the soft issue, but it is the soft issue that makes the difference, so, we are not just talking about it, we are alive to it, day to day, If you look at our logo today, its target zero. Everything we do is about that. If others adopt that, and most of the organizations know that the accidents that we have today are human factors. We have improved on the system so much that before you have a failure, it'll be very difficult. What we do now is to look after each other.
For instance, if you are a co-pilot and the Captain does anything wrong, we expect that co-pilot to tell the captain this is not right. It looks very difficult, how do you as a 19 year old tell a captain of 50 years that he is wrong? He will tell you to shut up and ask him, what do you know? But that's what we are saying and am very proud of it because the quality of Nigerians that we have today who joined our training process are the same people who will speak up and if you don't respond to them, they will escalate it. We encourage them and we give them money.
Other organizations don't do that. If you report a senior manager to me on safety issue, and I think you are right, we will put you on the boat. We had a number three man in the system and was found to climb an aircraft without his helmet. We recognized him and gave the person who reported him $150. That encourages safety. If the senior manager had fallen down from there and broke his skull, what is $150 to a family and those who are dependent on the man? The idea is to develop a culture within the organization that encourages you to speak up before something goes wrong. When you see something going wrong, speak up and don't just walk away.
Effect of the Petroleum Industry Bill on Bristow
The Petroleum Industry Bill (PIB) has not affected our operations. What we noticed is that there have been no exchanges for growth because the oil companies are not investing
Losing Shell contract
Again, there is allegation that we sacked people and employed them as contract staff. It is not true. What we did was to look at the organization after the loss of the Shell contract which was substantial which is why I said it was a painful divorce. We enjoyed about 50 year relationship with Shell. It was the biggest contract we had for a long time and we lost that. We could keep everybody if we had not lost it but it depends on the organization and we would not have survived it if we kept everybody. To me as a Nigerian, I know the consequences because I look after many people.
It is rather painful and I look back at the situation. I know the pain. We were very responsible about it. What we did was tell the engineers to say we will keep you, we offered to retain all pilots and engineers. We also knew that some people will not stay. The people who were left were part of the engineers who chose to leave. If they want to come back today, we will take them back. I want them back. There are some contracts that we carry, and we also need people for some of the business. We lost the Shell contract in Lagos, Port-Harcourt and Warri.
We offered to move people around, some people accepted, others did not and they did not want to move. People in Warri didn't want to move out of Warri, people in PH did not want to move out of PH. Few of them moved and we moved them and the others who did not want to move, we let them go. I read it in the papers and what I read was not correct. We did not lay off people and brought them in as contractors. If you have any example, I would like to see that. The people who left were largely pilots and engineers and if they want to come back, they are welcome.
Corporate identity
The mistake we made in the past is that some people used to see Bristow Helicopters as a foreign company; it has never been a foreign company. It has always been Nigeria, we are arguably the oldest aviation company in Nigeria because we have been in Nigeria for 50 years. We're about one of the largest and we are a Nigerian company from the structure of our organisation and in the shareholding of the organisation. And the fact that as a Nigerian I head the business in West Africa, I am extremely proud of that but it also speaks about what we are as an organisation and the drive to push Nigeria forward.
Management style
I have a cordial relationship with my staff and I also run an open door policy. Like I mentioned earlier, we encourage a good communication flow at all levels. We also reward hardwork because that is what buoys the company. The allegation that we did not allow members of staff to join various aviation unions is not true. As a matter of fact, the staff/union relationship is cordial. After the strike we experienced sometime ago, we learnt our lessons from that. We always dialogue with the unions to avoid crisis.
Plans for 2011
In the coming year, what we are looking at is actually further entrenching that strong Nigerian identity, thus making it a more Nigerian company; not just in talk but by action and deeds that you can see. Last year we talked about our engagement with the college of aviation training in Zaira, which has gone ahead. We are in the process of renovating a hangar there. We are putting money into the classrooms as well. Next month, we expect two aeronautical instructors to come in from the United States. These two processes will be embedded in the College of Aviation training in Zaira. We signed a memorandum of understanding so there is nothing stopping us going ahead with our plans to invest in Zaira.
Also, the equipment that we have been waiting for have arrived in Nigeria and the next thing is the delivery of the equipment in Zaira. So that is ongoing. However, another part that we talked about in the past is the amount of energy and time that we spend in training Nigerians. I am very proud that today we have eight Nigerians who are coming towards their graduation in our college in the aviation training in the United States Flight Academy in Florida. We expect to receive four Nigerians who have in the last year trained as helicopter pilots. They will be graduating in the next couple of weeks. So, in another four weeks, we expect them back in Nigeria. Now these are part of the people who a few months back were part of the selection process and there are others who have gone to the states and we are expecting them back from the states.
Ideally, we would like to do this training in Nigeria and I am sure it is what you will like to see as well. Why are we doing training outside Nigeria and letting the foreign exchange onto the country? The sad part of that is that the college of aviation training in Zaira has not got an helicopter training school. However, there are plans to start helicopter training. If that happens, then we will stop the training in the United States, except they are unable to carry the number of students that we want to train.
We have also offered assistance to the college of aviation training in Zaira that if they need assistance from us, we have the largest commercial helicopter training school in the world other than the military, and that is the training school in Florida. So, there is a lot to learn there, we are willing to assist Zaira on the training issue. So, that is what we are doing but again, internally it is a gradual process of replacing expatriates with Nigerians. These are lots of things that we can't do over night. The challenge in our industry is that the gestation period for helicopter pilots and engineers is not two, three years.
We're talking six or seven years, it is even worse for engineers. So, there's a long gestation period before you can actually release the pilot to the level of confidence that you can release them to be in charge of aircraft as a commander or captain. And that is one of the challenges we face going forward, unfortunately we just do not have the capability in Nigeria to train all these people and change the expatriates over night.
So, the key challenge for me which we are working out is how quickly can we train Nigerians to replace expatriates? And in the training process we also have to retrain and maintain that level of safety expected of us. Now, especially the focus is even more now that we have Category one, everybody is watching Nigeria to see whether this is just a paper work exercise or this is something that we are going to retain going forward. So the key challenge for us is to replace highly experienced expatriates with Nigerians knowing the gestation period for training.
Competition
Let me just give you a broad perspective of the. Today, we face stiffer competition, you also know with the introduction of the Nigerian Content Act, there will be more entrants into the Nigerian market. With that competition, the way out is harder work for us, we need to explore more opportunities. Remember I told you about the Shell contract we lost. It was a hard blow and it was a major ache for us whether we like it or not. We had to layoff Nigerians. But we have adjusted. We're now looking at other areas. Also we need to look at our operating cost, we need to look at several things. When we laid off Nigerians, we just couldn't help it because we know the extended family thing that if you lay off somebody, you are not laying off that person alone.
There're consequences because of the responsibility of our extended families. So it is something that didn't come easy but couldn't help it and there're moments I think about it. So laying people off is not an easy thing especially in Nigeria. But the good thing that has come out of it is that we've had opportunities in other areas and we have recovered to a certain extent not the way we would as far as we would like to go but we have recovered a little.
The implication for us going forward is we need to look at other ways of competing and to start looking for new opportunities, those places that people haven't gone into and we are doing that on a regular basis. So, it is a more challenging business environment and also more competition and there would be more competition, but we are up to the task and we are working harder. We are doing the right things to make sure that we are relevant to the setting here. But the overriding thing is that I must keep saying is that we are a Nigeria company and we are far more Nigerian than the other competitors in the aviation sector here.
So, lets look at the business generally, the challenges of new entrances in the market space will always be there and it is good for Nigeria as a whole. In competition there is the opportunity to control pricing and control more people in, and there is nothing wrong with that. As we go forward, the emphasis will be more and there will be more scrutiny on safety and it will come from the federal ministry of aviation, it will also come from the regulator, which is the NCAA. They are becoming stronger, they have more people, they are more focused.
So anybody who thinks that they may come into an industry where they can just work into place are in for a shock. They are much, more smarter than they were 5, 6,7 years ago. There's been a major transformation in the NCAA, so the days of just putting documents through and getting letters are gone. But in our competitive landscape now, it is reduced market share, more focus on safety, more focus on operating expenses. I am sure you have heard about the fuel challenge as well which the major airlines also face. To some extent, we are exposed to that but not on the same scale of the airlines.
Our contracts are coming up for renewal and with that comes the challenge of whether you are going to have it or whether you are not going to have it. You face that on a daily basis so we are dealing with that. However the key part of our ability to stay in this market and compete and be seen and taken seriously is safety. That is why for the first time, the Bristow Group Global safety seminar is coming to Lagos. This is the first time that we are having people from all over the world, anywhere there is oil I am sure you will find Bristow there. But despite the negative image that they gave Nigeria outside this country, the decisions we made, the safety seminar will hold here so we have people from all over the world coming here. You go through this period in Nigeria and talk about safety.
But it is not just safety as people understand, it is developing the culture of safety in organisations. What is happening in our industry is that there have been a lot of technology that have been put into preventing accidents. What we haven't addressed properly and I am sure you all know about the human factors, most of the accidents so far, over 70, 80 per cent are being caused by human failings. So you can introduce as much technology as you like, if you are going to improve safety you need to address the issue of human factors and how human beings interface with mechanical or electronic environments.
And that's the next level that we want to go into. How do you create a culture of safety in your organisation? So the people who come to work for you when they leave home with all their hand and feet everything intact, how do they go back home the way they left their families? Do you want them to go back with one finger missing? It is terrible but this is the thing that happens. People leave their place, they leave home, they leave their families and then they go back home with one finger missing. Really it is down to the attitude of people and see those attitude on our roads.
People who are with the dangerous equipment that we have discovered in this world is mobile phone. And you see people on the road they are driving and they are texting and you sort of wonder how these things happen. So how do you change people's attitude to safety? How do you get people to realise that safety starts at home?
We will improve safety in Nigeria generally and as it has been seen in the western world and there is a lot of effort in that direction. And I know that the DG NCAA is very engaged on this and at AIB seminar it was something that he went into in great detail, safety culture, which is the behavioural side of it that is the next level of safety and this is what we are trying to operate here. So, we are going to have that seminar on the 8 and 9 of February. We have invited a lot of very senior people to attend.
Advice to young pilots
My advice to any youngsters wishing to be a pilot is to first of all, get a first degree in the science line and then come to us and we'll grow you. Don't go anywhere else but come to us.