WikiLeaks: Nigeria Pressured UK To Drop Charges Against Politician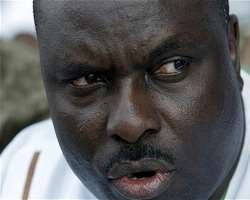 CHIEF JAMES ONANEFE IBORI. PHOTOGRAPH BY GETTY.
The Nigerian government refused to discuss a prisoner transfer agreement with Britain unless the Crown Prosecution Service dropped corruption charges against a favoured member of the ruling party, leaked documents disclose.
Britain is keen to secure an agreement allowing the transfer of more than 400 prisoners back to Nigeria. There are currently more than 1,000 Nigerian inmates in British jails – costing the taxpayer around £40m a year.
But talks over the agreement stalled after Britain refused to drop charges against James Ibori, a member of the ruling People's Democratic Party, who is accused of stealing more than £196m of state funds and channelling "dirty money" to Britain.
A diplomatic cable from the US embassy in London claims that Nigeria's attorney general attempted to blackmail British officials into abandoning the corruption case against Mr. Ibori, the former governor of the oil-rich Delta state.
The cable sent to Washington in May 2009 states: "Nigerian Attorney General (AG) Michael Aondoakaa has directly told the UK the [Government of Nigeria] will not begin negotiations on the PTA unless the UK drops its case against former Delta State Governor James Ibori and his associates".
Two months later, Lin Homer, chief executive of the UK Border Agency, disclosed to the Home Affairs select committee that Britain had offered to build a state-of-the-art new prison in Nigeria in return for the transfer of at least 400 Nigerian inmates. The offer was rejected.