QUEENSLAND EVACUATIONS URGED AHEAD OF CYCLONE YASI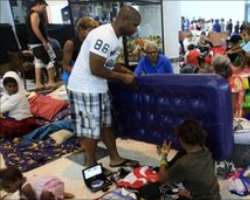 Some residents in Cairns have left their homes and set up camp in evacuation shelters
Australian officals are urging residents in parts of Queensland to flee ahead of the most dangerous storm ever predicted to hit the state.
Cyclone Yasi, a category five storm – the highest alert level – will make landfall on Wednesday night local time (after 1200 GMT).
State Premier Anna Bligh said people should just "grab each other" and find safety.
Last month, Queensland was hit by widespread deadly flooding.
"Do not bother to pack bags. Just grab each other and get to a place of safety. Remember that people are irreplaceable," Ms Bligh said.
Filling sandbags
Police on the streets of the northern city of Cairns were urging people to get out.
"Everyone's got to go now," one officer said. "The water is coming now."
Residents across the state were frantically buying in supplies to last through a minimum of 24 hours of what they have been told will be a storm of unprecedented ferocity.
Those staying at home were taping up windows, filling sandbags and trying to stay calm.
"There is still an opportunity for you to move to a place of safety," Ms Bligh said, after a disaster management meeting on Wednesday morning.
"I cannot say in the strongest possible terms, you have to take this opportunity now."
Soldiers were knocking on doors in Queensland's northern capital of Townsville to spur more people to get ready.
Ms Bligh warned that Queenslanders faced a "frightening time".
'Threat to life'
Thousands of people have already fled their homes close to the coast and the army has flown hospital patients in the northern city of Cairns to Brisbane, which is further south.
After the worst floods in the state's history, Queenslanders are being told to brace for the most catastrophic storm ever to hit their shores. State Premier Anna Bligh said she did not think Australia had ever seen a storm of this intensity in an area as thickly populated.
She predicted it would be a very frightening time, with 24 hours of terrifying winds, torrential rains, and the likely loss of electricity and mobile phones. Storm surges are expected to cause widespread flooding and wind gusts are likely to rip off roofs and cause significant structural damage.
Meteorologists have upgraded Cyclone Yasi to a category five storm, the most severe level. With winds of almost 300km/h (185mph), they are warning it poses an extremely serious threat to life and property, especially around the cities of Cairns and Townsville. People in low-lying areas especially are being urged to evacuate.
Those living further inland were meanwhile told to "bunker down" in their homes.
The Bureau of Meteorology (BoM) has warned that Cyclone Yasi posed an "extremely serious threat to life and property within the warning area, especially between Cairns and Townsville.
"This impact is likely to be be more life threatening that any experienced during recent generations," it warned.
More than 400,000 people live in the cyclone's expected path. The area, which includes the Great Barrier Reef, is also popular with tourists.
Cairns airport closed on Wednesday. Rail lines, mines and coal ports have also shut down.
"We're in the process of packing up boxes… the dogs and the pet snake and getting out of here," Melissa Lovejoy, from Cairns, told Australia's ABC news.
She said the family are moving to a friend's house that was further inland.