EAGLES WILL BE GREAT IN THREE YEARS - SIASIA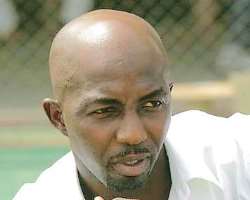 Samson Siasia
Super Eagles coach Samson Siasia has said he will need about three years to make the team rank among the world's best.
Siasia said he would need to plan very well and execute his programmes to the letter if the Eagles were to be champions again.
'The problem with Nigeria is that we don't plan very well but in about three years I can make the Eagles great again,' Siasia said.
'We have great plans for the team but the lack of funds is a big problem. We don't have the funds to go the extra mile in preparing the team but the Nigeria Football Federation is doing everything it can to solve the problems.
'Clemens Westerhof had about five years to build the team that won the 1994 Nations Cup. We may not need that long to build a winning team but we need to be patient.
'The Nigeria-based players that lost to the Flying Eagles are not bad and we're using the training to get to know ourselves. I believe the team will be stronger and more efficient very soon if we are consistent with our plans.'
Siasia added that the NFF had been distracted by the court cases instituted against it by some Nigerians, saying the legal battles had affected the country's football.
'I'll appeal to whomever that has taken the NFF to court to withdraw the suit if he loves our football,' he said. 'We can discuss the problem outside of the courts.
'If FIFA comes in, it will disrupt everything on ground and it will be a setback.'