KOGI 2011: MISRULE SETS PDP AGAINST MY PEOPLE - ABDULLAHI, CPC SENATORIAL CANDIDATE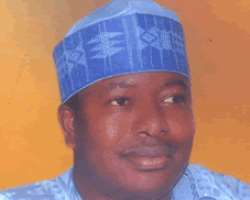 Musa Abdullahi
Dahiru Musa Abdullahi is the immediate past National Secretary of the Progressive Peoples Alliance (PPA). He is contesting the Kogi Central Senatorial District election on the platform of the Congress for Progressive Change (CPC. He spoke to Daily Sun recently in Abuja. Excerpts:
Senatorial contest
 Our senatorial district had been under-represented and poorly represented such that issues that affect my people have not been sufficiently brought to the front burner of national discourse. There is a clamour and agitation for qualitative, wellinformed and digital representation.
I mean my people are agitating for representatives who are adequately informed and sufficiently processed for leadership that will address the issues that are relevant to the dictates of the 21st century. And I consider myself to be well equipped and prepared to take on the mantle of providing the desired qualitative representation for which they have been denied for too long.
 My constitutency
 There have been youth unrests in the senatorial district due to widespread unemployment. It will interest you to note that the largest steel company in the world, Ajaokuta Steel Company and Itakpe Iron Ore are both located in my constituency.
 For nearly three decades, successive governments have not paid serious attention to its completion and these are projects that have the potentials to provide employment. The steel company can generate over 10,000 jobs directly and 15,000 indirectly. As soon as I get to the Senate, this is one area I will take as priority.
There is near absence of infrastructure in my area. My constituency serves as a link between the southern and the northern parts of the country with heavy traffic and occasionally tragic road accidents that claim lives and property. The roads are with potholes and bumps. These will have to be urgently addressed without further delay.
Our people have suffered from lack of provision of portable water for decades which has led to a lot of water borne diseases. The provision of portable water to our teeming population will be accorded the rightful place to promote healthy living. I am going to use legislative initiative to achieve all I have set before myself to give to my people.
 Some other critical sectors of our national life that will engage my legislative initiative through sponsorship of relevant bills will include education. There is a compelling need to reclaim this sector and restore it because the future of our children and indeed that of our country depends on it.
 Through a legislative intervention, we shall decisively tackle the problem of corruption that has kept the nation down from making appreciable progress despite her enormous resources. Decisive legislative supports shall be given to the energy sector, internal security and an enduring and affordable housing scheme that will guarantee descent accommodation for Nigerians.
 Ajaokuta Steel Company and Itakpe Iron Ore
There is the apprehension that technology must have overtaken the companies. What we will do is to syndicate the company into different production lines and invite consortium of experts to buy into it along production lines. The benefits are that it will reduce the huge capital outlay to a manageable proportion and there will be a comparative advantage as each line of production will be handled by experts in that particular area.
It would have the capacity for a particular line of production to serve as output into another line which will lead to the development of one huge technological town that is akin to what we have in Osaka, Japan such that it will snowballed into a huge industrial complex. Stemming from this, the issue of moribund manufacturing sector in Nigeria will come alive again with my senatorial constituency serving as the hub. The social economic benefits are not only monumental but unimaginable.
 PDP has been in power for 12 years and nothing has happened to that complex. The consequences of the neglect are that of people's disenchantment, disillusionment and total disaffection to the so-called ruling party.
 You were once the national secretary of the Progressive Peoples Alliance (PPA), why abandon the party to contest on Congress for Progressive Chance (CPC) ticket?
 We have an alliance with CPC and for those of us from the North, it is the party. Buhari is a symbol of progressives in this country. He remains a reference point on integrity, honesty, and transparency in the conduct of public affairs.
When, by the special grace of God, Buhari assumes duty as the President come May 29, he will be working with a new set of legislators who share in his vision for a corruption free Nigeria where sovereignty belongs to the people and our collective wealth is deployed for the general well being of all not the greedy few. Do not forget that about 90 per cent of our lawmakers are not coming back. This will mark the beginning of a new order. Finally, we shall place the welfare of our people above personal consideration and there shall be a national rebirth.
My background
I have been a civil servant for over two decades, before I joined politics. I retired after 23 years of meritorious service from CBN as a senior staff. I spent two years in the office of the former vice-president, Dr. Alex Ekwueme between 1981 and 1982. I served as a press assistant as a fresher from school, from where I began my career.
I joined politics in 2006, I was an aspirant for the House of Representatives on the platform of Action Congress (AC). I left AC because of lack of standard and disregard for internal democracy and joined the Progressive People's Alliance. I became the national secretary from 2007 to 2010. I have Diploma in Public Administration, a B.Sc in Political Science and Masters in Political Economics and Development Studies. I am eminently qualified to represent my constituency at the Senate and I will not disappoint the people. I am going there to make a difference.