IBB RAISES ALARM OVER POLITICAL KILLINGS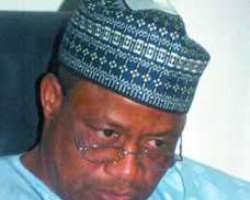 IBB
Former military President, General Ibrahim Babangida has expressed concerns over the spate of political killings in the country.
The former military leader spoke in a statement issued yesterday by his spokesman, Kassim Afegbua and made available to Daily Sun.
Babangida said the killings have assumed a frightening dimension and must stop immediately.
He stated that the spate of killings negates the principle of freedom of expression without coercion or fear of intimidation and mass participation, which was the bedrock of democracy
'These killings must stop in the name of God and for the sake of humanity. We have braced the odds in our journey to where we are today, and the expectation must be that we turn a new leaf to forge ahead…there is no rational mind that would want to fan the embers of war when we are living witnesses to the footages of war he our sister African countries. This is a wakeup call for all and sundry. Nigeria is too dear to our hearts that we cannot afford to undermine it,' he declared.
The former military president said: 'there is cause for worry. The conflagration in the country, the mindless killings in the land and the heightening fear of uncertainty which is currently enveloping the country, are not telling any good sign about our nationality.' He said the security situation in the country had grave implication for the nation's democracy and the general wellbeing of the country.
According to him, having come this far as independent nation, the expectation should be on how to create conducive atmosphere for the development and growth of the country. Babangida said security should be the collective responsibility of every member of the society.
He contended that democracy 'which guarantees the right to elect leaders should be a veritable platform to speak our mind without equivocation, rather to seek recourse to base instincts and sentiments that come with their barbaric and inhuman conduct. Killing ourselves in the name of democracy or for whatever motive will neither help us as individual members of the union nor help elected governments to pursue our collective aspirations.'
He called on politicians and key actors in the politics of the country to imbibe the spirit of sportsmanship. He urged them to accept the outcome of elections no matter how painful it might be to them.
'They must be prepared to accept outcome of elections, no matter how painful the loss could be. They must always bear in mind that the country comes first before their aspiration. They should please in the name of God imbibe the spirit of being good winners and good losers. They should imbibe the fear of God in their day to day activities without provoking sentiments that could undermine the system.'