OCHANYA OGWUCHE: WHY I WEPT AS MISS IDOMA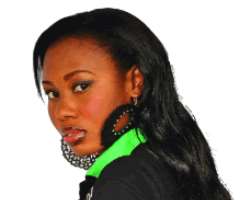 Ochanya Ogwuche, Miss Idoma
Ochanya Blessing Ogwuche believes that failure is the opportunity to begin again, even more intelligently. Since losing the keenly contested Miss Benue Beauty Pageant to the winner by a very close margin, the effervescent lady never succumbed to failure, she thus entered for the maiden edition of Miss Idoma, organised by Free Image Entertainment in Otukpo, Benue State towards the tail end of last year. Luck, however, smiled on Ogwuche as she emerged the winner, carting home mouth-watering prizes including a brand new car donated by Hon. Nelson Alapa, representing Otukpo/Ohimini Federal Constituency.
Blockbuster cornered the new queen during a dinner party organized in her honour by a fast-rising Nollywood actress Ene Ogiri, and graced by notable dignitaries such as the former Deputy Governor of Benue State, Prince Ogiri Agene, and former Chairman of Agatu Local Government, Mrs. Owakoyi Egharuwa, among others. The 200 level student of Psychology in Benue State University (BSU) gave a full insight into her personality, her foray into pageantry, why she cried when she was declared winner as well as her future plans. Enjoy:
My inspiration
I feel great winning the contest. My mum and dad are my inspiration. My parents inspired me a lot. Also, I am crazy about Fashion TV. I got much encouragement from my dad and mum. When I was growing up, they used to call me contestant number one. I love beauty pageant so much.
Why I cried
I cried that night because I wasn't expecting to win. All the contestants were beautiful on stage. We were all contesting for just one crown. The competition was very tough. There were 12 beautiful contestants and I wasn't expecting to win. In fact, I was shocked when I was announced the winner.
Proliferation of beauty pageants
Before I became Miss Idoma, I used to have the negative notion that the proliferation of beauty pageants and other entertainment competition is having a negative influence on the youth such as not allowing them focus on their education. But if you are not into something, you won't know that thing well. Other professions have their negative influences too. One thing is I will never forget my root because I was somebody before I became a star. I will not let stardom get into my head.
What I'll do for Idoma women
As a beauty queen, I intend to correct the notion that the Idoma woman is soft in the head. I will let people know the fact that they have to accept us for what we are. I will let them know that our softness does not in any way mean foolishness. We are soft because that is supposed to be the nature of women. I will let the Idoma women know and accept the fact that they are a unique people.
Pet project
The first thing I am going to do is keep the land of Idoma clean because I feel Idoma land is not as clean as it should be. I will also try to promote the Idoma culture.