SLEEP WELL, BARRY WONDER!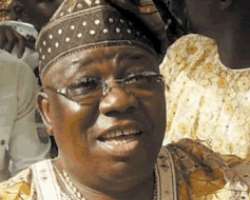 he late Balogun (Barrister)
Whether in mid-sea or among breakers of farther shore, a wreck at last marks the end of each all. But the dead are not really to blame for dying; rather, their lives and times should serve as lessons to those of us who still enjoy the Grace of God on the earth.
At age 62 when death, the cessation of life caused the sun of the creator of fuji music, Alhaji (Aare) Sikiru Ayinde Ololade Adeyimika Balogun, (aka Dr. Sikiru Ayinde Barrister) to set on Thursday, Decenber 16, 2010, the clout he had while alive manifested across strata of the society, as news of his demise sent chill through the spines of his teeming fans, admirers and associates.
To many, he was a singer, to some, he was an entertainer, while others see him as a colossus in the Nigerian music industry. Childhood tendencies, they say, forecast adult abilities, and having entered the music industry at a tender age (as leader of a Were music group) Barrister over the years used his unparalled talent in the genre to turn around Were music to what is today known as Fuji music.
There is no disputing the fact that Barry Wonder as he is also called by his teeming fans, met notable musicians on the scene, but none of these maestros ever considered giving their type of music a facelift or called it Fuji music. His remarkable integration of Were with Fuji music is a major credit to him and this singular feat exposed Barry Wonder's endowment with Yoruba linguistic devices, that enhances certain degree of distinctiveness in his numerous albums, and this endeared him to, not only his teeming fans, but music lovers in general.
The angle of folktales in his music constitutes an aspect of this tribute, which he demonstrated within the context of his dexterity in the field of contemporary Fuji rendition. Equally worthy of mention is Barry's consistency and extremism in the crusade for morals and societal values in his music, which is spiced with combative and dramatic tones, and articulated rhythms.
To say Barrister contributed a lot to the music and cultural revival of Nigeria in particular and the world in general is to articulate the obvious. He was indeed a fundamental gift to lovers of good music and Fuji.
To highlight his belief about life, the paramount ruler of fuji music demonstrated his understanding of life and exhibited unparallel maturity by closing his eyes on the King of Fuji Music award saga, a title that had earlier been bestowed on him by the defunct Sketch Press Ltd, in 1992.
Many people did not know this, but as the former entertainment cum Society Columnist with the Sketch, I can authoritatively say that I initiated the idea of the King of Fuji Music. After a Vox Pop conducted by the entertainment desk of the company, Barrister emerged as the overall winner, and the management of the Sketch approved the winner, based on the public opinion.
The award letter written by the management of Sketch and signed by the late Managing Editor of the rested stable, Pa. Ademola Idowu, a lover of Arts and Culture, was taken to Barry at his Okota, Lagos residence, in company of Mr. Lani Baderinwa, former Osun State NUJ Chairman and Press Secretary to the former Osun State Governor Bisi Akande and Bestronics, former Ibadan renowned electronics engineer cum deejay now resident in the United Kingdom.
But the idea was truncated when I was away outside the country in 1993. The same award was given to another Fuji artiste without any Public Opinion Poll, but strictly the opinion of the awardees. Without being immodest, Sketch was known to be a citadel of entertainment initiatives and art gurus while the publication lasted. It was the company that first crowned a king in the music industry in Nigeria , albeit Chief Sunday Adeniyi Adegeye, (a.k.a. King Sunny Ade), as the King of Juju Music.
What am trying to deduce from the above is not to wake the sleeping dog or undermine anybody, but to further confirm the large heart of Barrister. He did not even react negatively to the issue or had bad feelings about the beneficiary of the Fuji King Award, rather, he let go and moved ahead in his chosen field.
 Though, Barry started very small, but over the years, he grew into an astute, successful entertainer. The death of the Fuji maestro, to many, came as a shock, but many of his family members said it was a relief for the man. Barrister had complained about a troubled leg as a result of an injury he sustained during his days in the Nigerian Army among other minor health issues which forced him to relocate to the United States of America.
Long before the rumour of his failing health became public knowledge, those close to him already knew something was amiss. It, however, became open about two years ago after he clocked 60. Curiously, aside from his 40th birthday anniversary, Barrister was not known to mark his birthdays with glamour. He explained his reason for this in an interview to mark 60th birthday:
'I have been born three times and on the same day on February 9. That is why I love my mother so much. The first time, I was born as a girl named Kudi. I was given a mark on my back. When I was exactly five years old, I told my mother I am going back, she begged and persuaded me, but I died on February 9 of that year.
'My mother got pregnant again and gave birth to me on February 9 and I died again on February 9 at the age of three. Disturbed by this, my mother made spiritual findings about me and they told her I will come back as a boy, but she should never stop me from doing anything I want to do, that I will grow to learn and do things my way.
'They also told her I will become a celebrity and she should not tell anyone or even me till when I am grown up. She was also instructed that my birthday should not be celebrated. She was further instructed that whenever I want to celebrate my birthday I should be stopped, but she should find a means of distracting my attention. That is the reason why I have celebrated my birthday'.
'My turning 60 will be the first time I will celebrate my birthday. Since I have grown to known myself I fall ill exactly a week of my birthday every year. Every February 9, I find myself in the hospital. Even when I turned 40 I only recorded an album and did a musical video. When I turned 50 my friends and fans planned a big birthday for me, but as God would have it, it rained till the next day, and the party was disrupted
'I don't know why God has made it so, but anything after February 9, I will be alright. My mother understands all these and I think that was the source of the bond between my mother and I. And I did not realize all these, but I know lots of people had always wanted to associate with me, and while I was like age 10, I thought and behaved like a 60-year-old. That also reflects on my music. I don't have a composer. I write, compose and produce my songs.'
Through sheer efforts and strong will to cut a niche in his chosen profession, Barry earned for himself a national honour of Member of the Order of the Federal Republic of Nigeria (MFR) and many chieftaincy titles. For him, music is a vehicle to teach, entertain and correct whatever ill that exists in the society. He was regarded as one of Nigerian's best-known singers cum songwriters, and a leading promoter of the exciting traditional Yoruba blues.
His style was to tell a story, which he usually picked from the Holy Koran. It was for this reason that he dubbed himself Mukadam (teacher) and Alhaji Agba. In his more than 120 albums, Barry used most of his works to educate people on several issues. These vinyl materials include Iwa, Orelope, Ogun Laye, Destiny, Ise Logun Ise., Precaution and Democracy.
I hereby join millions of fans of the music icon, globally, to commiserate with his family on the departure of a loving and caring father and indefatigable entertainner. May Allah give the family the fortitude to bear the irreparable loss, and grant Barry Wonder space in Aljanah.
• HAMED is managing editor, Global News magazine, Lagos