Reps Give INEC Powers To Extend Voter Registration By One Month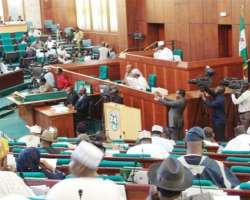 ABUJA, Jan 25, (THEWILL) - The House of Representatives today amended Section 9 (5) of the Electoral Act (amended) 2010, which was earlier amended last year to grant the Independent National Electoral Commission (INEC) powers to extend time for the conduct of the exercise.
The House also suspended plenary for additional two weeks to enable lawmakers participate fully in the voters registration exercise.
Following the successful amendment, the Speaker, Hon. Dimeji Bankole declared that the registration of voters can now be extended by at least one month to allow all eligible Nigerians register.
Section 9 (5) states that "the registration of voters, updating and revision of the register of voters under this section shall stop not later than 60 days before any election covered by this Act."
INEC now has the powers to extend the time since the amendment has cut down the number of days from 60 days to 30 days before the general election, and conclude all activities pertaining to the compilation of the voters register.
While sponsoring the motion for the amendment, Hon Ita Enang, Chairman of the Rules and Business Committee of the House, who sponsored the Bill with 19 others said it became imperative for the section to be amended to address several complaints and challenges that trailed the exercise, thereby making it impossible for some people to register.
Enang said, "according to the law, 60 days before any general election, registration should have been concluded and can only be extended by two days and that will not be enough.
"INEC has no power to extend the time because they were acting according to the law and unless the House amends it, it can't be able to do so."
The House in amending the section suspended its relevant rules and procedures and passed the Bill immediately through first, second and third reading and moved for its communication to the Senate for concurrence.
Ruling after the unanimous voice votes in support of the amendment at the three stages, Bankole said; "by this amendment, INEC can now extend the deadline for maybe, another four weeks."