ZENITH, FIRST BANK AND UBA TOP RATED BANKS IN NIGERIA - CITI GROUP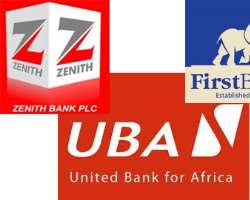 Zenith Bank PLC, First Bank and UBA have been tipped as the banks to watch and invest in their shares this year, 2011. A study conducted by Citibank Group research department on Nigerian banks and circulated among foreign and local investors published recently said:  ' Our top picks in order of preference are Zenith Bank, First Bank and UBA.'
According to the report:  'The three banks best positioned to control up to 60 per cent of system asset share by 2013 are Zenith Bank N22/share, First Bank N20/share and UBA N15/share. These three banks are our top picks, not only because we believe that the big will get bigger, but also because the solvency, liquidity and distribution capabilities of these banks are the strongest within our universe of banks in Nigeria.
Recommending to investors banks which shares they should buy it said:  'Within the sector, our three top picks are Zenith Bank BUY/ Low Risk, First Bank - BUY/ Medium Risk and UBA, BUY/ Medium Risk. We strongly believe that these three banks will be winners in the expected concentration in asset shares over the next three years.
'With capital shares increasingly concentrated post last year's audit of the banking system, we expect asset shares to follow capital.
These three banks, the report further said, had over twice the estimated net capital in the banking system $5.5 billion as against the $2.7 billion as at December 2009. In addition to capital, these banks screen well with regards to their liquidity and distribution capacity.
We believe that tomorrow's winners in the Nigerian banking industry will have the lowest funding costs and highest levels of liquidity and that this cannot be maintained without an effective distribution network that sources low-cost deposits.'
The report further said:  'In addition to these three banks, we also initiate coverage on Access Bank BUY/ Medium Risk, Guaranty Trust Bank  BUY/ Low Risk and Skye Bank BUY/ Medium Risk. In our opinion, this group of banks are best positioned to challenge the 'tier I' banks for market share in Nigeria over the next three years.
Notably, our Nigerian banking universe collectively represents: $11.8 billion in current market capitalisation, 66 per cent of the value of all quoted banks; $52 billion  in Financial year 2009 assets, 44 per cent of system; $36 billion in financial year 2009 deposits, 56 per cent of system; and $8.5 billion in 2009 equity, over 3 times the equity in the entire banking system.
Explaining how the researchers arrived at the decision, the report declared:  'Focussing on our universe of Nigerian banks, we would note that our fair-value estimates, and target prices; for these banks are calculated using a standard five-year dividend discount model.
'The cost of equity  we assume for the sector is 17 per cent and this has been derived using a risk-free rate of 11 per cent, equity risk premium of 6.0 per cent and a beta of 1.0x. the only exception to this is GTB, which we value using a 16 per cent cost of equity, on the back of a lower equity risk premium, 5.0 per cent, which is reflective of its leadership in market disclosure and the publication of its results under International Financial Reporting Standard, IFRS. The terminal growth rate we apply to all of our Nigerian banks is 6%'.
Describing the financial health of the six banks, the Citibank report stated:  'Zenith Bank PLC is strongly capitalised, highly liquid, with an effective distribution network. With no merger and acquisition execution risk, we view its risk as low.'
In the case of First Bank it said it is 'Nigeria's largest (by total assets) and most profitable bank gaining momentum and rebuilding market shares while also describing UBA as 'the largest bank with distribution network in Nigeria, with significant potential upside in its South-South Affiliate businesses.' Skye Bank, the report said, is Nigeria's commercial bank, with a strong brand and asset shares in the South-West and South-South. In the case of Access Bank, it stated: 'Access Bank is the ' best capitalised with the smallest distribution, our preferred play on the system's potential transformation. For GTB, the report said:  'The defensive growth play within our universe. A standout with regards to corporate governance. With no merger and acquisition execution risk, we view its risk as low.
It further said: 'At mid-November 2010, the total market capitalisation of Nigeria's quoted banks was $18 billion or 34 per cent of the Nigerian Stock Exchange (NSE). At their peak, Nigeria's 21 listed banks represented 62 per cent/ $53.4 billion of the NSE. Relative to our global universe of emerging market banks, the Nigerian banking system screens as one of the most undervalued; its total valuation represents only 11 per cent of the country's 2009 GDP. Currently, our universe of Nigerian banks is trading at 1.31x their 2010 E BVPS and 7.4x their 2011 E EPS. We expect the RoE of Nigeria's banks to recover to 17 per cent in 2011 and 21 per cent by 2012″.
It said: 'Post the national audit of the banking system in 2009, the capital in the banking system has become increasingly concentrated; at FY09, the 14 banks that passed the audit had 100 per cent of the system's capital, while the top three banks had over twice as much capital as our estimated net capital in the banking system $2.7 billion - the reason being that nine of the least capitalised banks in the system had US$10 billion of negative equity at FY09.
'The main risks to the Nigerian banks' equity story are centred around this year's elections and the implications they may have for the execution of the regulatory reforms being carried out by the Central Bank. Within an African context and possibly within the wider frontier market space, Nigeria has become the proverbial '800-pound gorilla in the room.' With 158 million people as at June 2010, one in every seven Africans is now a Nigerian. Nigeria is also home to Africa's second-largest economy (2010 F GDP of $207bn) and, with its 2010F GDP per capita now higher than India's, we believe that it is only a question of time before Nigeria becomes Africa's largest economy, the report noted.