Akpama Huntas, Mr Power Bike: Lagos to Owerri takes five hours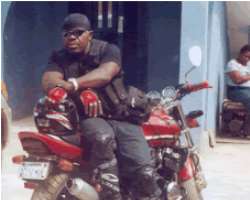 For many people from the eastern part of the country, going home during the Yuletide is a tradition. But in recent times, the deplorable state of roads to the geopolitical zone and the hike in fares have discouraged many from engaging in the annual ritual. However, for one man, Mr. Akpama Huntas, bad roads or not, travelling to the country home or any other part of the country could be much fun and as fast as one would desire. How? On his power bike of course!
Kitted in a biker's gear from head to toe, Huntas, the passionate biker, shares his love for motorcycle riding and some of the adventures he has had with it.
Lagos to Owerri took just five hours
'Last Christmas, I travelled with my bike to the East and it took me just five hours. I left Lagos at 7am and got to Owerri by noon. When I was leaving that morning, my wife was a bit apprehensive and she said she would call my family over there to tell them I was on my way. When I got there and called her, she couldn't believe it. She had to ask me to give the phone to my younger brother before she did,' he said.
But how did he pass through the much-dreaded Benin-Ore Expressway which is in a deplorable state? Launching into a power bike tutorial that could only make much sense to people of his ilk, he explained that the power bike was built for such distance and roads.
His words: 'The power bike is on a single track so it keeps moving forward unlike a vehicle that is on two tracks.  Though there are some good spots on the Benin-Ore Expressway, when I come to the potholes, I can easily dodge them because the bike is on a single track.' According to him, the power bike fares better on highways than in intra-city traffic because 'in the traffic, someone can open the door and hit you or  another driver from behind will hit you. On the highways, there's less risk because you keep moving forward.'
This love for power bikes started eleven years ago
Huntas, a civil servant, who goes everywhere with his bike, recalls that he started riding motorcycles in 1973 when he was in his early twenties. His acquaintance with power bikes kicked off about eleven years ago when he was posted to the border. 'When I was posted to the border, Jerry Rawlings, President of Ghana, made it popular there; so we were seeing a lot of power bikes at the border. Then, again, I met someone who was working in the Honda factory in Japan. The company makes power bikes also.'
Huntas struck a business deal with an acquaintance who will send the bikes to him to sell. Along the line, he acquired five of his own, which he says he prefers to his Sport Utility Vehicle. 'I have cars; even a four-wheel drive which my wife drives. I left the other car in Enugu.' For him, the love of bikes is not just borne out of love for the shiny metal and rugged looks, but also for its capability, which no car can match.
'A bike can do 300km per hour, which no car can do. I do 180km/hr because of our roads; but it's possible to do 200km/hr, 250km/hr even 300km/hr if the roads are good.'
Biking, a lifestyle
For Huntas, biking is a sort of lifestyle, as he equally belongs to a club of bikers called the Easy Riders. He reveals that there are many of such clubs around now with responsible, successful and married people as members. 'We have clubs. I belong to the Easy Riders in Ikeja. Governor Babatunde Fashola is a member of the club too. When he goes around Lagos on his bike, you won't recognise him. Governor Rotimi Amaechi of Rivers invited us sometimes ago to Port Harcourt. Charly Boy has his own club; he is the most popular biker. We have the Wheelers and new clubs are coming up every time.'
So what goes on at the clubs? Is it a gathering of a rowdy pack of crazy adventurous fun seekers who care little about life and thus prefers to live it fast on a bike? No. Huntas tries to erase this bias which he agrees many people have about bikers.
'Recently, power bike riders are being viewed by the public as people with criminal intent due to the rise in kidnappings, terrorism and crime in general and the way Hollywood depicts bikers as bad guys has not helped. Contrary to the negative way people view us, we are not bad guys. And at our clubs, what we do mainly is to educate others and ourselves on safety on the bike.
We show films of accidents and safety measures. Though we are seen as bad guys, we are not. Accidents are common due to enthusiasm but we do this for the love of travel and the feel of freedom it gives,' he said
Even some of our wives join us to ride
He acknowledged the fact that some wives join their biker-husbands to ride, but noted that many have stayed away out of fear of including their wives. He recalled how his wife stopped riding with him.
'She met me while I was riding and we were riding together initially until we moved to Lagos and her friends started discouraging her. They told her to stop following me on the bike if she did not want to die young and that I would go and marry another woman if she dies.
And for some of the big men in our clubs, they buy bikes and keep them in their garages. They can't ride often because their wives are afraid and they discourage their husbands.'