I am flattered to hear I am an authority on new Nigerian literature - Onyerionwu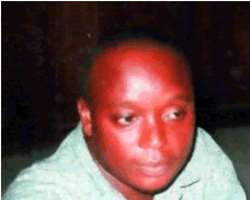 Ezechi Onyerionwu has emerged as one of the most visible critics of new Nigerian writing. Apart from being a consistent reviewer of new works from Nigeria, he has co-authored (with Allwell Abalogu Onukaogu) the impressive 21st Century Nigerian Literature: An Introductory Text (2009) and Chimamanda Ngozi Adichie: The Aesthetic of Commitment and Narrative (2010). He is also the co-editor of the new journal of Nigerian writing, Nigerian Literature Today. Also a film critic, a biographer and a festschrift scholar, Onyerionwu teaches at the Abia State Polytechnic, Aba. He spoke to Saturday Sun.
You are considered as one of the most hard-working and authoritative critics of new Nigerian literature. Can you tell us about the direction of your engagement with literary criticism?
I don't consider myself as being 'hard-working' in any extraordinary sense yet. As for being 'authoritative,' that is an extravagant generosity on your part. The energy and the potentials may be evident, but that is as far as I think I have gone. I only see myself as a young enthusiast learning the ropes and trying to do what I can when I can and how I can. I may have been lucky to have done, said and/or written a few things that have been well-noted, but I can't on the strength of those to delude myself that I have arrived. Even though the Nigerian tradition in literary criticism can be considered illustrious in many respects, there is still much work to be done.
No young critic in his early thirties and in the very explosive Nigerian literary firmament of the present day could consider himself 'authoritative,' although there are several energetic and diligent young people around. That is why I get pleasantly flattered when scholars like Professors Obumselu, Obiechina, Irele, Echeruo, Jeyifo, Osofisan, Nnolim, Izevbaye, Emenyonu, Osundare, among others, those who have worked so hard and have been so authoritative as to have established the African critical canon, think highly of my work.
As for the direction of my literary criticism, I have always been convinced that the responsibility of not just promoting new Nigerian literature but also providing interpretative insights into creative writing of the new generation belong to the young scholars who share the same socio-political and cultural temperaments and also epochal sensibilities as the new writers themselves. The charge has, in fact, come from members of the older generation Nigerian critics, particularly the distinguished Charles Nnolim, that we should study and project writers writing in our own time and clime. Just like several other young critics, I have not viewed this challenge as a misguided one. That is why I review many of the new literary books. That is the consciousness that informed 21st Century Nigerian Literature: An Introductory Text (2009); that's the alertness that gave birth to Nigerian Literature Today: A Journal of Contemporary Nigerian Writing. That is also the sensitivity that motivated the production of Chimamanda Ngozi Adichie: The Aesthetics of Commitment and Narrative (2010) (all with Allwell Abalogu Onukaogu) That is what led to the conception of Nigerian Literature: The 21st Century Conversation (2010); that is what I am thinking about as I am researching on New Nigerian Poets and the Poetics of Commitment expected in April 2011).
But, as you may have observed in virtually everything we have done, there is an acknowledgement of the legendary tradition of Nigerian writing and the intellectual attention that it has received. Even when we claim to be pursuing the establishment of a poetics or critical aesthetics for new Nigerian literature, we have to also care to locate how it fits or deviates from the schema of what has already taken shape as the Nigerian literary corpus.
Who has been your major influence as a young scholar and critic and what kind of reception do you get from older scholars?
I am not sure the vivid memories of the life and times of my roundly brilliant teacher as an undergraduate, Austine Amanze Akpuda, would ever be blurred in my consciousness. As a student, we marvelled at the level of his dedication to literature; he was truly, as he always flambouyantly said, 'married to literature' and the scholarship on it. He was not just any other literature teacher, he was a scholar par excellence, who wrote every essay with all the researching rigour and attention to detail that was possible. I have learnt more from Akpuda than from anyone else.
I have got incredible reception from older scholars; the kind I know I don't deserve. Sometimes I am tempted to rhapsodize about it: to have emerged from nowhere to work in close intellectual contact with virtually every living first generation literary critic-scholar, and as a young man of my age. To be acknowledged, in practical terms, as having something to offer to the literary discipline, by legends like Professors Lindfors, Obiechina, Obumselu, Emenyonu, Uka, Jeyifo, Nnolim, Azuonye, Odun Balogun, Izevbaye, Okpewho, Echeruo, Ikiddeh, Tanimu Abubakar, all in one lifetime, is an amazing experience. They have really been supportive - all outstanding mentors. And to tell you the truth, it is the 'nightmare' of failing them that keeps me going. The younger generations of scholars have also been wonderful.
Your book, Chimamanda Ngozi Adichie: The Aesthetics of Commitment and Narrative, just came out. What kind of critical statement should we expect?
The book, as I mentioned earlier, is part of our response to the need for sufficient attention to members of the new generation of Nigerian writers. We moved beyond the general epochal assessment outlook of 21st Century Nigerian Literature: An Introductory Text to full, book-length, individual-author studies. Where else in Nigerian/African literature does one start in this kind of engagement, if not in the interception and apprehension of Adichie's explosive, rampant but sublime and highly intellectual muse? I read in the papers the other day where a critic thought it was too early to give Adichie a serious book-length critical review, because she was too young and had published just three books, and had not been allowed to make her mistakes and learn from them. With due respect, that is a roundly erroneous view. Must we wait for a Nigerian writer to grow old and probably die, or write 20 literary books to produce book-length critical commentaries on his or her work?
What is the role of literary criticism in a literary culture? Why should we wait for Adichie to make mistakes or contradict herself before we take up our responsibilities as critics? Which other writer has impacted on the African and Nigerian literary environment the way Adichie has, in the past two decades and half, particularly since after Soyinka's Nobel investiture? Anybody who hasn't been able to detect a consistent social and artistic vision, a unique aesthetics, if you like, in Adichie's oeuvre should go back and read her well. What is the volume of the Okigbo corpus which still attracts books and conferences up until today? Are we really measuring literary accomplishment, not by the validity of creative genius, but by inconsequential prolificacy? Adichie is too important a writer to ignore in any critical form or forum, and this is the truth the world knows, and we as her kinsmen should admit and celebrate. If the very many prestigious laurels she has won, the translation of her work into about 40 world languages and her preeminence in the postcolonial conversation have not swayed her creative focus, then a book of criticism definitely cannot.
You and Allwell Abalogu Onukaogu, have a fine partnership in the criticism and scholarship of Nigerian literature. What next do we expect from you and how soon?
Allwell and I have collaborated quite considerably on a number of projects. He has the same burning passion for the critical recognition of new Nigerian writers, and he also shares my conviction that, in spite of the fact that we cannot wave aside the enormous contributions of older Nigerian writers, we cannot fossilize literary criticism on them, and that we should be alert to our responsibilities of not just giving attention to the new writers, no matter how difficult it has become, given the literary harvest we are witnessing at present, but also arguing for their place in the sometimes difficult-to-break-into Nigerian literary canon. We have one or two ongoing projects that will become public knowledge in due course.
What do you hope to achieve in this new role as the Abia State chapter of ANA?
I came on board in November last year. I am totally aware of the challenges that this position presents. But I also see it as complimentary in a way to the literary personality I intend to carve for myself. We have outlined very many programmes for this year, chief of which is the Achebe at Eighty Conference slated for March 2011.We are also looking at literary events to honour some of our departed writers like the playwright and poet, Esiaba Irobi. We also have writing competitions for primary, secondary and tertiary institutions with the aim of sensitizing the Abia community about the many wonderful social and individual potentials of creative writing. We pray we have the resources to carry out all of these.
Post-war Nigeria, Reconciliation & Unity recounts untold story of Nigerian civil war
More than three decades after the three-year Nigerian civil war ended, a book containing the untold aspects of the war, as well as the implications of reconciliation and unity in post-war Nigeria, among others, has been released by Ark Publishers, Owerri.
Written in 20 chapters, the first 15 chapters have, according to the author Ndubuisi Ibelegbu, factual and historical chronicles of topical happenings in the country from 1970-2009.
The author would not like to be mistaken as an enemy of 'One Nigeria', but warns that 'those who pay mere lip-service to the concept (and also believe the country is theirs) are really in for a shocker in the book. The young generation of Ndigbo, in particular and Nigerians, in general, now have a chance to know the truth about happenings in their country between 1970,' writes the author in a release.
The book also has a chapter on the author's ideal constitutional and electoral reforms. Posing a poser, the author writes: '… do you know that the INEC chairman and members ought to have been appointed without any input whatsoever from Mr. President, the Council of State and even Senate? Rather, it is a purely Civil Society Affair?'