Live band is bedrock of good music -Bongos Ikwue, who is set to release album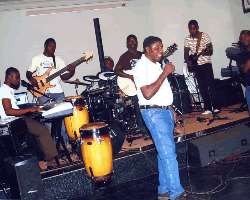 Bongos and his band
At the age of 70, one is expected to have bowed out of one's chosen career and sit back to enjoy the fruits of one's labour. But for Bongos Ikwue, the Grovies music exponent and founder of BIK entertainment outfit, turning 70 marks the beginning of his musical journey.
The veteran singer, who believes in universal peace and love, still looks smart and youthful in his Afro hairstyle when Daily Sun visited him and his Double X Band recently in Otukpo, the ancestral home of Idoma in Benue State.
The septuagenarian in his active days on stage, was a toast of music buffs as far back as the late '70s and '80s. He was then loved for the way he unleashed didactic messages through his ballad style of music.
Having registered his mark on the musical platform alongside other talented singers like Victor Uwaifo, the late Aku and Onyeka Onwenu, otherwise known as elegant stallion, Ikwue released evergreen numbers such as Otachikpokpo, Maryam, Still Searching, Ella and many others, all of which are still enjoying airplay on many radio stations.
Before relocating to his country home, Otukpo, where he now runs an edifice called Double K Resort, the artiste and his band were the talk of the town in the 70s. Bongos has equally been able to inspire many younger Nigerians with his ballad music; and he has continued to do so by nurturing a group of young men drawn from across the continent to make up his band. Unknown to many, the trained engineer, from the Ahmadu Bello University Zaria can still perform with much strength and vigor at his age.
In this encounter, Bongos and his band, who thrilled the reporter with new songs from his forth-coming album, The Way it Is decried the dwindling fortunes of live bands in the Nigeria's music industry. His words 'As you can see, everything we do here is live, I don't believe in talking too much, as a music reporter, I want you to watch my band and tell the whole world what you've seen. A dog that barks doesn't bite. Here is my band, we always perform live, we don't believe in this their so-called technology.
How do you expect an artiste to succeed in a situation whereby the producer would always try the system and borrow beats just to add colour to the rhythms. There seems to be no live bands again as all artistes want to sing one genre of music. When Daily Sun cornered some of the artistes, they all affirmed Bongos' unique style and his fatherly disposition towards them.
Chris Inalegwu Odeje    
One of the main vocalists in Bongos Ikwue's band. Since stepping into the industry some decades ago, Odeje remains a force to reckon with in the entertainment sector following the release of Great Attempt, a movie he co-produced with Chief Eddie Ugbomah. Before joining the band, he has been an ardent fan of Bongos' music. 'I've been a follower of Bongos' music when I was in the secondary school, I've always looked up to him as a role model in the industry, he was there when I released my recent album.' Odeje hails from Apa Local Government Area of Benue State
Steve Abekwa/Prince Kwiteng
Though born by Ghanaian parents, but music has taken them to the shores of Nigeria where they met with fortune. Explaining their roles as keyboardists and guitarists. The duo said 'We've heard so much about Nigeria before so when we got the invitation we were afraid but when we finally arrived Nigeria we discovere that the reversed is the case. We've never seen Bongos before. But we knew him in the papers and on TV. Meeting him was a great privilege, he's just a father, here we are like a family, he treats us like his own children.'
Kinsley Ihenacho Ekweme
He joined the band three years ago as a keyboardist. A native of Abia State, Ekweme simply said 'Bongos is simple and kind inspite of his personality'
Osegale Omofuma
'Aside music, Bongos teaches and exposes what we don't know to us, we are like one family,' said the Edo State-born guitarist.
Ogundemi Odunayo
Odunayo hails from Lagos State, he left school for what he tagged a 'great opportunity. His words 'Music has brought us together in the band. I was a student at the Lagos State University but when this great opportunity came, I left school to grab it.'