Without corps members voters' registration would have failed -NYSC DG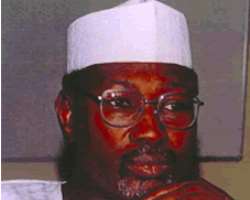 Contrary to recent reports credited to the Independent National Electoral Commission, INEC that corps members were not leaving up to expectation in the ongoing voters' registration exercise, the Director-General of NYSC, Brig-Gen Maharazu Ismaila Tsiga has said that without the corps members, the exercise would have failed.
The NYSC boss, who monitored the exercise in some parts of Enugu State yesterday, disclosed that the corps members were experiencing additional problems, as some of them were yet to receive machines in the areas where they were posted, ' and they are still sitting down there waiting for the machines to come.'
' So I don't think we should drag ourselves into argument of corps members or machines, we have a mission and we have a vision and we must make sure that we fight it to succeed. It is not a matter of accusation, all I know is that you journalists have gone around, you have seen it; without these corps members sincerely speaking we might not succeed in this exercise.
'I think, like I discussed with INEC headquarters that we have to go back to the drawing board to make sure that they give us certain areas that we can deal with these youths because we are their managers and I believe sincerely that if such thing is given, all will be well. The machines, you have seen it for yourselves, it is not the NYSC that came and upgraded it, it is not that the corps members are not there it is because of the fact that the machines are not working well.
General Tsiga said his mission of moving around was to see corps members where they were working in this INEC collaboration with the NYSC to see to their welfare and also to see to their security; 'and sincerely speaking, my corps members are really trying. Being graduates, having the zeal, having the commitment and being dedicated to make sure that we move this country forward, they decided to be using their experiences from the university to be manning these machines.'
'You are all aware of all the problems we have been encountering across the country with these machines that we are using for the voters registration and conclusively, if not because of corps members I think the machines by now would have even stopped workingbecause if you give it to illiterates who do not even know how to operate such machines I believe sincerely we would not have gone anywhere.
He dismissed the allegations where INEC was quoted as saying that corps members were over estimated, pointing out that the person who made the comment later denied the report, 'that he was quoted out of context and I believe that as an ex-corps member the National Commissioner would not have said so.
'He is a Nigerian and most of these graduates that are doing their national service now are graduates from Universities in Nigeria we cannot underrate their ability and capability; we know that we have very intelligent and dedicated graduates in Nigeria and they bare the future of this country.
'So lest believe him that he was mis-quoted but I know that my corps members can do anything that will make this country to move forward; for instance look at the inconveniences they are going through; their allowances were not paid by INEC but we are struggling to make sure they are paid still they are there working just for the sake of the country.