CHALLENGE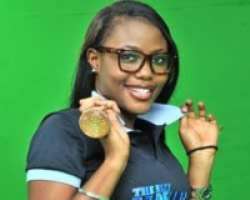 FROM her poise and comportment in the just concluded Next Movie Star Africa (NMSA) TV reality show, it was obvious that Akio Precious Ilami's decision to be part of the show is not for fun. Though not the type that loves to be at the center of every debate in the NMSA house, the final year student in the English/Linguistic department of the University of Jos was mentally alert all through the competition that had contestants from different parts of Africa. Akio is not quick to ask questions during their mentoring sessions, but she's a good listener; a strategy many believe gave her upper hand in the contest
After weeks of excitement, intense drama and suspense, Akio Precious Ilami emerged winner of the 2010 edition of the reality show, with a brand new car, cash prize and enviable movie roles in her kitty. Aside from the prizes, Ilami joins Kingsley Ogboso, Portia Yamahan, Enoch Hammond (from Ghana), Avenette Sirleaf (from Liberia) and Oyindamola Odesola, who are past winners of the reality show aimed at grooming fresh talents for the fast rising African film industry. The show, which was staged in the official Next Movie Star house for the first time, has continued to throw up young talented, who are eager to play big in the motion picture industry.
With the competition over, the 20-year old Ilami has since returned to the four wall of the university with resolve to take the Nigerian movie industry like a storm in her planned movies, as well as becoming a role model for thousands of African youths, who are struggling day and night to actualize their dreams.
'I am one, who has always wanted to be an ambassador for youths; I've always wanted to be a role model and impact in others through my acting and other artistic endeavours. I'm young and ready to take on the world,' the Rivers State native declares.
While many have attributed her success in the just concluded show to her good looks, which many consider as a plus in the country's movie industry, Ilami insisted her strategy played a vital role in her success story.
'I was focused and determined and the best thing I did was bring people I thought were a challenge very close to me to learn from them, instead of praying for their eviction. Though it was a competition, I tried to be real. I didn't put up any fronts that would make it seem like I was too desperate to win and I think being real paid off for me.'
For Ilami, aside from winning the top prize, being part of the reality TV show in the first place, is a life changing experience.
'I learnt to live with people from different backgrounds, cultures and religion; people from eight different countries across Africa and still tolerated them which is one of the qualities of a good actress as I learnt in the house. That, for me, is the most profound experience that has changed my life, which I will carry everywhere.'
While many believe that winning the prize will have impact in Ilami's lifestyle, especially on campus, the English Language student has a different opinion.
'It is not winning really that has changed or impacted on my person; it is being in the house with other equally talented youths from different parts of Africa with their individual idiosyncrasies and characteristics. I have learnt to be a humble person. This has also given me the platform I have always wanted and dreamt about and I am ready to explore the industry with my talent. It has also taught me ways to go about life as an actress and it has really added value to my person.'
Aside from being a disciplinarian and an advocate for education, the quality of past winners in the previous editions of the show was enough conviction for Precious Ilami's mother to give her blessing.
'She knows it has always been my dream and she believes it's a perfect platform to realise my acting dream. I recall my mum saying 'Go and just be yourself and God will be with you. I believe in you and I believe you can do it.' That really touched me as it stuck with me throughout my stay in the house. My mum is so proud of me now, not forgetting the joy she felt and tears she shaded when I was declared the winner; she has been very supportive.'
From her tone, Ilami seems not surprised clinching the top prize.
'I struggled at this age to get to where I am today; even if I didn't come out the winner but was chosen among 15 other people to be in the house, that was all I needed to get my platform and with that I wouldn't have stopped climbing the ladder and getting to where I want to be. For me, this is just the beginning of my evolution as Nigeria's most celebrated actress.'
For those, who followed the show on air, it was smooth ride for Ilami all through the competition; she never showed signs of fear.
'I've got this slogan which I always used in the house, 'never give up.' I don't believe in the word unsuccessful because I believe if you put in your best in what you are good at, you will always come out successful. Fine, there were very strong characters in the house, but I knew I could always hold my own against anybody and that was all the fortification and motivation I needed to stand up to the other guys.'
Listing the likes of Joke Silva, Genevieve Nnaji, Angelina Jolie, and Tontoh Dikeh as her favourite movie stars, Ilami commended organisers of the reality show, which has impacted on many African youths.
'Without corporate sponsorship, this show has continued to churn out celebrities with substance; not just reality TV show stars that always fade after one or two years. I doff my hat for the young man behind the show, Sola Fajobi; he is an inspiration to my generation. He is a man that should be celebrated and acknowledged for providing the enabling template to youths to achieve their acting ambitions and he has done this successfully without any backing for six years.'
She continued: 'The NMS is a show that doesn't only look out for acting qualities but also personality qualities and so many others, which all add up to form a quintessential actor with strong values. Look at the guys that have passed through the NMS; Porttia Yamahan, Kevin Chuwang Pam, Uti Nwachuku, Annie Macaulay, Lydia Forson… these are formidable guys in the entertainment industry today'