TASTY TOMATOES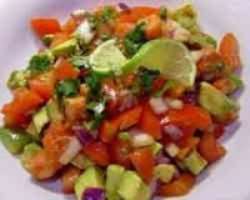 Taste the goodness of tomatoes and its many health benefits with these recipes offered by IYABO AYANDARE Lycopersicon esculentum as tomatoes are scientifically named have fleshy internal segments filled with slippery seeds surrounded by a watery matrix.
TOMATOES are a rich source of several nutrients. These make them well known for their high vitamin C content, alongside the significant amount of vitamin A, B vitamins including niacin and riboflavin, magnesium, phosphorous and calcium.
They are also a good source of chromium, folate and fibre. In recent years a particular nutrient found in abundance in tomatoes, lycopene has made many headlines for its disease fighting abilities.
Lycopene, as the red pigment contained in tomatoes is called, is well known as a preventer of prostate cancer, which makes tomatoes high on the healthy food list for men. Lycopene is not just important for men though. It is a powerful antioxidant and as such helps to protect the cells in our bodies from damage.
Studies in humans have shown that lycopene is protective against a variety of cancers including prostate of course, but also colorectal, breast, lung, endometrial, pancreatic, bladder, cervical and skin cancers.
Again, studies conducted by Harvard researchers have discovered that men who consumed 10 servings of tomatoes a week, or the equivalent to 10 slices of pizza, can cut the risk of prostrate cancer by 45 per cent. Italian researchers have found that those, who consume more that seven servings of raw tomatoes lower the risk of developing rectal, colon or stomach cancers by 60 per cent.
Along side these, Israeli researchers have revealed that lycopene is a powerful inhibitor of lung, breast, and endometrial cancer cells. Nutrition experts have also added that the lycopene in tomatoes can help older people stay active longer.
The vitamin B6, niacin, potassium and folate found in abundance in tomatoes are potent protectors against heart disease. Niacin can lower high cholesterol levels and potassium has been shown to lower high blood pressure and to reduce the risk of heart disease.
Vitamin B6 and folate also work to convert the homocysteine in our bodies into harmless molecules. High levels of homocysteine are associated with an increased risk of heart attack and stroke. The fibre in tomatoes also helps lower cholesterol levels, helps prevent colon cancer and helps to keep blood sugars at a low level.
Tomatoes are a source of riboflavin, which has been shown to be helpful for migraine sufferers by reducing the frequency of their headaches. A helpful note about tomato nutrition is that lycopene is actually more available to the body when tomatoes are cooked, so cooked or canned tomatoes are just as nutritious for you as raw.
Tomatoes and broccoli-two vegetables separately recognised for their cancer-fighting capabilities-are even more successful against prostate cancer when working as a team in the daily diet, shows a study published in Cancer Research.
Keep killer cancer at bay with these nutritious arsenals for your gourmet delight.
Pepperoni polenta pizza
Recipe for 6 servings:
½ cup dry polenta
2 ¼cups water
2 teaspoons olive oil
1 onion (thinly sliced)
¼ cup green bell pepper (diced)
½ cup marinara sauce (check store)
10 slices reduced fat pepperoni
1/3cup tomato (diced)
¼ teaspoon oregano (dried)
Dashes salt & pepper to taste
½ cup part-skim mozzarella cheese (shredded)
Place the polenta, water and salt in a saucepan, and bring to a boil. Cook, stirring constantly for 3 to 5 minutes, until thick. Pour into a pie plate or shallow baking dish. Cover with plastic wrap, and refrigerate until chilled. Preheat the oven to 450 degrees F (220 degrees C).
Heat oil in a skillet over medium heat. Add the onion and bell pepper, and cook, stirring until onion is soft. Set aside. Spread the marinara sauce over the chilled polenta 'crust'. Top with the onion and pepper mixture, pepperoni, tomato and oregano. Season lightly with salt and pepper.
Bake for 10 minutes in the preheated oven. Sprinkle cheese over the top, and continue to bake for an additional 2 to 3 minutes, until cheese is melted. Cut into 6 wedges, and serve hot.
Jollof rice
Recipe for seven servings:
5 cups rice
2kg chicken, (clean & cut into chunks, season well & cook)
Some stock
1 large onion (finely chopped)
1 green bell pepper (chopped)
4 cloves garlic (minced)
1can tomato paste
2 cups fresh tomatoes (finely chopped)
2carrots (peeled & chopped)
Salt  & seasoning taste
1cooking spoon pepper (freshly ground)
150ml cooking oil
In a medium size pot, heat oil over medium-high flame. Working in batches, add the chicken and brown on all sides. Remove the chicken to another large pot and add the water or stock. Bring to a boil, reduce heat to low and simmer for 20 minutes.
While the chicken simmers, pour all but 2 to3 tablespoons of oil out of the first pot. Heat the oil over medium flame, add the onions and peppers and sauté until the onions are wilted and translucent, 4-5 minutes. Add the garlic and sauté for another 1-2 minutes.
Stir the rice into the onions and peppers and heat through for another 1-2 minutes. Stir in the tomato paste to coat the rice and give it a reddish hue. Add the chopped tomatoes and let them cook down for 2-3 minutes.
Pour in the chicken and its simmering liquid into the rice pot and add the carrots, green beans and cabbage. Season well with salt and pepper. Bring to a boil, reduce heat to low, cover tightly and simmer for 20 minutes. Remove from heat, let rest another 10 minutes. Remove to a serving platter and serve with dodo, sliced hard-boiled eggs and a side salad.
Tomato blended potatoes
Recipe for two servings:
3 large potatoes (peeled)
2 large fresh tomatoes
1 ½ teaspoon cooking oil
¼ teaspoon turmeric powder
¼ teaspoon coriander powder
1pinch fresh coriander
1 teaspoon green chillies, to taste
Dash salt, to taste
Wash the tomatoes, and cut into small pieces. Combine chilies and tomato pieces in a blender and process until a paste is formed. Wash and boil the potatoes. Peel them and cut into cubes. Set aside. Heat oil in a pan and after the oil has warmed up, add coriander powder and the turmeric powder.
Add the tomato-chilli paste, salt, and fresh coriander. Stir well and leave to simmer on medium flame. After about 5 minutes add the cubed potatoes, stir to coat well with the paste and leave to simmer for another 8 to 12 minutes. Serve with a cup of tea.
Goat meat stew
Recipe for seven servings:
10 fresh tomatoes (ground)
7 hot chilies (ground)
1 medium onion (chopped)
2 tablespoons tomato paste
11/2kg goat meat (tenderly cooked)
Dashes salt & seasoning to taste
80ml cooking oil
5 cloves garlic (minced)
1/3 cup ginger (crushed)
Cut meat into chunks. Wash and rinse well. Season with onion, ginger, garlic and other seasoning of choice. On a medium high heat, cook meat for 20-30 minutes or until tender enough. Meanwhile, heat oil in a pot, add some onion.
Allow frying for about 2-3 minutes, then, adding ground tomatoes, tomato paste and chilli. Cook for 10 minutes and pour boiled meat and stock into stew. Add more seasoning and cook on for5-10 more minutes. Check at intervals to adjust seasonings if need be. Serve goat meat stew with white rice or as desired.
Tomato &avocado salad
Recipe for five servings:
4 large tomatoes (finely chopped)
4 Avocados (peeled, pitted & diced)
1 medium red onion (thinly sliced)
¼ teaspoon black pepper, or to taste (ground)
1 (8 ounce) bottle balsamic vinaigrette salad dressing
In a large serving bowl, toss together the tomatoes, avocados and red onion. Dust lightly with black pepper, and pour salad dressing over. Cover and chill for at least one hour before serving to blend flavours.