NIGERIA BUILDS UP INVESTOR RELATIONS AHEAD OF $500M EUROBOND ISSUE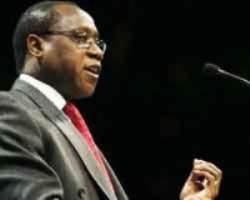 NIGERIAN officials, on Wednesday, met with prospective investors in New York, to market the country's $500 million debut Eurobond, due to be issued today.
Minister of Finance, Olusegun Aganga, led officials from the Debt Management Office (DMO), the Central Bank of Nigeria (CBN) and the ministry, to the meeting held at New York Palace Hotel.
The team was expected to meet with other investors on yesterday in Boston, joined by another team of Nigerian officials arriving from a road show in London.
The North America Correspondent of the News Agency of Nigeria quotes Aganga as saying that the meetings with investors were not open to newsmen. Hence, journalists who travelled with the team were asked to stay out of the meetings.
Aganga said: 'Because this is a private placement, our advisers told us that we are not allowed to talk about it until after the pricing (today). That is under the U.S. rule'.
Asked about his expectation for the bond, for which he has previously spoken optimistically about, he said: 'At this stage, it is premature. We only started meeting with investors on Tuesday, and on Thursday, I will spend the whole day meeting with investors in Boston.
'There is also a team in London, which will join us in Boston on Thursday (yesterday), then we should be able to compare notes and we can come up with something, in terms of expectations.'
Aganga said a planned meeting with investors in Los Angeles on Tuesday, was not cancelled, saying 'I had all the meetings through the phone yesterday'.
He also did not disclose any details of the meetings by telephone.
Last September, Aganga said Nigeria, Africa's top oil exporter, planned to use the Eurobond as a benchmark for local companies to price debt and fund development projects.
Some analysts interviewed by Reuters on Wednesday, expect Nigeria to yield above Gabon's 2017 Eurobond, which is trading around 5.2 per cent.
Nigeria and Gabon are both oil exporting countries.
According to Reuters, the analysts put the expected yield for the 10-year paper in a range of 5.5 to 7.7 per cent, compared with Ghana's Eurobond, which is due to mature in 2017 and which is currently trading at around 6.2 per cent.
Last year, the Federal Government appointed Deutsche Bank and Citigroup as bookrunners for the Eurobond, while Barclays Capital and FBN Capital, a subsidiary of Nigeria's First Bank, are financial advisers to the issue.
Nigeria was forced to postpone the sale two years ago as a result of the global financial crisis in the international capital markets, a DMO statement, dated October 4, on its website, said.
According to the data on the DMO's website, Nigeria's total external debt stock as at September 30, 2010, was $4.5 billion.
It also put its total domestic debt at N4.2 trillion, on September 30, 2010, while Nigeria's debt to GDP ratio currently stands at 16.58 per cent.
Figures from the CBN website put the country's reserves at $33.2 billion as of October 4, 2010.