Gloria Doyle collapses at album launch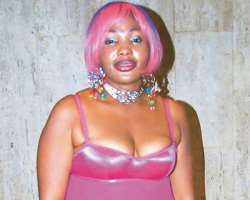 Gospel singer, Gloria Doyle
Gloria Doyle knows how to draw attention. And that is a fact. If she is not making the guys drool with her dress sense, she is setting tongues wagging with her daring and bold make-up and hair extensions.
The gospel artiste (who now says she is not a gospel artiste) sure knows how to cause a stir.
Anyway, she launched her latest album, Party Time, in Lagos on Sunday. Expectedly, Gloria caused another commotion.
Guests had thought that she had become 'born again' when she walked in, in an immaculate white trouser suit. But by the time she turned around, the guests realised how mistaken they were. In her usual daring style, the jacket of her suit was not buttoned up, and her screaming blue bra was exposed for whoever cared to see.
Her hot looks was reinforced by a blue tie and high stiletto heeled shoes. Alas, it was these shoes that landed her in trouble.
As she walked majestically to the stage, swaying her hips from one side to the other, Gloria tripped and collapsed on the floor!
The hall went wild while her standby dancers scrambled to help her to her feet. But it was as if she was heavier than they had imagined. It took a while.
When they finally succeeded in helping her to her feet, it was a crestfallen Gloria who dusted her backside and sauntered up the stage to perform.
Trust Doyle, however, to make the most of an embarrassing situation. She quickly put the ugly incident behind her. At the end of the day, she succeeded in thrilling the audience with vibes from her latest album.