PHCN AND ECHOES OF ANTI-REFORM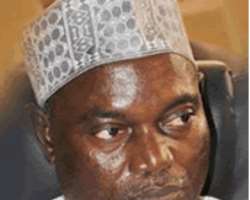 ••Wya, Power Minister
Towards the end of last year, Joe Ajaero, the General Secretary of the National Union of Electricity Employees (NUEE), the labour union dominated by junior staff of the Power Holding Company of Nigeria (PHCN), issued a circular dated December 6, 2010, under the subject: 'Call for Nationwide Anti-Privatisation Rally: December 16, 2010.'
For a quick recapitulation, the circular stated that the rally requires 'the participation of all members' (Ajaero's emphasis, as are the others below) and is meant 'to sensitize the Nigerian populace of the nefarious activities of the economic hawks who are hell bent on turning our patrimony to their personal estates in the guise of privatisation.'
Then the circular says: 'Today, we have seen the extent a civilian government could go in protecting the economic interest of members of their party by deploying soldiers to some of our stations' and then urges the would-be protesters to 'reject military occupation of PHCN offices' and 'say NO to the hand over (sic) of PHCN to friend (sic) of those in Government' and 'stand up to oppose the continued enslavement of over 10, 000 Nigerians in the name of Casulalization' and 'demand for the implementation of the balance of 137% salary increase.'
Then this: 'We urge you to be on standby for further actions as we move into the New Year, the year of ACTION'
I presume that as a Nigerian citizen I deserve to claim a stake in the 'patrimony' which Ajaero purports to be in a struggle to salvage and so should have a say as to what should happen to it in the light of its having hitherto been so mismanaged that it hardly serves my interest and those of a majority of my compatriots. I do, not have the 450 million Naira Ajaero recently raised from the backlog of monetisation benefits paid to members of his union. Even if I do I could still prefer to look at the bigger picture and not take the stand he has taken against the ongoing reform of our power sector.
That bigger picture constitutes in realising that the PHCN is not really a patrimony in the proper sense of the word, any more than NITEL is a patrimony. It is a government agency established to render specific services to the people and which for a cocktail of reasons has hitherto failed woefully in rendering those services, chief of which is to supply electricity to drive economic development and guarantee electricity-dependent comfort to the Nigerian people.
For instance, all the 25 communities in my Local Government Area of Ohafia, in Abia State, home to such eminent personalities as Dr Kalu Idika Kalu and Chief Ojo Maduekwe, two former ministers, have not had electricity in the last six months. And while visiting the Abuja studio of the CNBC cable network service recently, a lady told me that in most parts of Kano, where she apparently comes from, refrigerators now stand as monuments of regret to those who 'waste money' to purchase them. Her explanation: the PHCN could go for several months without supplying electricity to power the refrigerators, so much so that, as she added with sublime cynicism, they are often converted to storage facilities for things like dry fish and dry pepper.
Thus, down south in my 'rural' community and up north in one of our country's most populous and established metropolis, it is evident that the 'patrimony' that is PHCN is not serving the interests of the people and has become an inheritance of embarrassment in desperate need of a crucial intervention to make it useful and profitable to its owners, the people.
That intervention has come by way of the power sector reform which Ajaero opposes with the type of irrational and venomous vehemence to which his circular gives vent. But if the members of his union would prefer to be led as the thinking beings they are, they would see that government is only living up to its responsibility by despatching soldiers to protect PHCN equipment and installations from potential damage at a time of palpable tension, the same protection that Ajaero would apparently have us believe that he is altruistically offering the same equipment and installations from 'economic hawks.'
Now as a former employee of the National Electric Power Authority (NEPA), the parastatal that metamorphosed into PHCN, I know from personal experience that PHCN workers do not view it as an outrage that the government sends security agents to protect PHCN property whether as a routine measure or as a response to an emergency. They would tend to judge such situations on merit. Ajaero is not likely to know this since he does not work (and has never worked) in PHCN; and alas he does not seem to understand that his outsider status can be a ground for rational people to question the credibility of his pro-PHCN messianic mission as they are likely to question the credibility of an Eskimo seeking to solve heat-related welfare problems of Nigerians, even if he does not, like Ajaero, put himself in a position where he appropriates hundreds of millions of Naira from the 'oppressed' in order to campaign for their 'well-being.'
Then, considering the present government's positive response to NUEE's demand for the payment of the backlog of its members' monetisation benefits, one could infer that the government is equally committed to addressing the other welfare-related issues Ajaero raises in his circular, so far as their merit can be established. Except that we must also understand that the wheels of government bureaucracy tend to move like the wheels of justice: slowly but ultimately to efficient restitution.
Incidentally, Ajaero's circular, I dare say, strikes me as a study in the generation of such high-voltage emotionalism that seeks to shock reason to despair. Or how can he be talking of 'military occupation' when PHCN offices are not foreign of disputed territory? Clearly, we as patriotic Nigerians must remain sober and rational as we seek to extricate ourselves permanently from the morass that the chronic inefficiency of our power sector has plunged all of us. And from the tremendous improvements we have recorded, in relation to the economy and service, by privatising our aviation and telecommunications sectors, and from the positive experience of other countries that have privatised their power sector, especially when compared with what transpired in the sector prior to privatisation, I think it is reasonable to insist that the privatisation of our power sector is the best way to go if we must come out of the morass.
Indeed, 2011, Ajaero's 'year of ACTION,' is here. But clearly the action we need is one that will prevent our country from degenerating to a literal kingdom of darkness where those who oppose the power sector reform reign, coupled with action that will transform it into a kingdom of light in which we shall all reap the great benefits of a fully and reliably electrified country together with those who currently oppose the reform, Ajaero inclusive, benefits in the form of functioning industries and expanding businesses that should create jobs extensively in a country threatened by mass unemployment.
By the reform of our power sector, with the attendant privatisation of the PHCN, we Nigerians have nothing to lose but one of the rusty chains that have bound us like slaves to inefficiency, corruption and underdevelopment, making our lives 'nasty, brutish, and short,' to quote Thomas Hobbes's description of man's life in the state of nature.
Oke, poet and journalist, was a trade unionist at NEPA. Tel: 0803 453 1501.
Re: A nation on its knees
Your write-up on the above subject is so revealing, I almost thought we were already a failed state. When we allow people of questionable character to lead us, what do we expect? The youths shall not die because we are going to hold everyone responsible. It may not be in this Nigeria but another country after they may have used their hands to destroy this present Nigeria. Their children who live abroad will be victims of their parents' misdeeds. We, the youths, are waiting. Omeiza. Badagry
***
I wish we had many of your type that can tell truth to whom it should be told. From now on, your column is a must read. Musa. Keffi
***
Haba! Zainab. This is too hot for Goodluck. Make you no invite trouble for oga and innocent kids, they no care whether schools are closed up till 2020. Their children are in London, South Africa, or Accra. 08060255585
***
Honestly speaking, your write-up simply means 'a vote of no confidence' on President Goodluck Jonathan. Keep it up. J.J. Festac
***
Do you intend to divert the president's attention? After his primaries, he will devote time to some real urgent issues. Do you see how people are being killed in Jos like cows? Nigeria is truly in need of a leader. 0803617364573
***
A knife cut that developed pores immediately is an evil cut. After May 29, 2011,
the nation will no longer be on its knees. Let us give GEJ the benefit of the doubt by not being sentimental. 07039791313
***
ho has kept the nation on its belly to continue. We are not serious. Torngu Danie, Gboko, Benue State
***
Thank you for collating all that we knew about the uncertainty of our present and bleakness of our collective future. You truly called a spade by its first name. No one can dispute the apolitical disposition of your analysis, the veracity of the facts you adduced and the efficacy of your conclusions. A.U. Idris. Birnin Kebbi
***
I read your thoughtful piece. You are a great chronicler. Jonathan is not competent to lead Nigeria. Buhari is the man! You have won a fan. Be oxygenated! Benjamin
***
Stop envying my president! In any case, you can't question God. If your Northern brothers had allowed him when God took His decision on your late president, lots of jobs would have been created by now. It is time to return him, so, allow good Nigerians to decide, please.
Emeka Onah, Port Harcourt
***
More grease to your elbow! May Almighty Allah give you more knowledge and understanding. God bless. 07032744295.
***
There are no other indices that we need; we've all seen the failure. I appreciate your write-up. Change is the answer. Sam, Makurdi
***
I am amazed at your article. You are a gift to this country, because when I look at your intellectual capital, I could not but thank God for you. You have given me hope that there are still people even when everyone seems to have veered into uncharted territory. You are in my school of thought. Abraham Usen
***
Salaam! I commend you on this write-up. Well-done. Dauda, Kaduna
***
Hi Zainab. I am very happy about your message to our leaders, especially to President Jonathan. Prince Osaro. Portharcourt.
***
Nice and thoughtful. I am proud of you. Indeed, Nigeria is failing. Muhammed Kabiru. Asaba
***
Beautiful piece! I want to be your student. Ephraim
***
The fact is that the president is surrounded by sycophants coupled with lack of experience in governance. Until the right person who can handle the affairs of the country occupies that position, the killings and bombings will continue. 07032558119