EKITI: THE RETURN OF ALAAFIN AOLE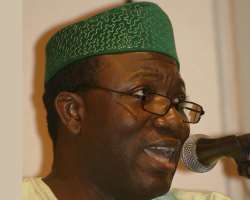 PHOTO: EKITI STATE GOVERNOR, DR KAYODE FAYEMI.
One of the lessons my grandfather taught me was to always be mindful of vengeance because revenge to him belongs to God. Often, he would tell me stories of people that got perished because they embarked on blinded vendetta against those they perceived had wronged them in the past. One of such stories was that of Alaafin Aole, the last ruler of the old Oyo Empire! Alaafin Aole, the one who is referred to as Oba Afepeja (the monarch who fights with curses) waged war against towns in Yorubaland where he was badly treated before he became king, and did so with passion and impunity. Two of such towns were Apomu and Iwere. Contrary to the oath taken by Alaafin Aole on his coronation that he would never fight Ife and its neighbours with the sword, he ordered Apomu to be attacked.
Also in spite of the curse placed by Alaafin Ajagbo that any Aare Ona Kakanfo that waged war against Iwere-Ile, his maternal town would die miserably, Alaafin Aole ordered Afonja, who was the Aare Ona Kakanfo then to attack Iwere-Ile and bring to him the head of its Baale (Village Head). Iwere-Ile was also the maternal town of Alaafin Abiodun. This led to the collapse of the old Oyo Empire in 1793. However, not only did Oyo Empire collapse, Alaafin Aole also cursed Afonja and the entire Yoruba race and it is believed by many that the curse is responsible for the disunity in the Yoruba nation till today. Alaafin Aole committed suicide after seven years on the throne. But 218 years after, he appears to have reincarnated in Ekiti, though not as an Oba this time, but as a governor! On October 15, 2010, Dr. Kayode John Fayemi became the governor of Ekiti State via the Appeal Court, Ilorin judgment that removed Chief Olusegun Oni. Since then, the only fire that has been burning in the State is vengeance!
First, immediately Fayemi was sworn in, he directed the demotion of all Permanent Secretaries appointed by the Oni-led government, saying they should revert to their positions prior to their appointments as permanent secretaries. Though he reversed the decision 24 hours later, the permanent secretaries are now being retired with eight already retired prematurely. On resumption of office on Monday, October 18, 2010, Fayemi ordered the removal of Oni's portrait from among the portraits of former governors of the State, claiming that he (Oni) was never governor. Even in his utterances, the governor maintained this stand until he was told its implications.
One of such implications was the legality of his swearing-in as governor by the then Acting Chief Judge of the State, Justice Silas Oyewole and the State House of Assembly inaugurated by Oni. But even at that, Fayemi has refused to accord Oni any recognition as a former governor even though the argument of whether Oni was governor or not had been settled by the Supreme Court in its judgement in the case of AG Anambra State V AG Federation (2007) 12 NWLR Pt 1047. Section 150 (2) of the Evidence Act is also instructive. It states that; "When it is shown that any person acted in a public capacity, it is presumed that he had been duly appointed and was entitled to so act." Most importantly, Fayemi stopped the October, 2010 salaries of all political appointees that worked under the Oni-led government in spite of the fact that they all worked till 15th of the month and the salary had been prepared before he became governor. Even allowances already approved for payment were not paid! Does Fayemi not know that equity demands that services rendered must be paid for?
Furthermore, Fayemi dissolved all statutory boards and commissions, not minding the statutory flavours attached to such appointments is to pay all outstanding entitlements of the members as done in the case of George Ojo & Others versus the governor of Ekiti State. The governor has been using public funds to pay lawyers to prevent payment of the entitlements. Not done yet, the vengeance-seeking governor sacked duly elected Local Government officials in the State contrary to the State Local Government Administration (Amendment) Law No. 6 of 2001, which made it mandatory that two-third of the 26-membered House must ratify council dissolution. And to legalise his illegality, the governor caused eight Action Congress of Nigeria (ACN) members in the House to ratify the dissolution.
The 1999 Constitution also frowns at the constitution of caretaker committee in place of elected council officials. Fayemi's government of vendetta got to the peak two weeks ago when a certain armed robbery suspect, Kenneth was made to claim that Oni sought the assistance of his gang during the April, 2009 rerun governorship election. Most ridiculously, the suspect alleged that firearms were provided for them through Oni's Personal Assistant, Mr. Bunmi Ojo and they were promised N10 million out of which N3.9 million was paid. The suspect went further to claim that it was the refusal of Oni to pay the balance of N6.1 million that made the gang took to armed robbery. What a statement of defence! Pronto! Fayemi, through his media aides went to town with the story, circulating it to the press.
One of the apologists of the governor even posted the story on some yahoogroups before it was published in the newspapers the following day, and from the words and letters of most of the newspaper reports, it was obvious that the story actually emanated from the governor's office. Immediately the story was circulated, Wale Ojo-Lanre, Chief Media Aide to Oni reacted, accusing Fayemi of plotting to witch-hunt, implicate and hound to jail some personal aides and associates of the former governor, using trumped-up charges. Ojo-Lanre alleged that Fayemi had a dinner discussion a few days ago with his inner caucus where a strategy of 'backbone braking' was formulated aimed solely at ensuring that prominent associates of Oni are "harassed, humiliated, intimidated, arraigned and possibly jailed on trumped up charges. He said Fayemi and his gang resorted to this "fall back" strategy after all attempts at concocting financial misconduct against Oni had failed. "We are aware that the leader of the robbery gang is being tele-guided in a phony statement to implicate Mr. Bunmi Ojo, Personal Assistant to Chief Segun Oni.
And in matter of days, names of other aides of the former governor, already pencilled down 'to be taken out of circulation, are going to be added to surface in the suspect's statements or other trump-up charges," Ojo-Lanre said. Just last week again, Fayemi commenced the processes of reopening the State owned radio and television stations on which the Oni-led government committed N1.5 billion to the procurement of equipment and renovation works. Workers of the broadcast stations that are seen as sympathetic to the Oni's government are not being recalled because in the opinion of Fayemi and his men; "they must be dealt with for their perceived support for the Oni-led government."
Obviously, less than three months in office, Fayemi had in the pursuit of vendetta, tainted his credential as an apostle of rule of law so much that his colleagues are now being advised not to behave like him. For instance, Joseph Adeyeye of The Punch newspaper said in an open letter to Governor Rauf Aregbesola of Osun State that; "On Wednesday, I had an interesting chat with a friend of yours, a senior lawyer, pro-democracy warrior and a perennial thorn in the flesh of our lunatic leadership. It centred on your mutual friend, the Governor of Ekiti State, Dr. Kayode Fayemi, the University of London trained PhD holder whose specialties include 'democratisation and constitutionalism'. "But this time, we were not relishing Fayemi's tortuous and nerve-wracking ascent to power or rehashing his outstanding contributions to the fight against military rule. We were lamenting his role in the recent legislative rascality that defiled his state. I am sure you are aware that Fayemi dissolved 16 local government councils in the state recently.
This decision, which my learned friend said was illegal, was later ratified by 12 Action Congress of Nigeria state lawmakers in the absence of their 13 Peoples Democratic Party colleagues. "The news from Ekiti was that the Fayemi administration masterminded it. Rather than view this as a descent from the moral high ground from which Fayemi pontificated while he struggled for his stolen mandate, his camp has been labouring to persuade us that it is possible for 12 lawmakers to form a majority in a legislative house of 25 members." Like Alaafin Aole, Fayemi is not likely to give himself to reasons, not minding that God, who is the only one that gives power said in Leviticus 19:18 that; "Do not seek revenge or bear grudge against a fellow Israelite..." He is sure going to continue with his regime of vendetta until such a time that he is confronted by his own Apomu and Iwere-Ile. However, unlike Alaafin Aole's old Oyo Empire, Ekiti will sure still remain and shall be governed by others, who must have learnt from Fayemi's prize of vendetta!
Olayinka, a journalist writes from Okemesi-Ekiti.


Disclaimer:

"The views/contents expressed in this article are the sole responsibility of the author(s) and do not necessarily reflect those of The Nigerian Voice. The Nigerian Voice will not be responsible or liable for any inaccurate or incorrect statements contained in this article."
Articles by thewillnigeria.com