Zaki-Biam invasion: Blame Akume, not me- Obasanjo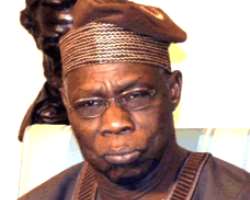 Former President, Olusegun Obasanjo has blamed the invasion of Zaki-Biam and the killing of many Tiv sons and daughters by the military during the Tiv/Jukun crises in 2001 on the former governor of the state, George Akume, insisting that he (Akume) invited the military.
Obasanjo, who said this during a courtesy call on Governor Gabriel Suswam at the Government House in Makurdi on Friday explained that the then governor, Akume came to him and said the situation was beyond him.
'And when you have a situation like that and you invite the military because the governor has no power to deploy the military but you invite the president who is also the Commander-in-Chief to deploy the military, then you have seen that security is being really threatened and when that happens, you should take responsibility for the invitation.'
While stressing that soldiers by their training are not to shoot to threaten but to shoot to kill, the former president maintained that, 'the enemy you shoot to frighten to go away is the same that will stand to fight you tomorrow.'
'The military are not trained to shoot to threaten, they are trained to shoot to kill. If I send soldiers to the war front and they come back to say they have shot at the enemy, they would be court-marshaled because they are not sent to shoot to frighten the enemy but to kill the enemy.'
'I do not say that mistakes do not happen on either side but you must know what is the genesis. The genesis is that the governor then invited the military. Not this governor (Suswam). And I pray that nothing will happen to threaten the security of this state to the extent that this governor will invite the military.'
In 2001, during the Tiv/Jukun crises, several Tivs were killed after armed soldiers who were deployed to Benue invaded Zaki-Biam.
Since then, the Tivs have continued to blame Chief Obasanjo who was then the president of the country, especially as the white paper on the Judicial Commission of Enquiry that was set up to investigate the matter is yet to be released till date.