I'd rather kiss a toilet seat than act nude ---Mercy Johnson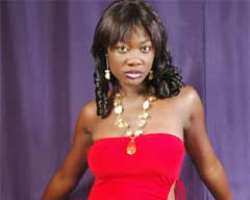 The greatest assets Mercy Johnson has, are perhaps her eyes. They twinkle with such daring sparks that you can't but notice her whenever she walks past. Observers believe that may have contributed to her being in such high demand in the movie circle.
Whatever the reason may be, the Kogi State-born actress has certainly paid her dues. The dark complexioned lady who was born in the 80s claims that no amount of money will make her act or pose nude. She tells Showtime Celebrity her story. Enjoy:
How did you get into the movie industry?
It all started about four years ago when I finished my secondary education. When I didn't pass my JAMB exam, I got bored and I felt like, okay since I have a flare for acting why not give it a try. While in school, I watched a lot of Genevieve's movies and I was a very big fan.
So I said to myself, instead of sitting down at home and doing nothing, let me just spend the time on something more tangible, let me do something I have always wanted to do and have a flair for.
I went to a friend of mine who is a script writer, Ray Austin and together we went to the theatre and luckily for me that day Nek Video Links was having an audition. I was asked to read and after reading two days later, I got a lead role for the movie 'The Maid' and that was how I started.
So that was the movie that brought you to limelight?
Yes.
How many movies do you have to your credit since your debut?
Thirty five or forty.
What actually motivated you to go into acting?
As a child, I never had any external influence because I was not a silver spoon kid. But like I always say to people, the greatest push I ever had must have been from Genevieve because when I saw her, I just loved what I saw. Nobody complained about me saying this but that is just the honest truth. I never had any foreign influences, it is just strictly her.
What is it about her that caught your fancy this much?
Everything. The confidence, the lack of stress when acting. I just liked the aura and the manner she carries her roles without any stress, no veins pouring out, she just does it as if it is real.
What is one good thing that stardom has done to you?
The dominant one is that it can get you to anywhere. You can skip queues, it open doors for you and you do things that you ordinarily would not have been able to do.
So what is it that you do not like about stardom?
The most annoying one is the lack of privacy. It is so annoying that sometimes when people call to tell me that they want to be like me, I tell them that they'd better not pray for it. You can not go somewhere without people knowing, you can't eat what you like and you can't do anything you want at any time.
It is a little price to pay for what you get but I love my privacy. I wish I have it but I don't.
Your acts in movies are quite smooth. What extra effort do you put in to improve on your act?
First of all, I will say God and secondly, practice. I love to see my mistakes so I can work on them. I love to learn from people.
The first time I worked with Omotola and Genevieve, I was not acting, I thought I was in a school learning because I found out that I really was not doing much, as in I really have not been doing anything spectacular and I was wondering why people applauded me.
I think my strongest point is that I always want to learn to do something better. I want to watch foreign films, I want to watch my mates and know what they are doing so I can do better than them.
If you have a chance to effect any change in the Nigerian movie industry, what will it be?
A lot of things have got to change. I am an artiste and I know the kind of problems we go through generally.
How do you mean?
When an MD of a company retires, he lives a very good life, when a banker retires, he lives very a good life, but I feel terrible when I see veterans, people that have tried their best to bring smiles on the faces of Nigerians over the years, when they retire.
They grow old and are left abandoned. I run into them and I just can not hold back the tears. If I could change anything, I will change things and make life worth living for some of the retired veterans.
I feel terrible when they are not well taken care of especially now that they need us most.
The issue of sexual harassment is fast growing in all sectors especially Nollywood. Is it true?
I don't know why people are worried about sex in Nollywood, it exists every where. Nollywood is the hob of celebrities and I think that is why people want to know who is dating who or assaulting who. Sex is not an issue in Nollywood because Nollywood is a growing industry. At a stage, you would not have such problems when you get to a particular level.
But there have been allegations of those who want actresses to sleep with them before they can get roles?
You are an adult, you have the right to date whoever you want to date. I could see a guy now that says 'come kiss me', and if I do that, it's a personal thing. It does not all have to do with 'come here and have the role,' it has to do with, 'I like you, I want to kiss you, come here, come take the kiss'.
When you do it, it is no longer sexual harassment, it becomes greed because greed is what makes you kiss a man with a filthy mouth odour and you just want to kiss him so you could grab the script. That is greed, it is all a personal thing. I don't know why people call that sexual harassment. It is not.
I know a lot of persons who have been there for about five years just because they won't date anybody and they feel they are good and want to make it.
Have you been faced with such situation?
I would not say I have been harassed. I would say people see me and like me. They will say 'let's date' and I would tell the person I am not interested but I don't think it is sexual harassment because nobody has said to me that 'if you don't sleep with me, I won't give you the script.'
If you ask me out and I don't like you, I will say no. Sometimes I get the script and sometimes I don't. So it is no longer harassment.
As a ravishing young girl, you must have male advances coming in their numbers, so how do you handle them?
I have them in millions. Over the years, I have learnt that for you to be organised or for you to set a particular standard for yourself, there are some certain things you really have to say no to. You really have to draw the line on certain issues.
People make mistakes and I have had my own share of mistakes too but I have learnt to just always draw the line. Most of them come as fans and may later lead to something else. But if you have to date your fans, you have over a million of them so how many of them are you actually going to date? So I just draw the line and follow my heart. I am not a saint at all but I try to do the right thing.
So who is that special man in your life at the moment?
I don't have any for now.
But you should.
What if I don't have?
But you have, so tell us about him.
I am into a relationship with somebody very special
And who is he?
One thing I admire most in my boyfriend is that he is special and he cherishes his privacy. So don't bother about knowing or meeting him.
Is he in the industry?
Hell no.
Why are you so quick to answer so sharply?
Because he is not now. That is what I mean.
Does he watch your movies?
A whole lot. He is my number one fan.
So how does he cope when he sees you being kissed and smooched in movies?
He gets angry and sometimes when we are watching the movies together, he gets angry and goes close to the T.V set and slaps the face of the person. He complains but he is coping. But he does not like me being kissed on set.
He can stand everything else but not kissing. But when you are dating a man who is jealous, you have to let him know that it's just a make- believe thing.
I also think it has a lot to do with who you are and how you can draw the line between work and active period. He is a very big encouragement. He watches my movies and complains when I do the wrong thing.
What if some day he says you should make a choice between your job and him, what will be your choice?
I will gladly choose him. If he's not comfortable with my acting, I would quit.
Can you act nude?
I will rather kiss a toilet seat than play a nude role.
Not even for ten million naira?
Not even for hundred million dollars, no.
Who is Mercy Johnson if I may ask?
Mercy Johnson is just a girl next door, born on August 28th of the 1980s. I'm in my very early twenties. I'm a quiet person who loves to read.
And where is Mercy from?
I am from Kogi State.
Why is your surname Johnson?
I will ask my father why he adopted the name Johnson.