LILLIAN BACH FOUND LOVE AGAIN IN EX-LOVER,JOHNSON DAVIDSON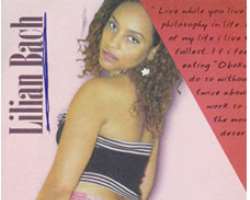 Nollywood star actress and model, Lillian Bach and her ex-lover, Johnson Davidson are back at 'it' and this time they show every sign of seriousness.
Before now, it appeared like specualto because Lillian romance with Davidson collapsed some years back.Ever after, Lillian had been linked to other 'fine boys' within and outside the industry.Of all the men,Lillian's liasion with co-actor, Pat Atta was more pronounced.
Right now, all indications pointed to the fact that Lillian had fallen back in love with Davidson and they are both ready to go all the way. Last night (24 June 2008),www.niyitabiti.blogspot.com sighted the two of them as they stepped into Planet One,Ikeja,Lagos-venue of the reception hosted in honour of Nigeria's international soccer star, Austin 'Jay jay' Okocha by Tracia Eseigbe's Bold Faces Intenational.
They held hands and Davidson walked majestically on the red carpet as if telling everyone looking at them that 'I have got her back,shame to bad people'.Throughout the event they whispered into each others ears like young people who are falling in love for the first time.They also left the event together.
When http://www.nollywoodgists.com/ sought to know the present state of relationship with Davidson , she laughed and after sometime she managed to whisper "We are business partners"
Even a primary school pupil could read it in her eyes that Lillian was only saying he is my 'man' again.No one could say whether or not, the two lovers are ready to 'ring' the wedding bells.
On the other hand, Lillian said the reasons her fans have not been seeing much of her in movies in recent times was due to the production outfit she was putting together.It is now ready, complete state of the art equipment. Aside that you know I dont like appearing in home video anyhow.I look out for somethings before offering to take part in any job" she said