Violence In Jos Over Voter Registration Leaves 3 Persons Killed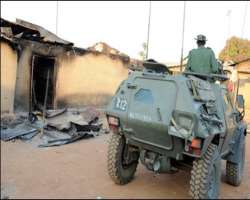 SAN FRANCISCO, Jan 17, (THEWILL) – Another round of violence broke out today in Jos, Plateau State leaving three persons dead.
Two were killed by soldiers of the Joint Military Task Force after efforts to quell a row between Muslim and Christian youths over voter registration failed.
The third, an INEC official was lynched and set on fire during the violence. Two soldiers were wounded during the incident.
The violence occurred inside a Jos secondary school compound according to the Plateau State Police Commissioner, Mr. Abdulrahman Akano.
Eyewitnesses told Reuters that the violence started when Christian youths tried to stop Muslim INEC officials from delivering voting materials to a station located inside the school. Schools have been shut nationwide as a result of the holiday declared by government following the voter registration exercise.
Akano told journalists that soldiers opened fire after efforts to calm the youths failed.
"We tried to pacify them but they grew wild. They started stoning the soldiers and the soldiers had no choice than to open fire on them in self-defence," Abdulrahman Akano said.
Plateau, a once peaceful state, continues to be Nigeria's hotbed of ethnic, religious and political violence, which has killed hundreds over the last decade.