OGUN PDP CANDIDATE CANVASSES PROACTIVE LEGISLATURE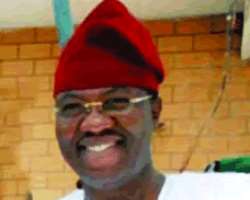 A candidate contesting for the Obafemi Owode Constituency seat on the platform of the Peoples Democratic Party (PDP) in the Ogun State House of Assembly, Semiu Olanrewaju Alao has identified the need for a proactive legislative arm as panacea for the slow progress in the state.
'In a free state, the ideal candidate must be the one willing and able to take up arms in defence of the nation's flag,' he said. In like manner, Alao contended that the ideal candidate must be the father of many healthy children.
The candidate seeking to represent Obafemi Owode Constituency in the Ogun State House of Assembly said the attitude of the electorate in the present political dispensations should be utopia. 'It ought to be axiomatic in this country that every man must devote a reasonable share of his time to performing his or her allotted duty in the political sphere of this constituency. No man has a right to shirk his political duties under whatever plea, either of pleasure or business.'
On his efforts towards securing a seat in the Ogun State House of Assembly, he said. We will be strong, we will be united, and with our convictions and God willing, we will retain the progression and development in Ogun State in 2011 and create hopes and unlimited opportunities for the state once again.
I have, myself, full confidence that if every PDP member does his/her duty, if nothing is neglected, and if the best arrangements are made, as they are being made, we shall prove ourselves once again and able to defend our State, to ride out of the storm of war, intimidation and outlive the menace of tyranny,' he said.'