JONATHAN WINS PDP TICKET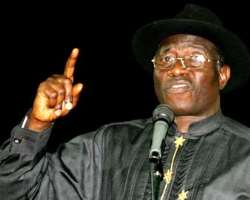 President Goodluck Jonathan addressing the congress at the Peoples Democratic Party (PDP) Presidential Primaries at the Eagle Square in Abuja
President Jonathan was declared winner by Prof Tunde Adenira
Total votes caste 3542 and 61 votes voided.
Sarah Jubril got one vote, the former Vice President Atiku Abubaka got 805 votes and President Jonathan 2736 votes.
President Jonathan, while clearing close to 97% of delegates' votes from states in the southern part of the country, could not replicate same in some of the states in the northern part of the country.
Even at that, President Jonathan made very strong showing in Northern states and even went ahead to win in most of them.
Click here to see Photos of people at the PDP primaries
For instance, in Adamawa State, from whence cometh Atiku, the votes cast there were in favour of President Jonathan by a little over 70%. Jonathan had 76 votes to Atiku's 31 votes.
But the first sign of a keenly contested primary came when votes from Bauchi State were counted.
President Jonathan scored 46 delegates' votes while Atiku scored a close 44 delegates' votes.
In Akwa Ibom, for instance, it was a total wipe out as all the 141 delegates from the state voted for Jonathan.
The same thing happened in President Jonathan's home state of Bayelsa where all the 67 delegates voted for him.
However, Atiku beat Jonathan in Sokoto, Zamfara, Niger, Kebi and Kano States. He scored 98 votes in Kano Jonathan's 21. In Sokoto it was 84:32 and Zamfara, 70:7 in favour of Atiku.
In Kebi it was Jonathan – 33 Votes; Abubakar – 44 Votes. And in Niger Jonathan – 16 Votes; Abubakar – 94 Votes
As earlier reported, the outcome was pay back time for the PDP state governors who had given their word to President Jonathan that they would support his candidacy.
It would be recalled that even in states where the governors would have had difficulties returning for second term or choosing candidates of their choice as successors, the party leadership and President Jonathan left the field to the dictates of the state governors.
Therefore, the results represented a reciprocation of the goodwill of President Jonathan and the leadership of the party by allowing, first, the state governors to have their way and, secondly, paying back with delegates' votes for President Jonathan.