Atiku's Speech Of Hate And Anger Stirs Passion for Jonathan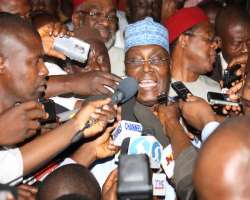 ABUJA, Jan 13, (THEWILL) - The Peoples Democratic Party (PDP) national convention was surreptitiously stirred and thrown momentarily into a somewhat hate campaign today when former Vice President and Presidential aspirant; Alhaji Atiku Abubakar openly canvassed for zoning saying that President Goodluck Jonathan's aspiration could throw the country into anarchy when he delivered his pre-nomination speech.
Atiku betrayed emotion and dwelt his speech on the zoning formula and pointedly accused the President of reneging on agreement for which he was party to. He did not stop at that, Atiku went on to tell the bewildered audience that a President Goodluck Jonathan presidency is divisive.
"Nigeria has not been more divided than when the President mounted the saddle as President. Leaders should be able to make their words their bond. My opponent was even unmindful whether his aspiration would cause anarchy. Whatever will suit him is what he does," he said.
The Former Vice President poured so many other diatribe and even went ahead to say that the President has failed to handle the economy well to the extent that the foreign exchange reserve plummeted from about $30b to a paltry sum of $3billion.
On Niger Delta, Atiku stated that the amnesty programme which was inherited by President Jonathan has virtually been abandoned thus eliciting some hissing and murmur from the audience.
No sooner had he finished his speech than top officers of Jonathan's campaign including former President Olusegun Obasanjo made several political sorties to the President in an apparent move to calm his nerves before he mounted the podium.
It got to a point that the party leadership somehow played a time game in an attempt to prep Jonathan and put him in calm and composed spirit. Every face became forlorn and bewildered.
To push the time further, the master of ceremony conferred with the officials and later announced that the party's national legal adviser would come to move a motion to pave way for the Deputy National Chairman, Haliru Bello Mohammed to take charge in the absence of the erstwhile National Chairman, Okwesilieze Nwodo.
Nwodo it could be recalled was asked by an Enugu State High Court to stop parading himself as the national chairman of the party.
All done, the President was asked to mount the podium to deliver his pre-election speech. In it he pointedly told the audience that he would not join issues with anybody and explained that their individual characters are known. Jonathan carefully anchored his speech on issues of what he will do when voted into power.
THEWILL observed that Atiku's speech may have swayed delegates to Jonathan's side as they seem to have responded negatively to it. One of the delegates told THEWILL that he was undecided until Atiku's speech, which strongly sounded like a man who subtly surrendered before the conclusion of the primary.
The speech presented the former Vice President as candidate of zoning and not of leadership, said another observer.