Nigeria President Favoured to Win Primary Nod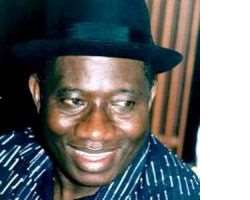 LAGOS, Nigeria—Thousands of delegates from across Nigeria are set to cast their votes in the ruling party's presidential primary, kicking off a contest to run Africa's most populous nation and one of its fastest-growing economies.
The People's Democratic Party primary, to be held Thursday in the capital, Abuja, will award the victor with the inside track for the country's general election in April. In every election since Nigeria emerged from military rule in 1999, the ruling party's pick has gone on to win the presidency.
This primary pits former zoology professor-turned-president, Goodluck Jonathan, against Atiku Abubakar, a former customs chief and vice president. With the strength of the president's office and financial resources, Mr. Jonathan is the favorite to win a four-year term, according to analysts and advisers to both candidates.
"Clearly, we're the underdogs," said Garba Shehu, the communications adviser to Mr. Abubakar. "They're the incumbent."
Nigeria's next president will preside over an oil-rich country that is also home to a burgeoning class of middle-class consumers. The economy is expected to have grown 7% in 2010 and is forecast to maintain about the same clip this year.
But the next leader will also face militant attacks on oil infrastructure in the south, an increasingly violent radical Islamic group in the north, and a political crisis in nearby Ivory Coast, which is on the brink of civil war. The president will also inherit a fresh legacy of squabbling between northern and southern factions within the ruling party.
Mr. Jonathan, a southerner, was vice president when his predecessor, Umaru Yar'Adua, a northerner, died in office last year during his first four-year term. The bylaws of the People's Democratic Party, or PDP, stipulate that power must be rotated every eight years between Nigeria's mostly Muslim north and mostly Christian south.
Northerners from the party maintained their eight-year run had been interrupted by Mr. Jonathan's ascension and should continue with the next term. Mr. Abubakar and other PDP northerners have said a Jonathan victory could heighten north-south tensions.
Mr. Jonathan has said Nigeria's constitution doesn't support such a power rotation. But in recent meetings with northern PDP leaders, Mr. Jonathan had promised to serve only one term if elected in April, according to Bolaji Adebiyi, a political adviser to Mr. Jonathan.
Mr. Jonathan's immediate task is to woo a majority of PDP delegates to secure the nomination. The delegates—about 3,600 in total, party officials say—are national and regional politicians, as well as PDP members from communities around the country.
Front-runners traditionally have paid for hotel and travel expenses for delegates, who will arrive in Abuja this week. Mr. Shehu said the Abubakar campaign would pay for delegates' accommodation. "We don't want them to sleep on the streets," he said.
Mr. Adebiyi, the Jonathan adviser, said the PDP—not the Jonathan campaign—would also offer to pay delegates' expenses.
During past primaries, some candidates have promised infrastructure projects for delegates' home states. People close to both candidates say bribes have also been paid to delegates in past campaigns; both sides pledged to run a clean contest this year.
Thursday's vote is slated to be held in Abuja's Eagle Square, where in the past delegates have lined up in a procession and cast ballots, one by one, deep into the night. This year's event is expected to highlight Nigeria's raucous democracy but could also draw attention to serious security issues.
Two bombs went off just outside the square during an Oct. 1 celebration of Nigeria's independence, killing at least eight people. Nigeria has suffered several more bombings since then, including a New Year's Eve blast in a military barracks that killed four.
Mr. Adebiyi, the political adviser to Mr. Jonathan, said the current president has moved to curb violence by appointing a special adviser on terrorism and pushing for an anti-terrorism bill in the national assembly to be passed quickly.
"I doubt [the recent bombings] will affect the outcome of the primaries," he said.
Nigeria is also facing a political crisis outside its borders. A political stand-off in Ivory Coast threatens to turn into civil war, and Mr. Jonathan, who is the current head of the West Africanregional bloc tasked with solving the crisis, is contemplating sending troops there.