Delegates set to be instant millionaires tomorrow...Atiku's camp to give N7 million per delegate...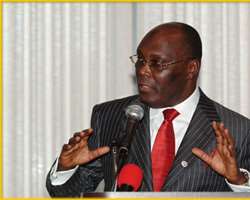 Abubakar Atiku
Delegates heading for Abuja for the PDP presidential primary are set to be instant millionaires considering how much both camps have set aside as 'transport allowance' per delegate.
Pointblanknews.com sources hinted that the camp of Abubakar Atiku have set aside N7 million per delegate, but the rate budgeted by the President Goodluck Jonathan's camp could not be confirmed at press time. But sources said it would not be less than a million each. Considering the fact that no less than 80 delegates would be in Abuja from each state, the budget is considered huge. The allowance is outside hotel accommodation and food.
Fresh facts have also emerged as to how Vice President Namadi Sambo, who is most likely to succeed Jonathan by 2015, ensured Jonathan made inroads into a large slice of the north.
Meanwhile, the move by Atiku to woo all the 50 senators who lost out at their primaries was thwarted last night by Jonathan as he hosted the 'losers' in Abuja.
Pointblanknews.com learnt that the President told them that in a democracy there would always be winners and losers, and stressed the need for cohesion. Most of the senators have already pledged loyalty to the President who have assured them of sundry roles in the next dispensation. Already Senator Grace Folashade Bent from Adamawa, and Senator Lee Maeba, both lost out, have said their support for Jonathan is unshaken.
 
Pointblanknews.com sources hinted that Sambo used the minority card to woo a large section of the north mostly in the north central. The Vice President has been able to have in his firm grip Kaduna, Benue, Plateau, Kogi, Nasarrawa, Kwara and Niger.
According to our source" Sambo queried why those clamouring for a northern President had never considered picking a northern minority, except core north candidates."
" Most of those senators were with the President last night. He hosted them and assured them they would relevant in the next dispensation. Atiku's camp tried to grab these people, telling them they were betrayed by Nwodo (National chairman), and the President. But the Jonathan's camp quickly moved in. Of course nothing is sure but Jonathan has placated them"