DELTA GOVERNOR, UDUAGHAN SWORN-IN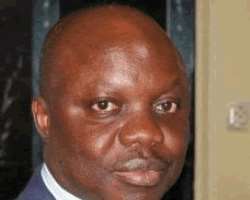 Dr. Emmanuel Uduaghan
Delta State Governor-elect, Dr. Emmanuel Uduaghan, was sworn-in with his deputy, Prof. Amos Utuama after his arrival from Abuja , on Monday evening. According to Uduaghan, the voting pattern in the state has really delivered a strong message of hope and support to the vision of the state government towards making the state great.
He said the result of the rerun governorship election held in the state on January 6 and the pattern of voting across the state, have highlighted areas of concern to his administration, pledging that the downtrodden in the state would be carried along by his administration.
Governor Uduaghan, who arrived the Cenotaph, venue of the event at 4:48pm with his Deputy, Prof. Utuama amidst cheers from the waiting crowd , attributed the delay in his arrival to the unavailability of a connecting flight from the Federal capital, Abuja to Benin.
In his words: The overwhelming number of votes by Deltans during the rerun governorship election, which led to his return to office as the state governor, would enable his administration focus more on various needs and concerns of Deltans.
He explained that voters neglected over the years by past administrations voted for his return, maintaining that the downtrodden in the state would be carried along by his administration.
After his swearing-in by the state Chief Judge, Justice Abiodun Smith, Uduaghan also assured that the state government would focus on re-building trust between it and the governed,adding that it would also embark on reconciliationbetween the various ethnic nationalities in the state.
Governor Uduaghan promised to listen more and work tirelessly with his executive council members and Deltans in the delivery of the three points agenda of his administration.
Uduaghan who sounded businesslike in running the affairs of the State , enjoined Deltans to reach him directly on any matter through this E-mail address, thus;[email protected] Governor uduaghan.org or through the short message code;32815 or even through these phone lines;08127770002 and 08127770030.
The ceremony featured cultural displays, music and several other side attractions. Meanwhile,the results of the State House of Assembly PDP Primaries for delegates and aspirants across the State was marred by violence in some Local Government Areas. Such local government areas include Patani and the Ika areas of he StateLocal govt area,Oghara and Iselle-uku