WE ARE NOT INTIMIDATED BY THE ENDORSEMENTS FOR PRESIDENT JONATHAN, SAYS OBI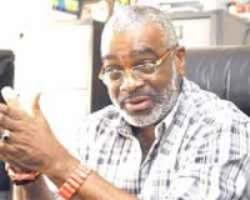 In the wave of endorsements by stakeholders of the Peoples Democratic Party (PDP) for President Goodluck Jonathan, the Director-General of the Atiku Abubakar Campaign Organisation and his running mate in the 2007 presidential election, Senator Ben Ndi Obi told Mohammed Abubakar in Abuja that they are not disturbed by the development. Excerpts:
HOW do you evaluate the chances of former Vice President Atiku Abubakar in the PDP presidential primary in the light of the endorsements for President Goodluck Jonathan?
I do not see how the endorsements can affect our chances at the primaries. I have seen the spate of endorsements in my corner as in deed, laughable, because people do not know when to draw the curtain in self-deceit politically. On August 18, 2010, when President Jonathan declared for the presidency, he had over 25 PDP governors in attendance and at that forum they endorsed him.
During his state tours, he equally got the endorsements. So I do not see how a rushed endorsement at a National Executive Committee (NEC) meeting that was not favourable to him by the same governors will affect the chances of a man, who has been dealing with the delegates. I understand the importance of governors and their delegates.
I also understand that it is not as easy as we pretend that the governors will have a field day with the delegates, particularly, when it comes to a delegate election. I do not believe in the endorsements, because it does not affect my campaign organisation; it does not affect the successes we have recorded, if anything, it is laughable.
If you dismiss the endorsements, do you also dismiss the incumbency factor?
We have seen in Ghana and also in Ivory Coast, where incumbents lost control. If you use the incumbency factor to manipulate the process, you will be exposed. The mere fact that previous elections have been manipulated in Nigeria does not mean we are going to continue to experience electoral manipulation. Nigerians are determined to ensure that this year's elections will be free, fair and transparent.
When Atiku left the PDP ahead of the 2007 elections, he made derogatory comments about the party and he is back to the PDP. Do you think that he is carrying this baggage which might make it difficult for Nigerians to accept him?
There is nothing like carrying any baggage. A good number of us were de-registered by former president, Olusegun Obasanjo before the 2007 elections, but we did not abandon the PDP. Rather, many of us, including the current chairman of the PDP, Dr. Okwesilieze Nwodo were de-registered. At that time, internal democracy in party politics including the PDP was non-existent, hence we were left with no choice but founding a new political party to fight the dictatorial tendencies of Obasanjo.
People fail to understand the reason behind our leaving the party, and that is why it is important that they state the reasons side by side and see the point being raised by Atiku. Soon after the late President Musa Yar'Adua assumed office, he set up a committee led by Second Republic Vice President, Dr. Alex Ekwueme to bring back those who were driven out of the party. The mandate was to get those who were driven out of the party. So for anybody to turn around and want to use such feeble excuses as what one said against the party without stating the reasons behind such utterances cannot fly.
People like Ekwueme did not have the best of relations with Obasanjo, but he never identified with any other political party…
People forget that the battle was not just about the party, it was also about the struggle for elongation of tenure and some of us led by Abubakar fought that battle to make sure that Nigerians enjoy what is called democracy today. It was not a question of fighting internal democratic processes alone, it also stemmed from the fact that we stopped him, and I don't think anyone has an apology to tender here with regards to that.
So those of us who were prepared to run for elections were obviously denied the PDP platform so to do. Ekwueme like many others was not running for any elective office. But they all realised that something was wrong in the party, hence as soon as an opportunity afforded itself, a reconciliatory
committee was put in place. So let nobody come and fly any flag saying some people left the PDP.
Those who are saying that cannot parade the same democratic credentials as Atiku. He has defended democracy in a way that not many people can match.
Comment on the circumstances that made you leave Atiku after you were his running mate in the 2007 polls to pitch your tent with, Gen. Mohammed Aliyu Gusau before the consensus arrangement and now you are back with Atiku.
Gen. Gusau had indicated his interest to run long before President Jonathan made him the National Security Adviser. He requested that I manage his campaign. He was still in service when Atiku joined the race. When I inquired from Gusau, he said he was going to run and that he was waiting to inform Jonathan. As soon as he did, he told me and having given him my word, I had no choice but to man his campaign. But the pursuit of a consensus agenda produced Atiku. And when the G.4 met to decide on how they will collapse the structures of the campaign, I was appointed to head the harmonised campaign organisation of Atiku. While I was the Director General of Gusau campaign, I was meeting with Atiku and there was no misunderstanding between us.
Looking at Atiku's stature in national politics, do you think that it is the best thing for him to be the candidate of a regional exercise?
There is nothing regional about this. We are talking about the constitution of the party that zoned the presidency to the region, and they are saying 'we want to check this thing, we don't want people scrambling for this office, it is our own interest to look at the credential of those interested and decide on one.' All the other aspirants agreed and signed a document, and in keeping with the spirit of the gentleman's understanding they all had, once the result was made public, they applied to it. They congratulated Atiku; so I do not see anything regional here. We all must come from somewhere to become what we want nationally.
Have you heard of comments by the PDP National Legal Adviser, Chief Sola Oke that Ibrahim Babangida, Aliyu Gusau and Sola Saraki are still in the race?
The consensus arrangement was an arrangement between leaders of the region in trying to sort themselves out and speak with one voice. So to that extent, Oke is right. But when the time comes for the screening, Atiku will go for the screening, and when they do not see the other aspirants, they will then know that aspirants A, B, C and D did not show up.
Some people have said that it is more expensive playing politics today than in previous eras…
Today everybody is into a kind of rat race trying to acquire wealth that they don't even need. They just want to amass wealth and in the process, they loot the treasury and do nothing. People must know that when you steal public funds, some day, the long arms of justice must catch up with you. When they loot the public treasury, they deny millions of people their dues and that is sin against God and humanity.
The National Assembly cannot be said to be enjoying the goodwill of Nigerians at the moment because of what is considered their illogical pay packet. How do you feel about the revelations regarding their salaries?
My attitude to it is simple; they federal lawmakers have to search their conscience to know if what Nigerians are saying is true. Then they have to do a re-think and prove Nigerians wrong. I know a good number of friends in the National Assembly who are people of honour, and I think time is ripe for them to let Nigerians know what exactly the situation is.
Do you think the political parties should in any way be blamed for what is happening in the National Assembly in enforcing discipline like what happened in the Second Republic, where parties were supreme?
The PDP can do so if they have a stable environment. The environment now within the PDP structures has not been stable. The PDP leadership can take firm control. I believe, as somebody who has managed political parties, I believe in the supremacy of the party.
It is not just a question of people searching for a platform; people must see PDP as their party and be committed to the party leadership. If that is the case, PDP must provide the leadership, guide and guard their members, direct affairs, such that anybody found wanting should be called to order.
That is the order of party leadership. So when the party says this is where we are going, no matter your position, you have to follow the party. Once the party leadership is able to overcome the instability that is rearing it head in some state organs, then they will be able to move into a cruising level and follow the party constitution because if you don't respect your party constitution, you may likely disrespect the nation's constitution. People must learn to respect the party where they run elections.
What do you think is wrong with opposition parties as they find it difficult to make impact during elections?
I was in the Nigerian Advance Party (NAP) in the Second Republic and I was a foundation member of the All Peoples Party (APP), and I was its foundation National Secretary. I gave its name APP on August 20, 1998 at the Sheraton Hotel and Towers in Abuja. The basic reason ruling parties hold sway is because it is very expensive to run opposition, and when you are in an opposition movement, if you don't have the resources then you will have problems.
An example is the feat being achieved by the Action Congress of Nigeria (ACN) in the South West. I just hope that they would be able to galvanise all of that into a national movement or a national resistance movement, but time will tell. So the basic problem that the oppositions have is that at all times when they try the national thing, the resources are never there for them to accomplish their struggle, because most times, the people you find in opposition are people who do not have the wherewithal and since it has become very fashionable now for the elite to be so opportunistic and mercenary, they run like little babies into the open embrace of government patronage. So you find out that the governments in power are always ever ready to embrace them; this is the difference.
What are your major fears or concerns ahead of the April general elections?
Nigeria is an interesting place politically. Everyday, we find new things and it is going to be so until the elections. I have always told my colleagues that politics should not be a do-or-die-affair; it is supposed to be a sporting event, where you must have winners and losers and it is in our interests to start as sportsmen and women to take victory when it comes with great caution and to also see and respect the losers. In Nigeria the most painful aspect of our politics is victory first, morality later, which is unfortunate. Politics is meant for noble-minded people, because it is about service.
When you are in politics, you must understand that your first calling is to serve the people, you are not supposed to be bossing them around, they are the ones actually to be bossing you, and you will enjoy politics better when you serve the people with all your heart and soul. Today we don't campaign. In those good old days, if you got to a state, your will spend four nights going to the nooks and crannies. Now we spend few hours possibly four to five hours in one zone of six to seven states. It is disappointing. The flamboyance of politics has disappeared we are just groping in the dark.
I hope that we hold a peaceful election, because this country has suffered so much, the leadership must have to be focused. We need a leadership that can provide for the sub-region and the continent, and that is why some of us are itching to make a change so that the change would provide for a dynamic nation that we can be proud of; a nation that our fore fathers dreamt of. I know that four years of a vibrant, focused, dynamic leadership can set the ball rolling in that direction, and that is where I belong.