AIRLINES TO RAISE FARES BY 20%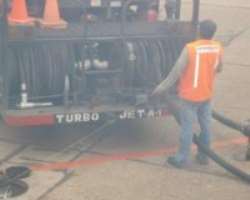 DOMESTIC airlines operators have concluded plans to raise fares by 20 per cent following the increase in the price of aviation fuel also known as Jet A1.
Steve Mahonwu , chairman of the Airline Operators of Nigeria (AON) ,  the umbrella body of domestic airlines, who spoke yesterday after an emergency meeting of the operators said the marketers were yet to effect the change of 10 percent increase in the prices of aviation fuel as contained in a circular passed to them.
The meeting was still in progress as the operators were expected to issue a statement yesterday night.
'We held a meeting today and we are waiting for the marketers to implement and we will increase fares by 20 per cent, the increase by the marketers is becoming too monotonous and we cannot continue like that, we are still looking at the list of airlines that are even alleged to have been owing some agencies and other levies here and there', he said.
When The Guardian visited the Murtala Muahhmed Airport terminal two (MMA2) yesterday where many of the domestic airlines operate, an hour flight which used to be between N18, 000 and N18, 500 has been increased to N20, 000 , while an airline like Aero which normally sells most of its economy seats online, has  raised its counter fares from N25, 000.
When a ticketing officer of Air Nigeria was asked for the price of Abuja flight, she said N20, 000.
A litre of aviation fuel sells for between N115 and N116 in Lagos. This is as a result of an increase made in September 2010 when the price was increased by three percent by the fuel marketers.
The new increment if affected by the marketers will therefore take the price to N126 per litre.
In October last year, some airlines slightly increased fares by five percent when the fuel marketers effected an upward review of aviation fuel price. The astronomical increase by JET-A1 marketers will be the second time also in three months.
The oil marketers at the weekend, it was learnt,  wrote  to all airlines operating in the country of their plans to increase the price of aviation fuel by 10 percent from yesterday.
While the price of Petroluem Motor Spirit (PMS) is regulated, JET-A1 is not as the price keeps on increasing  without  a solution from government.
Airlines' schedules have been seriously affected as they now supply airlines the essential commodity on a cash and carry basis, a situation that has led to three to four hours delays on some occasions.
The operators are said to be owing various oil marketers over N4 billion,  a situation that necessitated their decision to supply them on cash and carry basis.