SSS arrests The Sun columnist Okey Ndibe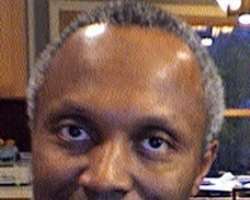 Fiery columnist with The Sun Publishing Limited, Dr. Okey Ndibe, was on Saturday night arrested by Nigerian security operatives as he arrived the country from his United States base.
No reason has been given for his arrest but the operatives immediately seized Ndibe's travelling documents, including his American passport.
He was arrested at about 8:45p.m and later released at about 11:45p.m. However, he was asked to report at the State Security Service (SSS) office today where he is to meet with senior operatives of the service and probably know what his offences are.
Speaking on the arrest, Ndibe asserted that he came to Nigeria for a family commitment. His flight, according to him, arrived the Murtala International Airport, Ikeja, Lagos at 8:45p.m. As soon as he alighted from the aircraft, some security operatives accosted him and said he needed to speak with the SSS. He was thereafter led to the first floor office of the SSS.
His words: 'One of the SSS officials took my passport and asked me to take my luggage. On getting to the office, he made entries into a computer from my passport and asked if I had other passports. I said yes that I was also an American citizen. He took the passport as well. He also made numerous phone calls.'
Ndibe revealed that the question: 'Are you a journalist?' was thrown at him and he answered: 'I teach but I also do a weekly column with `Daily Sun which is also online.'
The columnist maintained that the SSS official later made more phone calls before he was released at 11:45p.m but was asked to return to the office today. Ndibe is a Professor of English Language and teaches as a full time lecturer at the Trinity College, Hartford, Connecticut. He is also a part time lecturer at the Brown University in Providence, Rhode Island, where the Nigerian literary giant, Professor Chinua Achebe also lectures.
He averred that the US passport was a property of the United States government, which the Nigerian government should not withdraw from anybody. Nigerian government, he said, could only confiscate Nigerian passports, adding that there was no way he would leave behind his Nigerian passport and travel. Asked what he perceived as the motive behind the development, Ndibe declared: 'The only indication was that in late 2008, I got an anonymous tip-off that I should not come to Nigeria, that there was an order to arrest me at any entry point.'
Ndibe, however, said few days into the regime of President Goodluck Jonathan, there was a policy statement that human rights would be respected. He said word also came that the order on people like him had been lifted.
'I was not altogether surprised. Governments make commitments that they don't keep. At least, in the area of human rights. There are in Nigeria today other more pressing things than harassing writers. 'I will continue to write the way I write; I write for the propagation and deepening of democracy in my country and offer no apologies for that. I have not broken any law and have no cause to worry,' he stated.
A senior SSS source told Daily Sun that Ndibe might have been put on the action list of the last administration in the country. He explained that the statutory order was to pick and escort Ndibe to the headquarters of the security agency. The order, he disclosed, was modified to talk to him, take his passports and let him go.
According to the officer, the new thinking at the SSS was that things had to be done more orderly, with utmost respect for human rights and due process.
On the particular offence that Ndibe might have committed, the source answered with an African proverb: 'When a mother straps a child on her back when she is going to the farm, she will not know all the leaves the child will pluck on the way.' While saying that the offence might be anything, he revealed that a particular agency had requested that Ndibe should be picked up.
Fielding questions on why Ndibe's US passport was seized, he said it was taken from him with other travelling documents so that he would not use it to escape from the country. Seizure of the passport, he stated, should not be an issue because it's an elementary procedure to take hold of such travel documents and not necessarily an affront on any country that issued them.