Dumb, sour and slack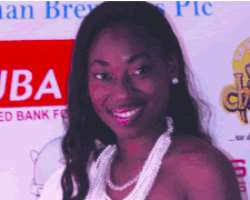 Slouchy socks
Friend, you almost nailed it but that patch you have down there got you into this legal mess. My jury thinks you shouldn't have bothered with the socks. Honestly, it wasn't necessary, because the length of the dress was still okay. However, we will temper justice with mercy and place
you on three-month
probation.
All-round nonsense
Madam if you were going for an audition at the playboy mansion, this would have been the perfect costume. You were picked up at a formal event dressed like this. For flouting Section 45 of the cleavage and morality law you have been sentenced to Kirikiri
Medium Prison
for 84 months.


 
 
.


 
 
We're in shock
Grandma, we hate to do this, but when you flouted Section 234, subsection 1 of the Dress-your-age code, we had no choice but to do this. Trying so hard to dress sexy at this age might be a huge disaster because we hate seeing these wrinkles on parade. For crying out loud, you should leave this line of business to your teenage granddaughters.
Produce a bail bond
of N2.5million.


 
 
Turkey-in-socks
Aunty, we know you so well. In fact, you are among actresses that made our list of the worst dressed in 2010 and you have opened another sour chapter this year. With your shiny socks that make you look like a barbecue wrapped in foil paper, big sis this doesn't define the word sexy and like we have warned, we are still watching. Pay a fine of N1.5million.
.


 
 
Bra strap bandit
Madam, aside the fact that this dress would have been more appropriate for a beach party, you have also been charged for illegal bra strap exposure. For wasting tax payers money you have been fined N800,000.


 
 
Lifeless catfish
Honestly, we don't know what inspires this type of desperation when you knew so well that you have little or nothing to show off. Your wares have gone south- south, so why are you campaigning? We are at a loss for words, because that pair looks like two lifeless catfish trapped in the net.
You are hereby fined N2million..