IYABO OBASANJO BELLO LOSES SENATORIAL TICKET TO LOLA ABIOLA-EDEWOR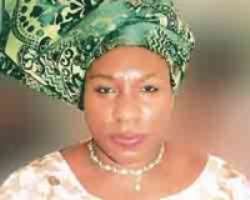 THE unresolved crisis with the Peoples Democratic Party (PDP) in Ogun State yesterday manifested as parallel congresses were held in the three senatorial districts of the state for the senatorial slots.
But the representatives of the party at the national level directly supervised the congress held by the group believed to be supported by the governor of the state Otunba Gbenga Daniel making some party faithfuls to describe it  as 'mock' congress, the one held by Omo Ilu group.
At the congress supervised by the national officers of the party, the daughter of the winner of the historic winner of the June 12, 1993 election Abiola-Edewor emerged victorious with 567 votes, beating her arch-rival, a current serving member of the House of Representatives, Hon. Kayode Jelili Amusan who polled 483.
At the primaries held  at the M K O stadium, Abeokuta for the Ogun Central Senatorial slot, former president Olusgun Obasanjo's daughter, Senator Iyabo Obasanjo Bello scored 3 votes.
For the Ogun East Senatorial district Ogun State Governor Otunba Gbenga Daniel recorded a landslide victory while former Commissioner for Agriculture, Hon. Waliu Taiwo was in early lead as at the time of filling this reports beating all his opponents with marginal votes at Ogun West?.
But at the parallel congress held by Omo Ilu group an aeronautic engineer, Mr. Toyeeb Adetunji Odunowo defeated Governor Daniel at Ogun East while Senator Iyabo Obasanjo-Bello was declared the winner.?
Meanwhile, the three incumbent senators from Niger state have retained the party's ticket. They are Zainab kure (Niger South), Dahiru Awaisu Kuta (Niger east) and nuhu Aliyu (Niger North).