FOR BOOK, SUNRISE AT DAWN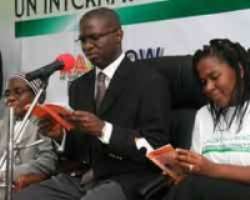 Nigerians continue to bemoan the poor reading culture without constructive engagement to stem the tide. And yet, there's no year in recent times where the book received as much attention as in the previous year. It effectively set agenda for the New Year. With the spate of activities last year, stakeholders in the literary scene are beginning to see sparkle of lights at the end of the tunnel for a sector much marginalised until now, especially with the personal intervention of President Goodluck Jonathan with his Bring Back the Book.
The activities would appear to be legion. Indeed, it is what literary enthusiasts have long waited for. Now, the enthusiasm is overflowing. From Lagos to Enugu, Akure to Port Harcourt and Abuja, writers and book lovers seem to have rediscovered a new awakening with efforts to re-engineer the rusty joints of a nation's reading habits. Although, they agreed that the level is yet low compared to what it was a few years back, there's a growing confidence that things would never be dormant again.
So, writers, publishers, readers and the general public look towards the ever growing book events in the country with expectation, hope and confidence that a new dawn is near. First is the yearly Nigeria International Book Fair (NIBF) held in Lagos and organised by the Nigeria Book Fair Trust (NBFT). Apart from local participation, it has begun to attract foreign attendance, especially from India and the Middle Eastern countries with their cheaper publishing facilities. The fair has consistently kept hope alive for the book industry as one place for a-once-a-year book networking venue.
The fair usually give way to the bi-annual Wole Soyinka Prize for Literature in Africa that had its third outing last year. Organised by the Dr. Ogochukwu Promise-led Lumina Foundation, the prize is the best literary endeavour the continent has. Later in the year, entries for the 2012 edition will be announced. Two authors, a male and a female and both medical doctors – Nigeria's Wale Okediran (Tenants of the House) and South Africa's Kopano Matlwa (Coconut) – jointly won the prize worth twenty thousand dollars ($20,000).
Then in October, the Nigeria LNG Limited-organised The Nigeria Prize for Literature set the pace for dramatic outing. There's hope things will get better this year. With the winning by the late Esiaba Irobi, dramatists will be emboldened to write more plays with the hope that things will improve for stage performance. Irobi's Cemetery Road is an ode to dramatic craftmanship; it's a work of genius that successfully navigates a complex dramatic contour; it's worth celebrating.
This year in October, Association of Nigerian Authors (ANA) will hold its annual convention in Abuja, the Federal Capital City. Maj.-Gen. Mamman Vatsa's ghost will be resurrected for his leading role in giving a home to the body writers. Last year's convention in Akure, the Ondo State capital was a success. Abuja will seek to build on it.
Of much optimism to the literary community was the presence of senior government officials at book fora. When foremost culture advocacy group, Committee for Relevant Art (CORA) held its Lagos Book and Arts Festival (LABAF) in early November, Speaker, Federal House of Representatives, Mr. Dimeji Bankole put in appearance at the festival considered rare though welcome among book enthusiasts. This was an obvious boost to a sector so significant in the life of any nation but which has become such a rarity in the country.
Until now, promoters of books all over the country had bemoaned the absence of official endorsement, whereby government actively played a major role in book promotion.
The Coal City Book Convention, held in the last two years in Enugu, will yet play a major role in the eastern part of the country to give the book added impetus. Organised by renowned author and publisher Mr. Onyeama Dillibe and his Enugu-based publishing outfit Delta Publishing Limited, the strength of book fair is its diversification of book events across the country. No more would activities only be limited to Lagos and Port Harcourt. Every part of the country now has a right to enjoy the joys of active book culture for national development brought to their doorsteps. The Coal City Book Convention stood for such even spread of a national pastime.
Of course, the Koko Kalango-led Garden City Literary Festival (GCLF) organised by her Rainbow Book Club in Port Harcourt will again be held. The festival has become another pilgrimage for writers both from Nigeria and across the world. Leading literary luminaries yearly grace GCLF. Kenyan Ngugu wa Thiogo, and Nigeria's Elechi Amadi, Chimamanda Adichie, Gabriel Okara, Profs. Wole Soyinka and J.P. Clark have all participated to mentor young writers. GCLF has become a permanent feature of the Rivers State Government calendar of cultural events. This year, the festival missed the enriching presence of French Nobel Laureate J.M.G. Le Clezio, who could not make it for health reasons. For those who attended, GCLF has continued to be a festival of choice for young and old writers alike to hobnob and share ideas.
With the support of Governor Rotimi Chibuike Amaechi, who is himself a literary enthusiast, GCLF would seem to have things cut out for it.
Project ReadAfrica will also try to conscript role models to stimulate reading appetite amongst the youths they influence by using local celebrities to drive reading culture. By using celebrities - musicians, actors, etc – to read to audiences, Project ReadAfrica hopes to create a generation of role models that would stimulate young people to start reading again. Farafina Publishers also did its best in this direction by using celebrities to drive readership for its books; it also promoted a series of reviews for its authors using celebrities. Cassava Republic Press also took some of its writers to town to read their works to the public.
Also in Port Harcourt, the Chidi Ononye-led Triple Fun Club will continue its mentoring programme for children as the organisation teaches young people to cultivate the culture of reading. It has promised to bring writers from far and near to mentor children on leadership, reading and writing. For its efforts last year, Triple Fun Club boss Ononye won the Mo/Diamond Bank Entrepreneurial award for innovative thinking.
Perhaps the greatest travesty of all, over the years, has been Mcmillan Publishers with its yearly Night of Literary Festival. Renown for its Pacesetter imprint for young readers in years gone by, Mcmillan has become a shadow of its former self in literary publishing. Neither the writers who own the works read them nor is it doing any serious publishing to promote writers. Were it the only publishing outfit, the nation's literary landscape would long have stagnated. Celebrating writers it does not publish nor allowing authors of works to read their own works is no way to develop literary craft in a country with a vast creative talent in need of outlets to ventilate them.
Nevertheless, a crowning to all these efforts came from the nation's number one citizen in the last days of the year 2010 to give hope of a new awakening for books and their usage in the coming years beginning from 2011. While Mr. Speaker Bankole's gracing of CORA's LABAF would seem a sign of good things to come the way of books and reading culture in the country, President Goodluck Jonathan's flagging off of a nationwide reading campaign 'Bring Back The book' would seem the desired icing on the cake.
The December 20, 2010 event is being seen as a significant momentum and boost to a battered book culture with the bizarre result of its abandonment staring every one in the face with all its ugliness of a devalued Nigerian human psyche.
Like a good leader, Jonathan has led the way by personal example. With an author like Mr. Oronto Douglas as anchorman for the president's reading campaign, there is every reason to be hopeful that indeed, 2011 is the rightful year of the book for which 2010 was a dress rehearsal. And as book enthusiasts await the direction the campaign (Bring Back the Book) will take this year, it can only be hoped that a significant segment of promoters of the book business will be part of the party to really awaken the zeal of Nigerians to truly read in genuine efforts to mobilise the literate young segment of the society for national development.