I LOVE SALSA DANCE BECAUSE IT IS SENSUAL – CYNTHIA EKERE, SALSA DANCE INSTRUCTOR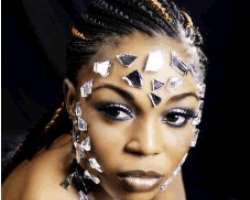 Cynthia Ekere
Angela Monet said, 'Those who danced were thought to be quite insane by those who could not hear the music.' Cynthia Ekere heard the music of pursuing her dreams in dancing and she is living it out after quitting a lucrative job in the bank.
Cynthia Ekere who grew up in Kano is from Delta State and is based in Lagos. She is the Executive Assistant Dance & Art Alive and Pro Salsa Naija Group (Salsa in Nigeria). She is a dancer, an instructor, event manager and also works as a part-time model.
A complete package you may say but Cynthia reveals to Daily Sun in a recent chat that she is just living a dream and not all her dreams. She described herself as a fun loving person and very independent because life presents us with choices. As for love, she believes in it but declines to reveal the qualities of her man. Excerpts:
How did dancing start for you?
Dancing started for me over two years ago. I took dancing as a form of work-out and a time-out to rest after work. Suddenly, I started loving it more and took it seriously. I decided to learn the art of dancing.
Where did you work before now?
I worked in a bank. I close from work by 5p.m and dance classes resume by 7p.m, so it gave me the opportunity to learn dancing. I also got the opportunity to teach others, I was elected to become a dance instructor to help the dance club. I combined my bank job and my duties as a dance instructor until I made up my mind to fully embrace dancing because I loved dancing more. I suddenly had this passion for dancing and I went after my heart. I did not leave the bank for dancing, I gave the bank job away because I was totally having fun with dancing and enjoying it in the process too.
Why Salsa dance?
I love everything about Salsa dance because it is sensual. it is a beautiful dance and it is a dance that involves the mind, spirit and body. There is also this energy that characterizes salsa dance which thrills me. it also helps the dancer to keep fit. For me, it was about keeping fit first before the dance. I love salsa because it is an interesting dance.
As a child what was your dream?
Modeling. I had this flair for dressing well as a child and I was always conscious of how I looked. I loved to wear high-heeled shoes and loved to look beautiful. I always wanted to appear special and different from my sisters. My mum spotted that and started calling me a fashion lady. In secondary school, my friends encouraged me to enter for a pageant because they saw it in me.
A time came when all the girls in my school participated in a beauty pageant organized by our home economics class. I won the contest and it took my flair for modeling to a higher level. I was signed to JC modeling agency by my friend and my modeling career took it. Although I was enjoying it, I couldn't balance it with my studies at the University, so I had finish school first before venturing out totally into modeling.
How do you intend to rebuild that aspect of your life now?
Right now, I love dancing and I love what I do as a dance instructor. Modeling for me now is a part time thing. If a job comes, I do it, if it doesn't come, I have something I do that keeps me busy.
If you have to change anything about yourself, what would that be?
I don't think there is anything I want to change about myself. I have never felt inferior and wanted to be like someone else. All my life, I have strived to be a better person and also better at what I do. In dancing, I want to be a better person. In modeling I want to make it big like Naomi Campbell. If I don't do the runway like top models do, I want to have something that I would be identified with, something with my own class and touch. Every one of us has a purpose in life, so I would not want to be like somebody else, but be the best in what I do.
How are Nigerians accepting Salsa dance?
Salsa is growing in Nigeria, it is spreading like a virus. I have my classes every Tuesdays and Thursdays at Embercreek, Victoria Island and the turn-out is huge. I also have my classes at Tribeca too. People who come around to eat and drink suddenly start craving to learn Salsa.
Aside dancing and modeling, what else are you into?
I also do events management. Where I work in Dance and Art Alive, we package events such as gala nights and end of the year parties for companies and other corporate organizations. The whole idea of our packaging involves what we are known for first which is dance and entertainment. So, aside bringing the likes of comedians and entertainers to your event, we organize the venue, MC and live band to spice up the day.
We also make sure you get the kind of music you love whether traditional, high life, salsa, cha cha, any form of latin dance or a wedding dance by the couple. We give our customers whatever will make their events worth remembering and memorable. We get our professional dancers to perform at events if they request for salsa or a latin dance.
How would you describe your experience so far in events management?
I am still learning and events planning is something I started by joining Dance and Art Alive. I left the bank in October 2009 and my joining this company made me realize that I still have a lot to learn when it come to events management. I love what I do and I enjoy the whole process of learning. It helps me meet people and understand people the more. Events management is fun.
What is the challenging aspect of it?
Getting good clients, selling the company and what we offer is also challenging. Competing with other events management firms that have agents who handle their events and convincing them to use Dance and Art Alive is hectic. To God be the glory, It has been working out for us and we are making a difference.
What are your likes and dislikes?
I will start with dislikes. I don't like disappointments and I don't like it when people break promises. I like it when things are going well and smart people. I also love the good things of life and people who aspire great things and work hard to get to where they want to be. I always do my best to support them in my own way.
What do you love most about dancing?
I love the fact that I teach dance classes and get my students to understand what dancing is all about. I love it when my students become very good dancers after being taught. I see that passion I had in me when I joined Salsa Dance classes in them and it makes me very happy. It propels me to do more and aim higher.
How do you handle difficult students?
Difficult students give me headache. I don't like it when I am teaching and some students are catching up fast while others are missing it and are also so slow in learning. It keeps me on the edge. As a perfectionist, it affects me because I always want things to be perfect. I want all my students to be smart and catch the moves fast. I am not also not happy when I slow down people who catch up fast to wait for a few slow learners. It is hard for me and I encourage these slow learners to come before the class so that I could teach them before the class proper and they won't slow down other students in the process. I work things out for me.
How do you handle disappointments?
I react in different ways to different kinds of disappointments. Initially after a disappointment, it is like a blow dealt on me. I am drawn back and hurt at that moment. After a while, for me to get back on track and overlook the disappointment, I try to fight the pain the disappointment has caused me by looking at the positive side of it. I create a logic for its occurrence. When I begin to enjoy the positive side of any disappointment I have suffered, I let go and flow back into my normal self.
What do you think about Nigerian youths?
Nigerian youths have great talents and I just pray that one day God will give us the opportunity to help each other realize our potentials to the fullest. There are youths out there that are not privileged enough to realize their dreams because of the condition they find themselves. They have the drive and tenacity to get to where they want to be only if a conducive environment is provided to assist them accomplish their dreams.
What do you think is responsible for youths taking to crime today?
The economy is responsible for that. It affects everybody but it affects the poor and makes them very poor. The economy for people that are rich can be managed by them. They can handle it and balance well with the economy. For people that are managing, fall below manage and still struggle to make ends meet. For those that are poor, they have fallen below the managing line and have no other means of containing hunger other than taking to crime and getting money the quick way.
They get it from other people to survive, although it is not an excuse for engaging in it and killing people or maiming them in the process. The life we are living now in Nigeria is survival of the fittest. If you want to survive, you must be willing to do anything even commit crime even though it is bad, but the economy has not helped Nigerian youths either. I believe God blesses people to help others below them get to the top too. People don't help the poor and when the poor are deprived of what is rightfully theirs and what they don't even have, the only tendency is to take it from those who have by force and that give birth to crime. When constantly starved and in a bid to eat, you can lose the sense of what makes you normal and go into crime.

•Cynthia Ekere
Photo: Sun News Publishing
How would you describe your sense of style?
I love simple things but sometimes I could go chicky. At times, I could go wild with my dress because my dress sense goes with my mood. Style for me defines me as a distinct person, it stands you out as an individual.
What fashion item can't you part with?
My earrings. I can't do without them especially big, round ones.
What do you think about Nigeria Fashion industry?
It is growing. Nigerian designers are doing a lot of amazing things and creating wonderful pieces and designs.
How do you spend your free time?
I go the cinemas. I love watching movies.
As a child, you wanted to be a model, but dance just happened, would you at any time quit dancing to embrace modeling full time?
No, I don't think so. I like the way both of them are working for me. They are working hand-in-hand and it makes me feel great that I can model and dance at the same time. The jobs I do give me time to do multiple things at the same time. When it is time for me to handle an event, I am there. When it comes to modeling, I don't lag behind and when it comes to dancing, I am there to teach my students. They are all flexible jobs. It is the love I have for both of them that keeps me going. I won't let go of one for the other.
What are the challenges confronting Nigerian models compared to their counterparts abroad?
What models are paid in Nigeria is not encouraging at all. What they get for the job they do is poor. I do the runway and am being paid for it. There is no problem with modeling in Nigeria. It is going on fine. I don't care about the crazy things people say about models being promiscuous and modeling in Nigeria.
Models are prone to destructive criticisms here but the bottom line remains that models should be paid when they work. It will help both sides as the models will love what they are doing and the organizers also will be content and satisfied with their services. This will create a balance
Looking back now, would you say you are living your childhood dream?
I am living a dream but not all my dreams. I know I would live them soon.
Have you ever been in love?
Who in this world has never been in love? Whoever says he or she does not believe in love is saying that out of an ugly experience. The person must have been in ands out of love to draw that conclusion even if she is trying to say otherwise in denial. When she was in love, ask her then, she would define love for you, but now she is defining love based on her own experience. True love exists.
Do you believe there is still true love in Nigeria?
Yes. People fall in love because God is love and God's nature is in us. There is a tendency that we meet people and fall in love with them because it is a way of life to love and be loved in return. You can decide to fall in and out of love whenever you choose. The point is there is true love in Nigeria and people are proofs of this everyday.
What kind of man appeals to you?
That is a secret I do not wish to share with everyone before men start pretending to be what they are not just to appeal to me. It is very personal and when I meet the man of my dreams, I will know because he would fit in perfectly and complement my weaknesses.
Where do you draw your strength from?
My strength comes from loving what I do. It is the passion I have for dancing and modeling that gives me the strength to move on even when I am down. It gives me the strength to move on and achieve my life's dreams.
How do you handle male admirers?
It is very easy, don't worry about it. I handle them perfectly.
What do you love most about life?
I love life because you have the opportunity to choose. Life gives you a choice and you are able to make choices whether good or bad. I also love life when things are going well. If we don't have the opportunity of making choices as humans, we won't be happy because it makes us static.
Growing as a child, what was your upbringing like?
I had a privileged upbringing. I grew up in Kano. It was sane and normal until 1991 when a religious crisis broke out. It was when I had a scary experience about living in the North. I almost lost my family in the riot and that experience for me turned me away from the North totally. I had to keep running and looking behind my back. I had to be conscious of my safety and life because I don't know when or where something might erupt next. My family is in Lagos now and we have not been in the North since then.
What do you do as a dance instructor?
I call my students, do a warm up session with them to get them in the mood. Teach them dance steps and follow them up closely to make sure they learn and absorb what I have been saying during class.
What is the hard part of being a Dance Instructor?
When I started out, I didn't know how to relate with my students. I was shy then but now I am so bold that I sometimes feel I am living two lives after taking my classes. The only snag now is taking slow learners along. They tend to draw back my class. I have devised a means where I teach them before the class. They come one hour before classes start properly. I started doing this so that before others arrive, and I start with the whole class, nobody takes us back again.
What advice would you give to Nigerian young ladies who are trying to find their bearing?
Do what you can do best. I believe god has given everyone of us a talent or a gift to excel with. Even if you cannot get a job in a bank or wherever you feel is the best, you can still make a living out of your talent and gift. Whatever you know how to do, do it very well because people with handwork can't suffer. They are working for themselves. I would advise Nigerian to do very well whatever their hands find doing. They should put to use their gift and talent.
Who really is Cynthia Ekere?
I am from Asaba in Delta State. I studied Sociology at University of Ilorin, Kwara State. I served in Ibadan, Oyo State. As a part time model, I also worked in a bank for over a year before I went into dancing and event management. I went into entertainment related jobs. I have always loved entertainment. It has always been about entertainment for me. I needed to do things that would keep me entertained as well. Anything that has to do with fashion and entertainment thrills me. It has always been entertainment from the beginning.
Describe yourself in one sentence
I am a fun-loving person to be with and am very independent too.
Where do you see yourself in the next five years?
In the next five years, I wish to see myself married with my kids around me. I also wish to continue living my dream and maximizing my potentials to the full.