DELTA AIR GROSSES OVER $900M PROFIT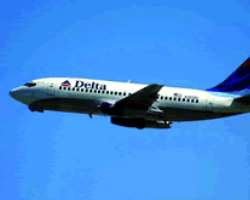 Delta Airlines, a frontline American carrier in Africa , Atlantic and the Asia has announced a profit of $929million during the third quarter of last year justas it reassured its customers in Nigeria of better services.
This commitment was made by its Commercial Manager for East and West Africa , Bobby Bryan at the airline's end of year parley with journalists in Lagos. He said that the year 2010 is quite profitable for the airline with about $929 million profit recorded in the third quarter.
According to Bryan , 'Delta recognizes the importance of the Nigerian market and offers over 2, 000 seats between Nigeria and the United States each week from Lagos and Abuja .'
Bryan said that an appreciable number of over 336, 000 passengers have been airlifted so far from Nigeria to the United States since the inception of Delta Air Lines operation in Nigeria in December 2007.
He explained that the airline has a local Nigerian presence with the entire team consisting of wholly Nigerians from top management level to administrative staff showing the awesome confidence reposed in Nigeria and on Nigerians. The number one American carrier operating in two cities in Nigeria , Lagos and Abuja plans to improve the onboard experience on the Nigeria-US route which already includes local menus such as Amala and Pounded yam.
In addition, he said Delta is exploring the opportunity of partnering with local Nigerian airline in order to serve Nigerians better. Delta Air Lines according to Bryan is also working on long term projects as a form of community service to the Nigerian people. On the African scene, Delta Air Lines as an established number one American Carrier in the continent offers over 6, 800 seats weekly between seven cities in six African countries and the USA .
Bryan stated that the airline has so far since December 2006 when it began flying into Africa carried over two million passengers from all its operations in Africa to the US , adding that by January next year, the airline will commence direct flight from Luanda, Angola to the US . Moreover, the airline declared a total of $929 million profit in quarter three of this year towering above all other American carriers. In his presentation at the media parley, Bryan shows that the Trans-Atlantic which includes Africa accounted for 27% of the total revenue of the airline coming only second to the US domestic market with 53%.
He added that the Trans-Atlantic was Delta's most profitable entity in quarter three of 2010.
In the area of product investment and quality service delivery, Bryan said the airline in 2011 would roll out new offers which would include flat bed seats on international aircraft and on-demand in-flight entertainment system.
He continued that all domestic aircraft is to be Wi-Fi equipped as well as the refurbishment of all SkyClub lounges.