'WHY PDP 'LL LOSE BAYELSA'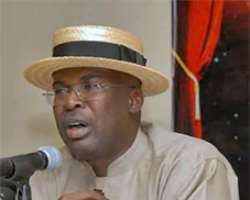 •Gov. Sylva
A gubernatorial aspirant on the platform of the Action Congress of Nigeria (ACN), Chief Ayakeme Whisky has dismissed insinuations that federal might, would be deployed to ensure the Peoples Democratic Party (PDP) wins the governorship elections in Bayelsa State.
Whisky, a former commissioner in the cabinet of Governor Timipre Sylva, and currently secretary of the South-south Elders and Leaders Forum in an exclusive interview with Daily Sun said careful study of the Sylva administration would reveal that it does not have what it takes to bring development to Bayelsa.
According to him, it took him six months as commissioner to realize that Sylva does not have the interest of Bayelsans at heart, adding that many people-oriented projects suggested to him were turned down for selfish reasons. He enjoined Bayelsans who had seen the monumental failure of the Sylva administration since 2008 to choose a credible alternative, which the ACN represents by ensuring that their votes count in the 2011 elections.
Whisky explained that the commitment of Jonathan to credible polls in 2011 would ensure the defeat of the Sylva-led PDP government. He assured Bayelsans that Jonathan being a man of integrity would insist that the votes of his people in Bayelsa count in their efforts to choose a credible leader instead of the visionless government they had had since 2008.
His words: 'There would be no federal might in Bayelsa elections. The Federal Government through President Goodluck Jonathan has promised the international community that the 2011 elections will be one man one vote; that all votes will count and that elections wil be credible free and fair.
'Nobody should suggest that the president, who has made such promises, will come to Bayelsa to manipulate elections. President Jonathan is a honourable man and it is his affirmative stand on the issue of one man, one vote that has propelled most of us to come out to contest. Bayelsans have a right to choice to choose between a credible alternative, which I represent and a government that has visited them with impoverishment and penury for the past four years.'
The gubernatorial aspirant, who stated the era of PDP was over in Bayelsa state, noted that Bayelsans as from 2011 would enjoy what Governor Raji Fashola had done for the people of Lagos State and Adams Oshiomhole had done for the people of Edo.
He maintained that there was no reason why Bayelsans should not have jobs and be hungry, adding that the Sylva's economic policies and programmes were disaster for the people of the state.