Men, stay clear! I'm not ready for relationship – Beverly Naya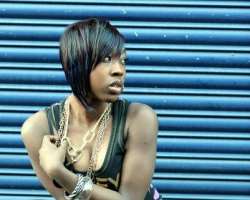 Courage is her first name and confidence, her pet name. You can easily tell where Beverly Naya, the newest entrant into Nollywood, is coming from. A self-assured character who wants more from life and is willing to give her dreams all the push.
The beautiful actress co-starred along Desmond Elliot in the wave-making film, 'Home in Exile' that won six awards at the Terracotta Awards. It was also voted the Best screen play and Best film for tourism at the Zuma Film Festival. In an encounter with our reporter, she recalls her road to stardom, her passion, her plans to take Nollywood by storm and other interesting issues.
Born 22 years ago, pretty Beverly Naya has the trappings of one of the rising stars of Nollywood. Blessed with an education that prepares her for a prosperous future, appreciable exposure and exemplary personal style, one could not but be tempted to think that her background might be the fountain of her personality.
"I had my formal education in the UK. I graduated from Roehampton University in London where I studied Scriptwriting and Filmmaking. Prior to that, I had studied Psychology, Sociology and Philosophy," she opens up.
Raised by a caring mother who pampered her with all the good things of life, juvenile inconvenience was alien to Beverly.
She speaks further: "I'm the only child, so my mum says I'm spoilt. Even at that, I have a mother who has always been supportive. There is natural flow of communication and understanding between us. We hardly have frictions because we have developed a bond to an extent where we make statements even in our silence mode.
The bond is so strong. She is my manager, my supporter and in fact, my mentor who nudges and urges me on. I count myself so lucky to have been born by such a strong woman. She always looks out for my interest and the best way to pass my message of appreciation is to make her happy by living in peace with her without compromising on high values which she has inculcated into me."
The chocolate-skinned up-coming actress was raised in England, where she picked interest in the movie business. How culturally attuned is Beverly to Nigeria?
Hear her: "Well, I am a Nigerian but born and raised in England. I am from Delta State and I know I'm from Ibuzo, the Igbo-speaking Delta region. Truly, I'm not fluent in the language but I understand every word of it.
I believe there is much to learn about Nigerian culture and language and I'm very open to the learning process. I also take my time to learn from people, events and places I've been to since my relocation to Nigeria.
I'm not totally alien to Nigerian culture and tradition. I have Nigerians as friends and school mates with whom I socially and intellectually interact. While in school, we attended many cultural events where we got to learn and know many things about our dear country. So, I'm a full-blooded Nigerian with fair understanding of our cultural environment."
Beverly had wonderful memories of her growing up years when asked to expatiate on her upbringing: "My growing-up days were wonderful and full of some memories I love to recall. I'm certain it is impossible for anyone to have a perfect childhood, but I feel mine was quite reasonable because my mum did a great job. I had no issues with my childhood. I was born and raised in London. I enjoyed the atmosphere in which I grew up. I lived there with my mum and it was a memorable experience for me.
"I have been coming to Nigeria for the past three years and I love every part of being here. I'm more at home in Nigeria now than in the UK even though I have lived better part of my life there. For me, the atmosphere in London is no more what it used to be. Whenever I'm in London, I get bored easily so much that I can't just wait to get back to Nigeria. With my academic programmes behind me now, I am happier though I still have London in me."
For somebody who studied abroad why preference for Nollywood despite her sterling academic performance? This she explains thus: "I could have ended up in the corporate world like most of my friends but I have great doubts within me about finding fulfilment in that.
With all sense of modesty and humility, I have a career I'm in love with it at 22; a career totally different from what my friends in London are facing right now. It is a career in which I have endless prospects and fulfilment. Nothing could have been more joyous than this."
Though with her in-depth study of Psychology, Sociology and Philosophy, she could have secured a white-collar job in any company of her choice out there, but she said: "The truth is that I would not have found peace and satisfaction in it. However, when the talent for acting ignited in me, I knew right away that it was what I wanted to do.
The gifts aside, I have passion for it. Being a person who believes that talents can be honed and improved upon through training and practice, I decided to do a course in acting. I graduated from Roehampton University in London where I studied Scriptwriting and Filmmaking. Honestly speaking, it was overwhelming coming out tops in my college but I believe that it buttresses my deep-seated interest in acting to a large extent.
Affirming that she was in Nollywood to make a statement, the actress added: "I'm here to participate and contribute to the growth of the country's film industry. The country's film industry is growing so fast and I want to be part of it because even though I have lived all my life in London and America, I grew up watching the flicks from Nigeria and it helped me love the arts more.
I intend to break barriers in the industry, and with God on my side, the sky is the beginning for me. This is not to say I will be limited to the local scene but charity, they say, begins at home. Nollywood is a springboard and it is a learning rope for me. I'm trying to pattern my career after a bottom-up building model.
That is why I'm starting from the foundation, which Nollywood embodies. I have noticed that rain starts from up and that is why it ends on the ground. But I don't want to end up like the rain. I have prepared myself for the challenges ahead."
When asked about her love life, she responded: "It's my career at the moment. Of course, men come in droves, both with genuine intentions and ulterior motives, but I found out that the best thing at the moment is to be in a relationship with my career.
Distraction should be the last thing on my mind at the moment and dating now is just a form of distraction especially at my age. Aside that, if I was in a relationship with a guy probably based in London because that is why I have greater part of my life and I'm here in Nigeria pursuing my career, that would be a very selfish act and I'm not raised to be selfish."
Her reply when asked to elucidate on her dreams and aspirations unveiled her mental quality: "I don't believe in dreams because dreams remain dreams," she said.