AC MILAN STAR PLANS TO END 10-YR STINT IN EUROPE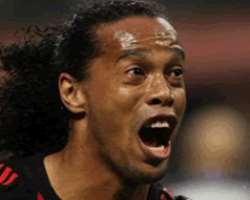 •Ronaldinho
Home sweet home! There's no place like home, even as AC Milan star, Ronaldinho, is already homesick as he's negotiating a return to Brazil from Italy, with three top clubs lining up to sign him.
The 30-year-old Ronaldinho is in Brazil and his brother and agent, Roberto Assis, told GloboEsporte.com on Sunday that Flamengo, Gremio and Palmeiras were trying to sign the player. He said a deal is expected within a few days.
Assis said he met with the clubs' representatives and that he was analysing their offers.
'We don't know what's going to happen yet, but we want him to play in Brazil again.'
Ronaldinho left AC Milan's training camp in Abu Dhabi on Friday and was authorised to travel to Brazil to negotiate his future even though he is still under contract with the Italian club. Milan Coach, Massimiliano Allegri said that Ronaldinho had made a decision to 'change his life, to go back to Brazil.'
Ronaldinho has only made seven starts for AC Milan in Serie A this season and seems set to follow the likes of Ronaldo and Adriano in returning to Brazil.
'Dinho' won consecutive FIFA World Player of the Year awards in 2004 and 2005 while with Barcelona and led the Spanish club to the Champions League title in 2006. He also helped Brazil win the 2002 World Cup.
After leaving Barcelona to join AC Milan in 2008, he struggled at the Italian club. He also had a poor showing for Brazil at the 2006 World Cup and has played infrequently for the national team. He missed the World Cup in South Africa.
Financial details on the terms of Ronaldinho's potential transfer have not been disclosed. All three Brazilian clubs said they were seeking partnerships with sponsors to have enough money to afford the forward.
Ronaldinho has previously expressed a desire to play for Flamengo, Brazil's most popular club. Former Brazilian teammate, Adriano, who helped Flamengo win the Brazilian League last year after leaving Italian side, Inter Milan, said he had spoken to Ronaldinho about his decision. 'I told him that sometimes it's important to follow his heart,' Adriano, back in Italy with AS Roma, told Brazilian media.
Gremio is the team where Ronaldinho started his career in 1998. Palmeiras, an eight-time Brazilian champion, is coached by Luiz Felipe Scolari, who worked with the player when Brazil won the 2002 World Cup.