TRADITIONAL HEALER RECOMMENDS HERBS FOR VIRAL INFECTIONS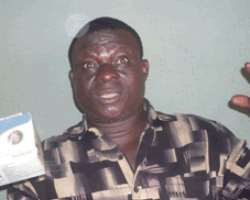 Ike
Not much has been heard from Dr Jeremiah Abalaka who stunned the world with the news of a vaccine that cures the Human Immuno- Deficiency Syndrome (HIV). Critics descended on him like soldier ants while some notable government officials dismissed him as fake.
However, Abalaka's experience did not roll a stone completely on the use of alternative medicine for diseases that have defied orthodox medicine. Robinson Ike is the man of the moment with a new herbal product, Odumegwu Herbal Tea.
According to him, Odumegwu Herbal Tea, has won the love of many Lagosians, with unsubstantiated claims of rebuilding the immune system of patients ravaged by the dreaded HIV/AIDS disease.
Ike, a registered member of Nigerian Council of Physicians of Alternative Medicine and other herbal practicing associations, is also the General Overseer of Glory Celebration Assembly, Sabo, Yaba.
He said those suffering from HIV/AIDS should not feel hopeless about their condition. ' There is a product we call automatic immune booster for those that are down with the virus for many years and are weak. When taken for five days, the immune system would be restored to work. We also introduced blood purifier that cleanses the blood. There is another active product called virus/ bacterial germs destroyer. We have bone marrow treatment. The virus resides in human cells from where it replicates. We have a drug that fights the virus inhabiting the cells. We also have a therapy that grants immunity from HIV/AIDS for six years'.
Although Ike's claims have not been officially investigated by the National Agency for Food and Drug Administration and Control (NAFDAC), he cited several cases of AIDS patients that had an immune count of about 300 but their count rose sharply to 600 after taking the herbal tea.
'The NAFDAC approval is still in process. This is a global project. HIV/AIDS is a global project. NAFDAC has to systematically follow it and watch. They have given me specifications, the kind of apartment I would put in place for inspection, facilities and so on. We will still get there. But the fortunate thing is that people are hailing Odumegwu herbal tea', he explained.
He explained that while patients on Anti Retroviral drug live on constant drugs, the Odumegwu herbal therapy can be stopped at will.
'We have treated over 400 cases, and so many others are now on treatment. As I am talking to you, a senior police officer is on her way. She called me few minutes ago. But we don't disclose the identities of these patients or their personal information. We are treating so many of them and some have been healed completely', he said.
On the choice of the brand name Odumegwu, he said: 'The name Odumegwu (fearful lion) was derived from the Lion of the tribe of Judah, Jesus Christ, who is the author of what I am doing.
'To prove what I am saying, let whosever that is an AIDS patient from anywhere come to me. We will give him the Odumegwu Herbal Tea and I guarantee that the symptoms that have been around for many years will vanish. Then, we will administer the anti-viral therapy. That is the difference between what we are doing and the orthodox therapy,' he insisted.
Ike urged government hospitals to send him AIDS patients for treatment in order to verify his claims.
'Government may be skeptical in endorsing herbal products. But I am not going to the government to come and support me. Let my work testify. If what I am doing is real, let the patients spread the news. One day, it will get to the government and they will come looking for me. Those in top positions, many of them are coming to take treatment from here. I am doing research everyday and better results are coming out. I am looking up to a day I will have a one-day treatment for HIV/AIDS. We are working towards that direction', he affirmed.
Ike further explained that successful treatment of the disease depends on the patient's willingness to comply with no-sex rule during the period.
'During the one-month treatment, we advise them to restrain from romance, sex and alcohol. In a case where the patient violates this rule, I cannot guarantee immune boosting. But one- month sex abstinence with the right dosage of the herbal products would boost the patients immunity,' he promised.