EYE DONATION: THE DEAD CAN OFFER SOMETHING TO THE LIVING OPHTHALMOLOGIST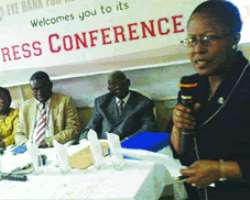 (Standing) Dr. Mosun Fadirin and the other guest speakers at the event
Photo: Sun News Publishing
More Stories on This Section
The Eye Bank for restoring sight in Nigeria came into existence when the Nigeria Society for the Blind and the Ophthalmological Society of Nigeria utilized the money donated to Dr. Olaseinde Akinsete on his 75th birthday in 2003 to establish the bank. This was out of the magnanimity of Dr. Akinsete who then, gave all cash proceeds to the two bodies for promoting their objectives.
At a media briefing held in LASUTH, participants regretted that since the establishment of the Eye Bank in 2004, all corneas grafted in Nigeria had been sourced outside the country.
In his speech, Consultant Ophthalmologist, Eye Foundation Hospital, Dr. Banji Oluyade noted that the limitations of cornea grafting in Nigeria is the non-availability of cornea, adding that Nigerians are very weary of giving their cornea or donating their body tissues.
Continuing, he said 'but now, we've been privileged to have the first donated cornea from a Nigerian, in Nigeria, transplanted in Nigeria. I think we have to commend the family of Mr. Sodipo who was the person that made this possible. Because if he did not give the consent, we cant touch his cornea. And if the family did not support us to go ahead, there's nothing we can do.
'I believe this is just the starting point for a change in the scenario so that we can get Nigerians to donate tissues. The taboos and misconceptions can be corrected so that people can benefit from the dead. They can offer something to the living. It's not only in the eye, even in the other specialties of medicine, so that we don't have to look for millions to have kidney transplant done. If people are ready to donate tissues, we might be able to help others with them.
'The Eye Bank for restoring sight in Nigeria project actually commenced eye grafting in 2008. And we had the first set of cornea in September 2008.
But we were able to transplant seven, one of them had an issue and we felt we shouldn't transplant it. Then, we had another set of seven in March 2009, and another four in September same year, and another set of eight and six in November and December respectively, 2009. So far, we have done 32 transplants in the Eye Bank of Nigeria programme'.
In his speech, Chief Medical Director, Lagos State University Teaching Hospital (LASUTH) Dr Femi Olugbile remarked that the Lagos State government and LASUTH have been throwing its full weight on the activities of the eye bank because it is an initiative considered worthy for the ultimate interest of the people.
His words: 'I feel that this landmark achievement is testimony to the fact that, that early judgment that informed the acceptance to provide facilities for the Eye Bank was very proper and well advised'.
He called for attitudinal change in cultural behaviours so that even the field of medicine can be boosted. According to him, the reason why the project benefited from its first local donor is due to non-resistance to change'. In fact, if you have to know why people resist change, you have to go deep into their knowledge base and world view and understand it, then, change it from there'.
Also speaking, Medical Director of the Eye Bank, Dr. Mosun Faderin hinted that 'for anyone needing a cornea for graft, a processing fee of between $1950 and $2250 are being charged, and majority of those needing this intervention are young people and very few of them can afford to pay this. Today, we are here gathered to celebrate the first locally harvested corneas from a Nigerian donor who had pledged/ donated his eyes prior to his passing on.
She also spoke on the effort made in harvesting late Shodipo's corneas. 'By the time permission was given for the retrieval, it was way past the 'acceptable' time between death and retrieval. The family was told that time had elapsed but to my utmost surprise and admiration, the daughter and the brother asked me to still go ahead, and if after the retrieval, the corneas are found not to be good enough for transplant, they would have carried out their loved ones' last wish.
Faderin also stressed the need for enabling laws to enhance their operations. 'There is a cornea graft law /decree which was signed into law by Gen. Gowon, Decree No 23 of May 5th 1973 which has not been repealed. Also the laws and guidelines that regulate cornea donation says that if at the death of anyone, the persons' next of kin can donate the cornea on behalf of the person, even if the person did not sign any consent form before his death'. she said.