I'LL NEVER BEG HOUSE OF REPSMEMBERS – DINO MELAYE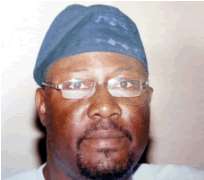 Hon. Dino Melaye
Suspended member of the House of Representatives, Hon. Dino Melaye, has said that a death knell would soon be sounded to the activities of greedy leaders in Nigeria. He said the 2011 elections will ensure this. Melaye, who was suspended alongside other members of the progressive wing of the House following an allegation of fraud against the leadership of the House, also bared his mind on the state of the polity. He took a radical posture and even lambasted those he considered greedy leaders as well as criticised issues that could stunt Nigeria's growth and development.
And concerning the problem he had with the leadership of the House, Melaye still remains upbeat that he can't be cowed to recapitulate. He argued that he never committed any offence and unlike his colleagues who begged the House leadership, he can't even imagine himself doing that because he believes he is fighting a just cause.
How would you assess the type of democracy we have today?
A democracy without elections is no democracy and election is absolutely different from selection. Were it to be selection then there would be no democracy for if you say 2011 elections then you are talking about voting and being voted for. If that is the concept of democracy, we have a universally acceptable definition of democracy. Democracy is supposed to be seen as government of the people, by the people, and for the people but unfortunately in this country, democracy is not practiced by definition. What we have as democracy in Nigeria is government of the greedy, by the greedy and for the greedy.
What then are the prospects of the 2011 elections as regards the youths of this nation?
I want to address this issue with sincerity of purpose and commitment without caring whose horse is gored and if SSS men come after me I shall be ready to go to their office to answer questions after this because the prison yard is built for human beings and not for animals.
Dr. Frederick Fasheun would tell you that having visited that place. I was one of those incarcerated during the Abacha regime. If you go there you are only going to fulfill the purpose for which it was built. And by the grace of God I know that Nigeria would be great again.
Talking about the prospects of the 2011 election as regards the Nigeria youths I want to tell you that we have what we call the age advantage on our side. The youths of this country – those between the ages of 18 and 40, are about 61% of the population of this country. So with over 80 million youths in the country out of 150 million total population we are the one to decide the future of the nation. If we harness the potency of our number today with 80 million of us and 30 million eligible voters within this age bracket, we should be the one to decide the future of this country. But unfortunately we have been docile.
So, our youths need to be agitated, determined to shape the future of this country and the coming elections is in their hands. It is sacrilegious, satanic, barbaric and hooliganism for anybody to queue behind Gen. Ibrahim Babangida in the 2011 elections. I say this without apologies, because if you are talking about ameliorating the problems of this country then we must go for somebody who is an agent of change and not one to compound the problems. According to the holy books, if you have sinned and come short of the glory of God you need restitution, let people know that you have restituted then we can begin to believe you. But a man who has not restituted over the annulment of June 12 elections, who has not restituted over killings during his regime coming back to rule us is so myopic so porous minded so parochial Alah kiaye. (Allah forbids).
You have rejected IBB and other old contestants do you have a particular candidate in mind?
No. All I am trying to say is that we should search for credible candidates who are well groomed, with good track records and is an agent of change. We must go for a man that is an agent of change. Twenty-five years ago, IBB was the president of this country, who were we all, I was a child then and there is a saying in Hausa that children are leaders of tomorrow. 25 years ago IBB ruled this nation. Today, he said he is 69 and we all know that there is difference between the real age and the official age we know he is older than 69.
His daughter is 44. Twenty-five years ago when he ruled this country he was 44. Today, he wants to be president of Nigeria at 69. According to the holy books after 70 the other years a man spends on earth is jara (extra). So we don't want a president who would die in office. I am using him as a yardstick for other political pensioners like him who want to rule again that in this 21st century we need a man that could take us from Egypt to Cannan.
We are tired of no water, we are tired of no electricity and all that, we are tired of people dying because they cannot afford N5000 medical allowances. We are tired working without commensurate wages. The man we need now is the one that would bring the change we want and the only way to make 2011 elections positive is to ask questions, let us as questions, because an unjust silence is a crime. You appoint a man as a minister and before his appointment you know he uses bolekaja, (local vehicle) six months after his appointment he is relocating from Ikorodu or Isolo to Lekki or Victoria Island and he is building a house worth a hundred million naira and what the society does is to invite and give him chieftaincy titles and universities will give him doctorate degrees. We celebrate corruption in this country and except we say enough is enough we will not move forward.
We must be resolute to say that we will not allow our generation to be bastardized by the same people who enjoyed the oil boom era of this country. Those who went to school and were fed free, who enjoyed scholarship for standard education, those in whose time there were jobs waiting before they left school. They are the same generation that deprives us and our children of sustainable facilities. So, all Nigerians must man their votes in 2011. If you insist in your area and ensure that elections are monitored and I do the same in my area, our votes would count. There won't be rigging. Votes won't be manipulated by godfatherism. The only godfather I have is God because what God has not given to you, no man can give you. The program on elections is not only sick but suffers from what I call a dreadful continental abnormality. We must therefore agitate for change.
You were part of the presidential team that wrote the national youth policy later signed into law in 2000, what is your assessment of the policy today?
Nigerian youths have been bastardized because in the1999 Constitution, no phrase, no clause, no chapter, no statement whatsoever that has to do with the Nigerian youths was inculcated. Yet they are the majority in the population.
I was a member of the presidential committee that wrote the national youth policy from 1999-2000 and President Obasanjo signed it into law in May 2000 so you have the national youth policy but not two percent of that policy has been implemented. Today in the constitution there is health policy so also is water policy, and education. We have national youth policy but there is no statement no clause on the Nigerian youths. I have written a bill for the amendment of the constitution for the inclusion of the youths and we will not rest until we get this done.
How can we surmount the challenges of the 2011 elections?
One of the greatest challenges to the 2011 elections is corruption and corruption starts from INEC – from the registration of voters to the procurement of the machine and even to the utilization of election materials to the Nigerian police; then the Nigerian public and the elite. Corruption is a satanic monster every one of us must decide to kill. If you don't kill corruption, it would kill you. And how will corruption kill you? During a recent research I discovered that a United Nations' Report say that to dualize all federal roads in Nigeria, you need N1.6 trillion. I looked at our budget from 1999 to 2009, and looked at money allocated to federal Ministry of Works and FERMA, and discovered that it is about N2.4 trillion, more than what is needed to dualize all the federal roads in this country and yet our roads remain death traps. I moved a motion in the House, concerning the Nnamdi Azikiwe airport runway contract. The original concept of the contract was N8 billion but when the contract was passed Julius Berger was paid N64 billion. When I raised the motion at the floor of the House the presidency set up what is called a presidential committee and they reduced it to N49 billion. Not satisfied, I ran to the floor again and said this is not good until the president was forced to cancel the contract. I moved a motion that led to the revocation of the sale of the Ajaokuta Steel Company.floor and raised a motion against it and Julius Berger during the trial reported that it was a mathematical error, the contract was awarded even above the bidding rate.
Did you foresee the eventual crisis that led to your suspension in the House?
Of course yes. I addressed a press conference a day before it happened and I said it would happen. It has never happened that somebody would stand up in the House of Representatives and face the authorities and say you have stolen. Torchlight is sold for N500 in the market, how did you buy your own at N18,000? Etteh was removed for what we call anticipated approval. She had not even bought anything. She wanted to buy a car for N23 million. Today you have spent N400 million on vehicles and we asked questions but instead the hunter became the hunted. Section 36 of the Constitution calls for fair hearing. Meaning you must hear both parties. We brought an allegation, we were not heard, instead we were beaten, our clothes torn. We were thrown out of the House and then were suspended but you can only tear our clothes you cannot tear the truth because the victory of falsehood over truth is temporal. Some of my colleagues who were part of us have begged and have been recalled but we say that the battle to build an egalitarian society is a battle of no retreat no surrender.