Presidential Debate: Jonathan Got His Facts Wrong - Atiku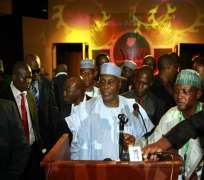 ABUJA, Jan 01, (THEWILL) - Former Vice President Atiku Abubakar has asked President Goodluck Jonathan to present himself for intra-party presidential debate without setting any preconditions.
Reacting to the President's acceptance of Atiku's repeated calls for a debate as widely reported by the media on Friday, Atiku said the President did not get his facts right when he said that debates only happened after party primaries.
"In the campaign for nomination under the presidential system including the parliamentary systems in open societies, candidates from the same party hold intra-party debates as a way of easing the selection process for party members," the Atiku Campaign Organization said in a statement.
The debate recalled the series of intra-party debates among both Republican and Democratic parties' aspirants using various platforms of organized labour and other interest groups.
"The President must not confuse inter-party debates, which in the case of the United States are hosted by a Presidential Commission after the primaries, and the intra-party debates which are intended to afford party members the best candidate from their own ranks."
Atiku reiterated his challenge to the President for a debate before the primaries, saying: "I am taken aback that a sitting President is running shy of debates. But we owe it to Nigerians and the PDP delegates. We should have debates on the economy, foreign policy, national security and power generation.
"The delegates need to know who is ready for the job. The gargantuan problems facing the country today can only be solved by someone adequately prepared for the job, not someone promising he will bring good luck to them. No nation relies on good luck to make viable policies."
Atiku said such a debate could be considered part of voter education, which will also help the delegates and the public to ask the candidates questions directly.
In the light of this, the Atiku Campaign Organization requested platforms interested in hosting the debate to come forward with proposals on venue and time so that as many debates as possible may take place as soon as possible.