PHYSICALLY-CHALLENGED URGED TO HAVE FAITH IN GOD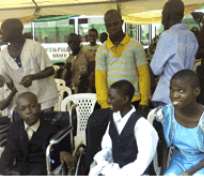 Participants
As the world celebrates the birth of Christ, the physically-challenged persons are urged to have faith in Christ for total restoration and liberation. Chairman, Liberty Commodities Ltd, Dr. Kunle Balogun, gave the advice during the end of year/Christmas party organized for the physically-challenged at the National Orthopaedic Hospital, Igbobi, Lagos.
Balogun challenged faith of the people, who were confronted with problems to cast their belief and hope in Christ for total freedom from whatever area they were being tested.
He encouraged his audience that there was hope for them. 'As much as you are alive, there is hope. My, friend, there is hope for you. Remind someone near you that there is hope,' he stated.
Balogun, who was full of joy and appreciation for God said that the purpose of the event was 'in response to divine instruction to organize it; approval by the National Orthopaedic Hospital management as well as to enable the people in the hospital wards to appreciate their relevance in the scheme of God and the society they belong.'
He said: 'Today is no doubt an evidence and testimony to God's faithfulness as a covenant-keeping God, who is worthy to be praised till eternity. As it is written, can anything good come out of Nazareth? Our response today is come and see.
He explained that the resources used for the event was from the original source, Jesus Christ, who liberated mankind from sin, perdition, poverty, danger of hell, sickness, powers and principalities.
'It is expedient to use this forum to remind us that the hustle-bustle of this world will one day end; when it happens, where will you spend eternity? What will you be remembered for? Have you added value to the life of others or depleted it? Make your decision as we celebrate Christmas and New Year in togetherness,' he charged.
While thanking the hospital management for giving them the opportunity to contribute their quota, Balogun urged philanthropists, well meaning Nigerians and corporate organizations to invest into the life, welfare and development of the physically challenged as the hospital and other government agencies cannot do it alone.
Medical Director, Orthopaedic Hospital, Dr. Wahab Yinusa, who was represented by Dr. Rotimi Odunubi, Head, Clinical, expressed gratitude to the sponsors, Liberty Commodities Ltd., for their kindness.
It was fun as the participants danced to the glory of God. While the hearing impaired did not know what to dance to and when to stop, others danced the way they knew best.
The participants were drawn from schools and organizations in Lagos. They included Pacelli School for the Blind; Spinal Cord Injuries association; Atunda-Olu School for the Physically and Mentally Challenged; Wesley School for the Deaf and Dumb (1 & 2); Missionaries of Charity and National Orthopaedic Special School.