NIGERIA: THE SCOURGE OF POLITICAL VIRUS-TINUBUIASIS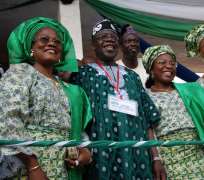 Medically speaking, viruses are dreaded organisms that have become the nightmare of doctors. Many of its victims do not live to tell the stories as they are long deposited in cold mortuaries and graves. This is because viruses attack body tissues and other sensitive areas and medicinal cures are slow in catching up to meet the destructive challenges. Just see the suffering of your computers and data in the hands of viruses and you can imagine the damage viruses cause to information technological advancement.
By and large, viruses constitute a corruptive tendency on any organisms or thing they come in contact with and that is why any society ignores a virus to its own peril. One can then imagine the level of corruptive influence that any "political virus" can constitute in our march toward s building a solid democracy. Gradually and innocuously, Nigerian democracy has been harbouring a burgeoning political virus that may soon consume all of us.
Call it Tinubuciasis - Incubated in our political body in the June 12 era of 1993, tinubuciasis gained recognition in the Abacha era on the wings of NADECO activism and gravitated its way into the consciousness of pro democratic forces albeit without any proper scrutiny of its background and credentials. Of course with financial lubrication offered by years of service in the oil industry, pro democracy groups got lifelines to propagate the anti Abaca wars and this was a war many Nigerians were willing to fight for their existence and preservation.
We need not dwell more on the evils of this regime that brought many Nigerians on their knees until divine intervention came. And don't blame Nigerians. Anyone who helped to clubber Abacha became instant heroes of democracy. Remember that those who were merely able to abuse Abacha in Public became folk heroes in their neighbourhood. This was an era that what you needed to take an American visa was to be linked to any prodemocracy group opposed to Abacha.
You could earn a political asylum in any European country by merely parroting any anti Abacha"s name or slogan. Tinubusiasis is not with any ideological posturing. It was just movement along the fabled progressive line despite having its teeth neck deep in the oppressive capitalist caucus.
Now before our very eyes and with all the political gatekeepers already hoodwinked our virus has warmed its way close to the very nerve centre or in fact the heartbeat of the nations political and economic base. It was then that Nigerians began to find out who they had placed in such close proximity to the heart of our socio political existence. Damn it, a virus is a virus, nothing good! Of course our virus is a contraption of unreal tissues and borrowed credentials. Political scientists have not yet unravelled the pathways to relevance of this virus that have succeeded in breaking through all known gates and barriers to political ascendancy. The x-ray applied on this virus early enough picked all sorts of in congruencies which up till now are yet to be sorted out. Of course all the points of scrutiny has been compromise by the virus and if you remember the corruptive influence of a virus then you wonder less. The Press lost its potency through a combination of financial inducement and property accumulation- lands and houses in Lekki or in high brows of Lagos have gone into it. With several media organizations print, and electronic in the hands of this political virus, its goodbye to sane journalism!
When the matter is about Tinubusiasis, human right groups, pro democratic agencies and the international community lose their voice in a curious double standard. The continued plundering of Lagos resources the home base of Tinubusiasis has not attracted any focus of social critics who are now jolly good fellows. Professor Wole Soyinka, Femi Falana, Ribadu, NBA, SERAP, NLC etc, could not take any visible action to fight the social and economic decay inflicted on Lagos by this political virus. Late Gani Fawehinmi made a feeble attempt to burst this balloon of corruption with the perjury case, but he was overwhelmed by this virus. In Lagos today despite the huge resources sucked away from commercial and the general public through taxes inflicted by Tinubusiasis and its surrogate, nobody expects anything from Government. Take public schools, no reasonable person takes his child to public schools from nursery to tertiary level, private school is the order of the day, people provide their own water system, their security, attend private medical institutions and takes care of their waste disposal. Suffering and smiling ala Fela Anikulapo.
The judiciary had been similarly infected by one simple stroke of injecting several cronies, and acolytes into the bench of Lagos state, many of them now in senior positions. This virus has its tentacles in the groins of the judicial system from the high court to the court of Appeal and Supreme Court the disease has overwhelmed the immune system of this judiciary that is the fabled hope of the common man. Now much more dangerous to the political system is the expansionist agenda of this political virus. Having eaten deep into the political and economic heart of the country, Tinubusiasis wants to spread to other areas of the body polity. This is worse than elephantiasis, which situates on the leg and expands.
Tinubusiasis wants to expand to other areas and yet Nigerians are timid and quiet, the security agencies seemed polluted and hypnotized. As stated all institutions expected to offer immunity against the virus seemed already corrupted. Not even the head of the body- the Presidency knows the correct medicine to apply. This is the dilemma that confronts many political analysts.
In other climes political ascendancy is premised on integrity, impeccable credentials, transparent background, history of performance in public life and honesty. Here we confront a political virus whose ascendancy is being premised on false background, history of drug deals, poor performance and unrelenting stranglehold on public resources.
Imagine that Lagos is bleeding to death with Doctors strike and other huge problems but commissioners and chairmen of local councils laid siege on Equity to manipulate elections to get another fiefdom for this political virus. No one can account yet for how much of Lagos resources went into the expansionist project in Onus, Equity, Edo and Undo where the judiciary has been used to deploy legal technicalities to supplant the votes of the people. It's simply the cancellation of votes of the winners stronghold to give victory to the loser. Even the use of the wrong biros to mark the voters register led to cancellation of the votes 10 local government in Ekiti. In Osun a forged document was used to get a retrial of the election petition, the forger of the document used to hoodwink the judges is now Governor by the grace of Tinubusiasis. Even the code of conduct bureau cannot tame this virus. The security implication of allowing this virus to spread through the political veins is better imagined. When you add this to the power of propaganda on the psyche of unsuspecting Nigerians, then the democracy of our dream is imperiled.
Now rise up and hail the political virus of Nigeria-Asiwaju Bola Tinubu.
Disclaimer:

"The views/contents expressed in this article are the sole responsibility of

thewillnigeria.com

and do not necessarily reflect those of The Nigerian Voice. The Nigerian Voice will not be responsible or liable for any inaccurate or incorrect statements contained in this article."
Articles by thewillnigeria.com